Sukanta Majumdar skirts 'statehood' at Cooch Behar rally
The Balurghat MP reached the district to attend a blood donation camp in Natabari on Monday afternoon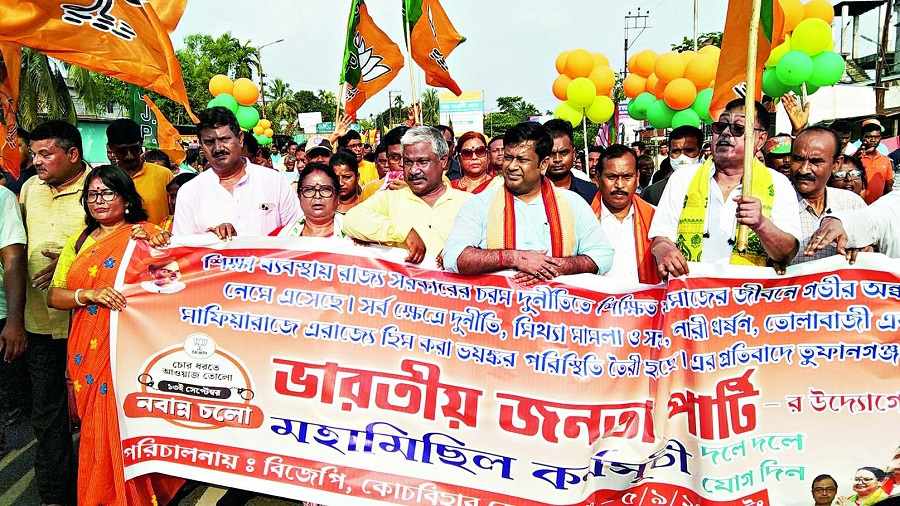 Sukanta Majumdar and other BJP functionaries lead the march at Tufanganj on Monday.
Picture by Main Uddin Chisti
---
Cooch Behar
|
Published 06.09.22, 01:08 AM
|
---
Bengal BJP president Sukanta Majumdar on Monday tore into the Mamata Banerjee government over alleged corruption and said more Trinamul Congress leaders would be arrested by central investigation agencies in the coming days.
At a BJP rally in Cooch Behar district, Majumdar, didn't, however, refer to the demand for a separate Cooch Behar state, which had been seconded by a number of legislators of his party on many occasions.
Majumdar, the Balurghat MP, reached Cooch Behar to attend a blood donation camp in Natabari on Monday afternoon. From there, he went to Tufanganj to attend a BJP march and a subsequent rally against the Trinamul government's alleged corruption.
Around 3,000 BJP supporters took part in the procession. "The former education minister (Partha Chatterjee) is behind bars now as he has sold jobs against money. Paresh Adhikary, who was a minister of state in charge of education department, has been removed from his post for providing a teacher's job to his daughter in an illegal manner. Some more people are under the scanner of the central agencies and will be arrested in due course," Majumdar said at the rally. 
At a three-day training programme for state BJP office-bearers near Calcutta last week, they had been instructed by central leaders to start working for next year's panchayat elections. The central leaders instructed the state functionaries to recast their focus on north Bengal where the party had performed well in the Lok Sabha elections of 2019 and last year's Assembly polls.
The Bengal BJP leaders were told that they should not overtly back the demand for separate Cooch Behar state as it would damage the party's prospects across the state. At the Tufanganj rally on Monday, Majumdar or any other BJP leader didn't utter a word on a separate state. "It is evident that the BJP has initiated the process of damage control. It would be interesting to see whether such change in strategy would eventually help the party in rural elections," said an observer.
Asked by journalists about the demand for the separate Cooch Behar state, Majumdar said: "North Bengal has been neglected for decades. That is why such demands are raised. However, the final decision will be taken by the residents of Bengal." Trinamul is slated to hold a rally in Cooch Behar on Tuesday against the separate state demand.
Attending felicitation of teachers in Cooch Behar town on Monday, Abhijit Dey Bhowmik, the district Trinamul president, said: "The BJP is trying to divide Bengal. We would urge teachers to reach out to common people and campaign against the separate state demand in the district. People have huge respect for them and trust their words."