Subrata Mukherjee's childhood friends mourn in East Burdwan
Napara, which falls under Bogpur gram panchayat of Purbasthali, is the ancestral home of the Mukherjee family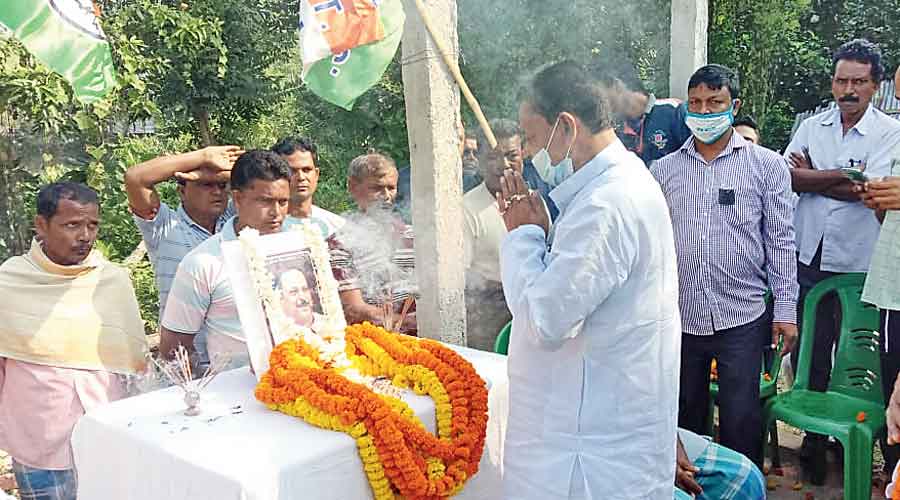 State minister Swapan Debnath pays homage to Subrata Mukherjee at the latter's ancestral village Napara.
Dip Das
---
Bolpur(Birbhum)
|
Published 06.11.21, 01:33 AM
|
---
Friends, classmates and villagers of Napara in  Purbasthali, East Burdwan, came together on Friday morning at the ancestral home of Subrata Mukherjee to pay tribute to the minister who died in Calcutta on Thursday night.
Napara, which falls under Bogpur gram panchayat of  Purbasthali, is the ancestral home of the Mukherjee family.
Mukherjee's father Ashok Nath Mukherjee had been a teacher at the local school.
Mukherjee also studied till Class IV at Napara primary school before the family shifted to Budge Budge on the outskirts of Calcutta about 65 years ago.
After the news of Subrata's demise reached the village, residents and local Trinamul leaders held a late-night meeting and decided to arrange a modest event on the land belonging to the Mukherjee family early on Friday morning.
At least four villagers, who studied at the local school with him and had remained his friends till his last days, shared memories of the time spent with the colourful politician.
"I studied with him till Class IV. He never forgot anything about the village, his friends and villagers. When he used to come here, he used to ask me about everyone he knew. He loved joramonda (a sweetmeat) and every time I met him in Calcutta, he would want me to bring the sweet that is part of our childhood memories. He was really a friend who did not forget me even after becoming an important person," said Mukherjee's classmate Samsul Islam.
Swapan Debnath, minister and Trinamul MLA from Purbasthali, also attended the event.
"Subrata da was very passionate about his village. Every year he used to come and worship at the local Siddheswari temple. He visited Burdwan last month when he told me that the land he owned in Napara would be donated for the common use of villagers. Villagers on Friday got together to mourn the loss of a great soul," Debnath said
At least a hundred villagers queued up on Friday morning and offered floral tribute to the late minister.
"He was our guardian and always happy to help us in crises. We will conduct a big meeting to condole his death soon," said Parimal Debnath, a functionary of Purbasthali panchayat samity and a Trinamul leader.
Subrata was also a frequent visitor to his maternal uncle's home at Mandalgram village in East Burdwan's Memari. He used to visit the village a few times a year and had contributed to several development initiatives at Mandalgram.
Following Subrata's demise, family members of his maternal uncle and villagers mourned the loss of a "guardian of their village".
"He always helped us and never turned down any proposal for development from us. Recently, we had requested him to help renovate the village temple. He had promised to talk to the local administration and get some funds for the temple's repair after Durga Puja. That will not happen anymore. We have lost a guardian who always took good care of us," said a villager of Mandalgram.