Strong Opposition needed: Swamy
Country's economy is on a tailspin, says BJP MP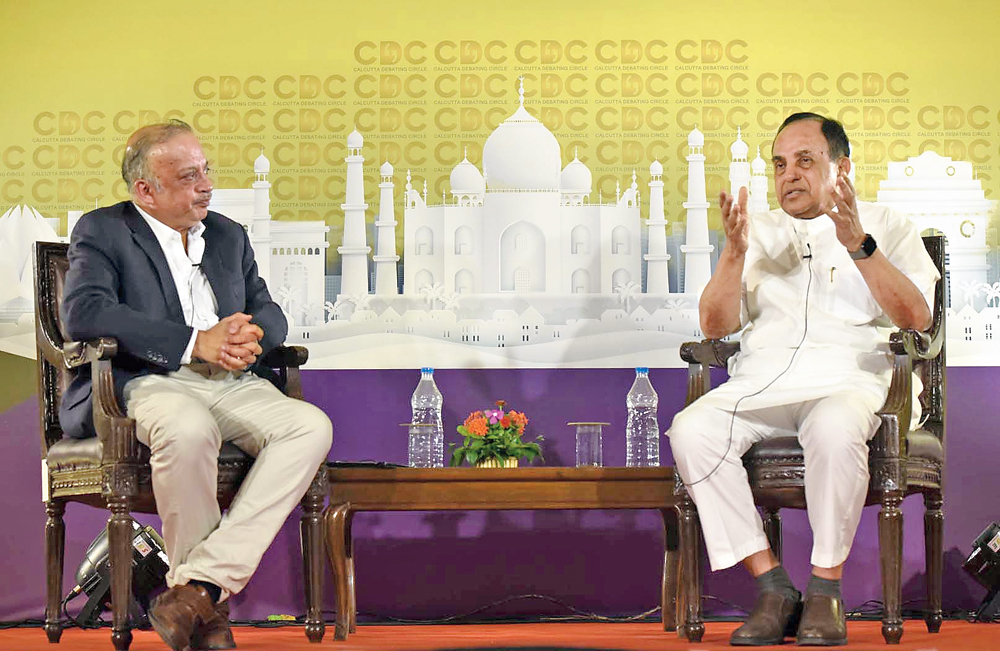 Subramanian Swamy speaks to (left) Kunal Sarkar at Calcutta Club
Picture by Pradip Sanyal
---
Calcutta
|
Published 16.07.19, 10:51 PM
|
---
BJP Rajya Sabha MP Subramanian Swamy, who had once taught economics at IIT Delhi, said the country's economy was "on a tailspin" and if Nirmala Sitharaman's "budget is not rectified, we will get a crash by the end of this year".
Swamy pointed out that unemployment was "unacceptably high" and "trained people are also unemployable" in a programme held at Calcutta Club on Saturday.
Excerpts of his conversation with cardiac surgeon Kunal Sarkar at Calcutta Debating Circle's programme on "India, the Road Ahead" in association with The Telegraph.
On unemployment
Unemployment is pretty high. It doesn't matter whether it is the highest in 45 years and so on, it is unacceptably high and our trained people are also unemployable. If you go through the last 30 to 40 years, people in the education ministry are people who are the least powerful, and that is the reason it's become like that. But still, IITs may not be in the top 10, but their students are in demand all over.
Economy on tailspin
Raghuram Rajan said that to control inflation you had to increase the wages… I told the Prime Minister that the logic is if we increase the wages, interest goes up. Then small and medium industries' cost of capital goes up, and they all don't have their own funds, they have to take it from the bank. They will close down.…These are the problems that we have…I'm very sad to say we are already on a tailspin. If this budget is not rectified, we'll get a crash by the end of this year.
One-party rule
I do think that the country needs a strong Opposition party. It can't be Congress because most of them are already on bail…. But the decimation of the Opposition is not the goal of democracy. We need a strong Opposition party. It must be a vigorous one. I thought about it and came to the conclusion that if the Congress Party minus the Italians merged into TMC, and that was called Congress Party, and Mamata Banerjee was made president of the United Congress Party… Sharad Pawar and all these ex-Congressmen joined that party, that could be a viable Opposition.
On corruption
Today the probability of being caught is such that nobody really fears being corrupt. The amount of money some of these people have made is huge. The total amount abroad is (Rs) 120 lakh crores.
What is our income tax revenue? Six lakh crores — that means 20 times the income tax money, we can get from abroad. In the election campaign, (Narendra) Modi had said: "I'll give you 15 lakhs in everybody's account" and it's stuck with us and everybody's chasing us on that, but it can be brought, because Egypt has recovered money from Mubarak, Libya has recovered the money of Gaddafi, and Philippines has recovered the money of Marcos.
On Hindutva
Hindutva if properly understood, means that we don't recognise castes and any other division between a Hindu and a Hindu. We even don't distinguish between Hindus and Muslims, if that Muslims acknowledges that his ancestors were Hindus. All these caste divisions must break, and we must begin now in the 21st century to think of us as one people…… We think that the Hindutva concept will unite India, make us strong, and all these caste animosities will disappear over a period of time.