Strategic link needs repairs
Link to send artillery to Northeast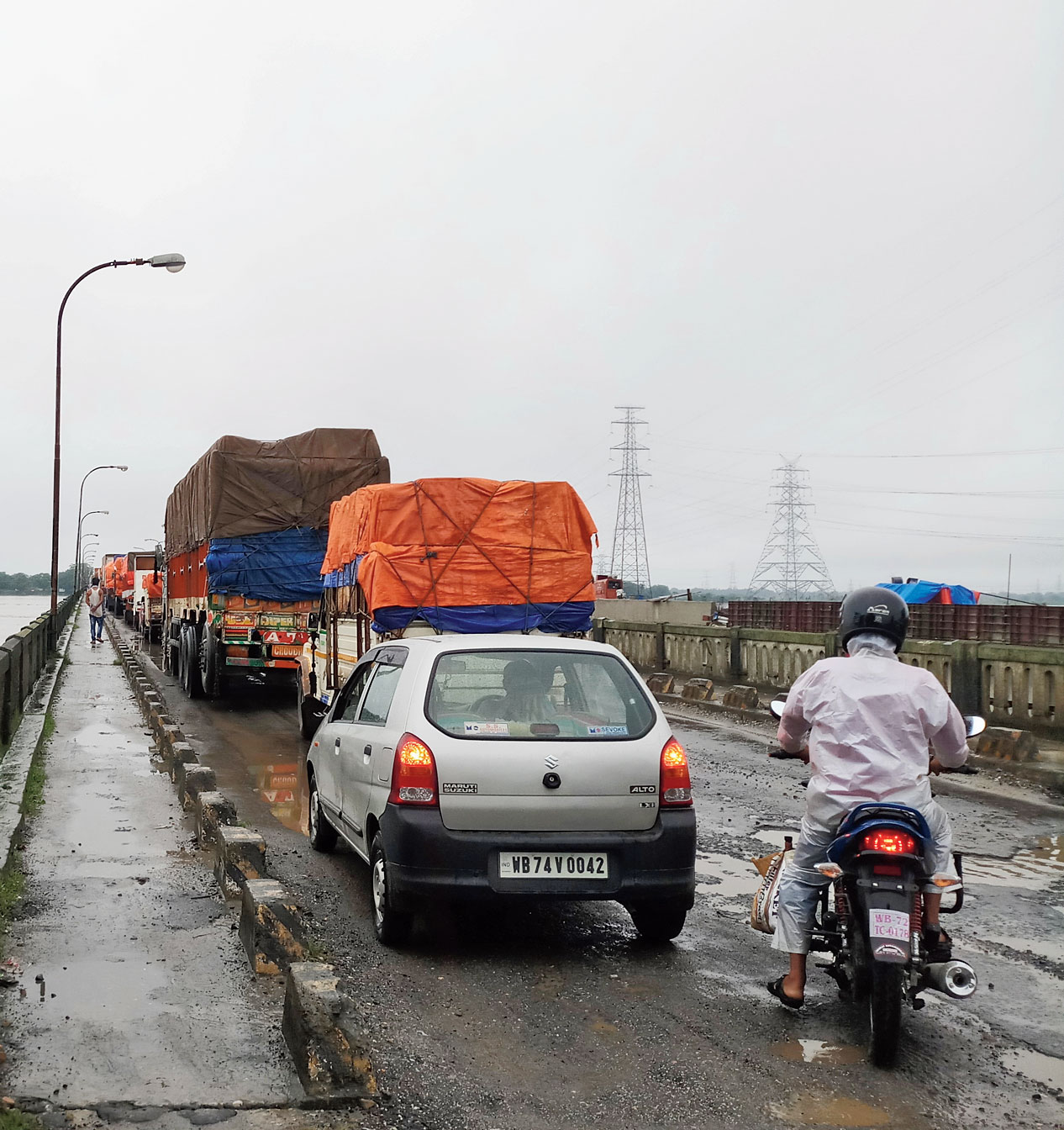 ---
---
Part of NH27, the approach road and bridge — of strategic importance in view of the Galwan Valley face-off — is in such bad shape that it takes four hours or more to cross 4km.
The 4km stretch from Paharpur More on Jalpaiguri outskirts to Domohoni comprises the approach road and Teesta Bridge — currently the only road-bridge for heavy vehicles to move to the Northeast.
Of the 4km, the approach road is over 3km and the bridge a little less than 1km.
The strategic importance of this bridge has time and again been flagged by defence analysts and security agencies.
"As of now, Teesta Bridge is the only road bridge for security forces to carry artillery and other heavy equipment to the Northeast if needed. But the condition of NH27 and the bridge itself is so bad that normal vehicles get stranded for hours. The administration and the National Highways Authority of India (NHAI) should immediately repair the stretch," said a retired army officer based in Jalpaiguri.
Heavy monsoon in north Bengal has worsened the situation as potholes and craters are waterlogged.
"From Friday evening to Saturday late afternoon, vehicles could barely move a kilometre in an hour," said a senior police officer.
About 10 days back, Jalpaiguri district magistrate Abhishek Tiwary had asked the NHAI to repair the stretch within seven days.
However, no major repair work has been witnessed yet.
Contacted, NHAI project director Pradyut Dasgupta said they could not start the repairs due to the consistent downpour. "Once the rain stops, we will start repairs on an emergency basis," he promised.
" Also, work on the second bridge has almost finished and we need to finish its approach roads," added Dasgupta.
A second bridge parallel to the existing bridge is under construction and would take at least another month before it is opened for traffic.
The bad road conditions have also left the drivers at inconvenience.
Sujit Kumar Sahu, a truck driver carrying medicines from Bihar to Assam, said: "I reached Paharpur More at 8am on Saturday. It took me five hours to reach Domohoni. It was backbreaking."
Throughout Saturday, policemen had to bear the brunt of keeping vehicles in line and try their best to clear the congestion.