State to celebrate 'secular Netaji'
Nobel laureate economists Amartya Sen and Abhijit Vinayak Banerjee, asked Mamata to ensure that his uncompromisingly inclusive worldview was highlighted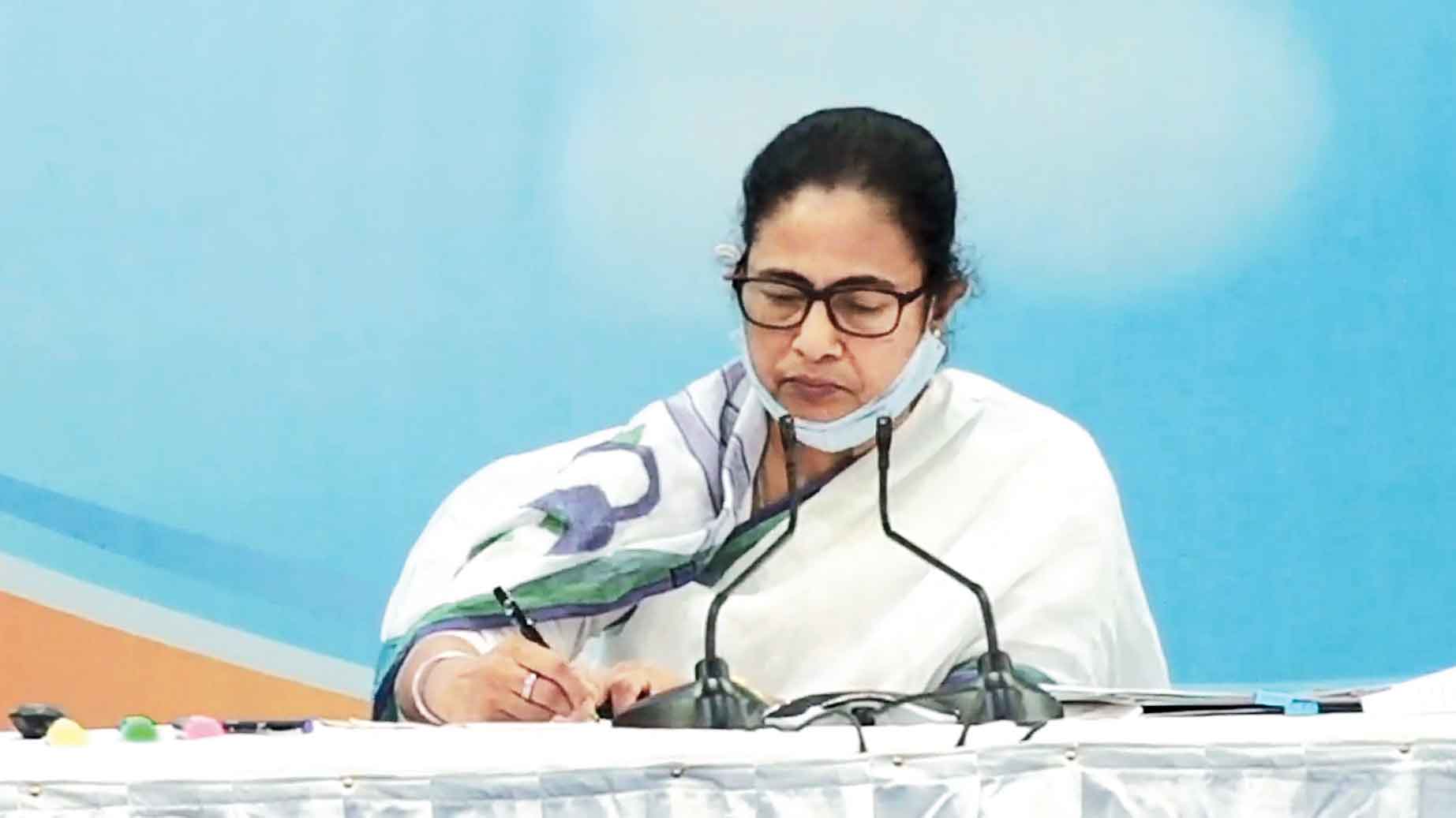 ---
|
Calcutta
|
Published 05.01.21, 03:22 AM
---
Mamata Banerjee will launch the yearlong quasquicentennial anniversary celebration of Netaji Subhas Chandra Bose on January 23, the day the Prime Minister is likely to be in Bengal.
"The core idea is to make sure that once again Netaji's ideas and everything he stood for are spread far and wide…. A truly national, global icon, who rose from Bengal," said the chief minister on Monday.
In a meeting with the elite committee comprising eminent members of the civil society tasked with planning the celebration, Mamata took suggestions on Monday to make Netaji's ideals more relevant to the youth.
Nobel laureate economists Amartya Sen and Abhijit Vinayak Banerjee, part of the committee, asked Mamata to ensure that Netaji's uncompromisingly inclusive, secular worldview was highlighted. While Banerjee joined the meeting virtually, Sugata Bose, Netaji's grandnephew, presented Sen's suggestions and explained that the Nobel laureate had "an 11hour time lag with India now". Mamata was appreciative, sources said.
"He (Sen) asked the state government to try and foster awareness on Netaji's ideals of unity and equality among youths. He stressed the need for attention to Netaji's unifying philosophy, important as he was against narrowmindedness in any form and was firmly opposed to communalism," said Bose at the meeting.
"Not only was he uncompromisingly secular but also firmly stood by the poor," he added, quoting Sen.
"If we truly want to celebrate his life, we should work towards bringing together all kinds of opinions, faiths, even creative work," said Banerjee.
A minister said Mamata will use the occasion to lambaste the saffron camp's attempts at deifying "controversial" figures such as Vinayak Damodar Savarkar, Syama Prasad Mookerjee and Deendayal Upadhyaya.
Modi, likely to participate in Netaji-centric events in Bengal on January 23, has often lauded Netaji, but according to critics with the intent to undermine Jawaharlal Nehru.
"Modi is the ideological descendant of Syama Prasad Mookerjee…It is no secret that Bose was a fierce critic of Mookerjee and the Hindu Mahasabha...This will be highlighted," said a Trinamul MP.
The elite committee includes poet Shankha Ghosh, scholars and Netaji kin Sugata Bose and Sumantra Bose, finance minister and Netaji kin Amit Mitra, authors Shirshendu Mukhopadhyay and Abul Bashar, thespians Rudraprasad Sengupta and Manoj Mitra, artists Jogen Chowdhury and Suvaprasanna, poet Subodh Sarkar, danseuseactor Mamata Shankar, and author and activist Manoranjan Byapari, senior government officials and many vicechancellors.
Mamata said henceforth, Bengal would celebrate January 23 — Netaji was born on that date in 1897 — as Deshonayak Diwas, to be launched this time with a mega rally from the base of his statue at Shyambazar to that on Red Road. At 12.15pm, the time of his birth, sirens would be sounded across the state. In educational institutions, cells of the Jai Hind Vahini akin to the NCC would be set up.
"Besides, we must have a special Azad Hind Fauj monument, a national university in Netaji's name…. Personally, I believe as a nation we have not done enough to honour the global hero. We are yet to declare his birthday as a national holiday," said the Trinamul chief, in a jibe at the Centre.
Mamata also reiterated her demand for bringing to light the "whole truth" about Netaji's end.