Bengal government hospitals fail fire certificate check
According to officials at Swasthya Bhavan, the headquarters of the state health department, fire safety wasn't a priority until recently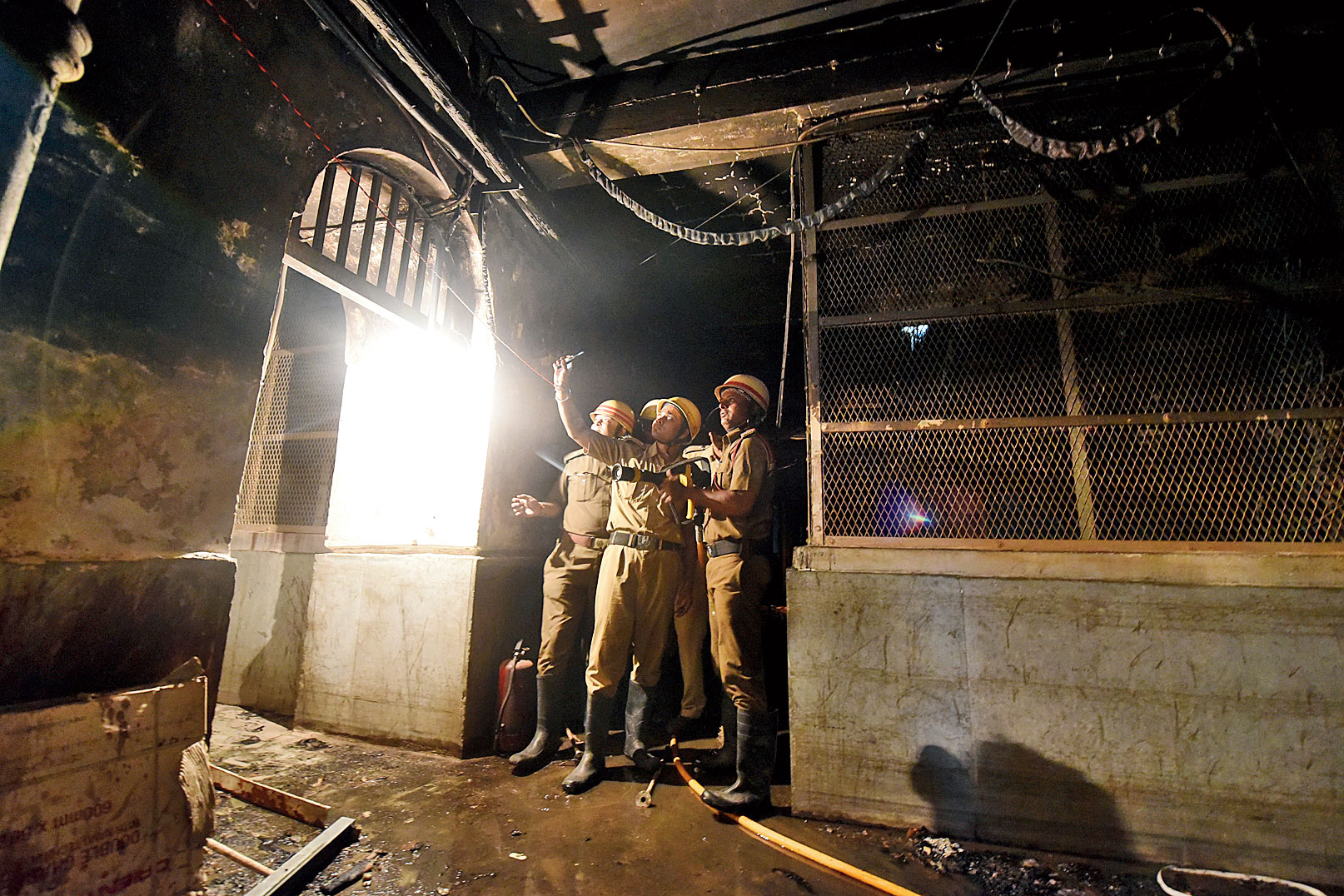 A fire services team inspects the gutted storeroom of the pharmacy at Calcutta Medical College and Hospital on Thursday.
Picture by Pradip Sanyal
---
Calcutta
|
Published 04.10.18, 08:40 PM
|
---
 None of the state-run hospitals in the city has a valid fire safety certificate, health department officials said on Thursday to rip off what remains of the farce of safety seared by the blaze at Calcutta Medical College and Hospital.
The health department apparently realised only three weeks ago that state-run hospitals, including the medical colleges, had been operating without the mandatory certificate of compliance with fire safety norms.
All these institutions were asked to immediately contact the fire services directorate to initiate or complete the process, depending on their compliance status.
Asked about state-run hospitals operating without statutory safety clearance, fire services minister and mayor Sovan Chatterjee said: "I am not aware of this."
At Calcutta Medical College and Hospital, where the storeroom of a pharmacy on the ground floor caught fire on Wednesday morning, the authorities allegedly hadn't bothered following up on an application pending since 2016.
The teaching hospital has seven assistant superintendents (non-medical), whose job description includes ensuring compliance with safety regulations. In the two years since the institute applied for a certificate, they not once pursued the fire services directorate for clearance, sources said.
According to officials at Swasthya Bhavan, the headquarters of the state health department, fire safety wasn't a priority until recently for reasons they claim to be unaware of. "Last month, when the bosses decided that some fire-safety measures should be in place, we directed the government hospitals to apply for compliance certificates," an official said.
Calcutta Medical College and Hospital acted on the directive by resending the application pending approval for two years. "We forwarded the same application. The fire services department said a team would come for an inspection soon," an official said.
The fire services directorate said it had recommended an auto suppression system — the set-up includes smoke detectors, fire alarms and water sprinklers — for Calcutta Medical College and Hospital.
The hospital authorities allegedly sat on these recommendations.
When a fire engulfed the pharmacy storeroom on Wednesday, there was no alarm system to alert patients and their attendants to evacuate the four-storey building. Around 250 patients barely escaped suffocating to death inside, some of them scurrying out on their own with tubes attached.
Installing fire-safety equipment in government hospitals is the public works department (PWD)'s responsibility. But supervision, which includes ensuring that the system functions, is the duty of the hospital.
"I don't know why they (the hospital authorities) didn't install fire-safety measures in the pharmacy storeroom. Maybe they didn't do it because of budget constraints," a PWD official said. "There are about 50 buildings, including hostels and staff quarters, on the campus of Calcutta Medical College and Hospital. Implementing fire-safety norms across the campus will take time."
Ezra Building, to which some of the evacuated patients had been shifted after the fire at MCH Building, is bereft of firefighting equipment except some extinguishers along the corridors.
A PWD official said it was difficult to install modern fire-safety measures in old structures.
Most government hospitals do not have firefighting drills, although Calcutta Medical College and Hospital claims to have had one a few days ago. "The fire services directorate had conducted a drill last Friday. But they never mentioned that many firefighting tools are not functioning," an official said.