Stalls flout mayor's plastic ban
Leaking roofs have forced our hands: Traders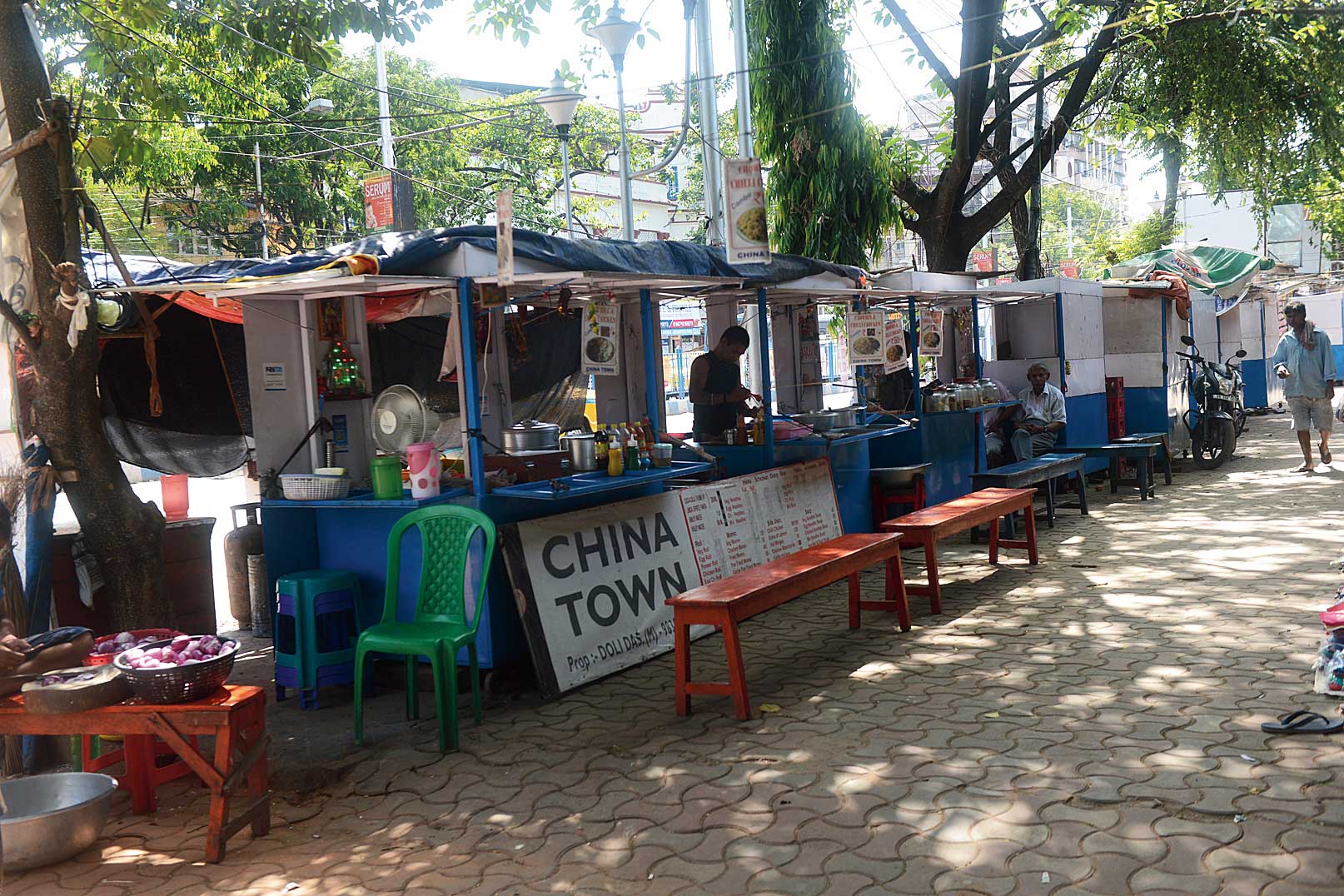 Hawker stalls off Deshapriya Park that have been covered with plastic sheets.
Picture by Bishwarup Dutta
---
Calcutta
|
Published 24.03.19, 10:04 PM
|
---
Hawkers off Deshapriya Park who were given new stalls in December have started covering their units with plastic sheets to prevent their wares from getting wet, a move that violates a ban on the use of such sheets on pavements.
The Calcutta Metropolitan Development Authority had distributed around 200 stalls to hawkers in south Bengal for free in December as part of a rehabilitation project.
Nine hawkers along Rashbehari Avenue, between the crossing with Sarat Bose Road and the gate of Deshapriya Park, were among those who got the new stalls.
The owners of four of the nine stalls have put plastic sheets on the roof to prevent water from seeping in during rain, a visit to the spot revealed.
"It feels nice to have a new stall but when it rains, water drips through gaps in the roof and all our items get wet. There are gaps on the top when the stall is opened. To protect our wares we have put plastic sheets over our stalls," a hawker said.
The plastic sheets, he said, have been in place since the city was lashed with a spell of heavy rain last month.
Mayor Firhad Hakim had announced a ban on the use of plastic sheets by hawkers with stalls on pavements after a building at Gariahat that housed two popular sari shops — Traders Assembly and Adi Dhakeswari Bastralaya — went up in flames on January 20 night.
The fire is suspected to have spread to the building from a pavement stall.
Besides being an eyesore, plastic or tarpaulin sheets are inflammable.
An official of the Calcutta Municipal Corporation said they would soon launch a drive to remove plastic sheets from stalls on Rashbehari Avenue pavements.
"We had undertaken a drive earlier but it was suspended after hawker union leaders sought some time. They promised to remove the plastic sheets. We will resume the drive across Calcutta, including the pavements along Rashbehari Avenue," the official said.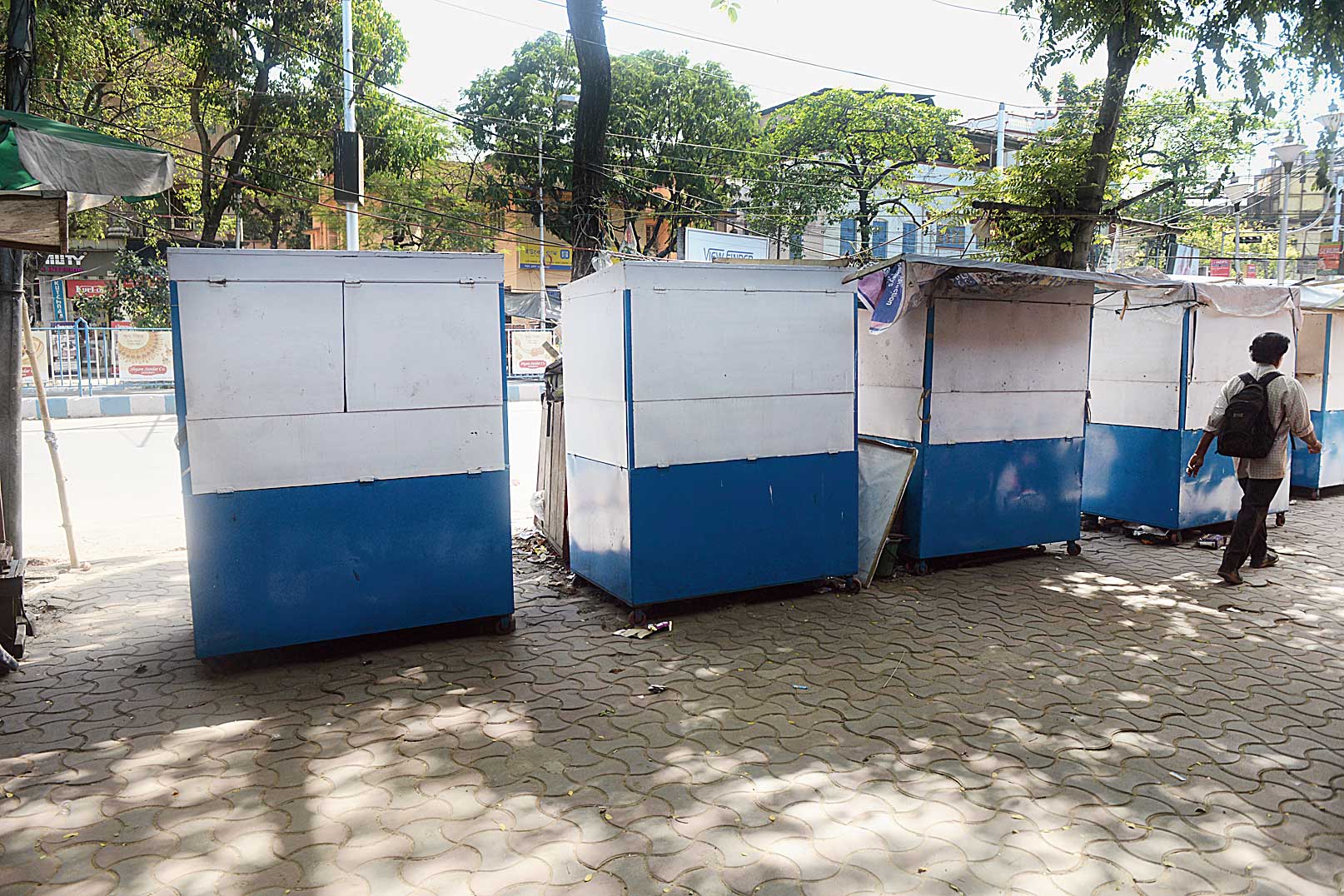 Metro had on March 8 reported that the hawkers on a 200m stretch of Rashbehari Avenue, from the Bata store opposite Basanti Devi College to the Gariahat crossing, will get waterproof and fire-retardant kiosks in place of the plastic-wrapped ones by Puja. Mayor Hakim has approved a design of kiosk made by architects of Calcutta Architecture Foundation.
Apart from the Gariahat fire on January 20, at least one major fire in Calcutta in recent past had apparently started at a pavement stall.
Witnesses had said flames from a stall had spread to Bagree Market, in the central business district, on September 16. The fire had raged at the wholesale and retail hub for 80 hours, leaving many stalls gutted.
The stalls at Deshapriya Park were distributed before the Gariahat fire but by then the state government had notified the West Bengal Urban Street Vendors (Protection of Livelihood and Regulation of Street Vending) Rules 2018, which prohibit the use of tarpaulin or any other inflammable material.
"Any structure with tarpaulin or any other inflammable article shall not be allowed," the rules state.
Hakim had promised to make stalls with a shed for hawkers so that they did not have to use plastic/tarpaulin sheets. The Deshapriya Park stalls are similar to what the civic body is making for hawkers whose stalls were gutted in the Gariahat fire.
The white-and-blue stalls can be opened on all four sides and are fitted with wheels. Each stall has a storage room inside.