Staff at Covid hospital strike in Jalpaiguri
The facility was opened at Biswabangla Krirangan, a sports complex, six months ago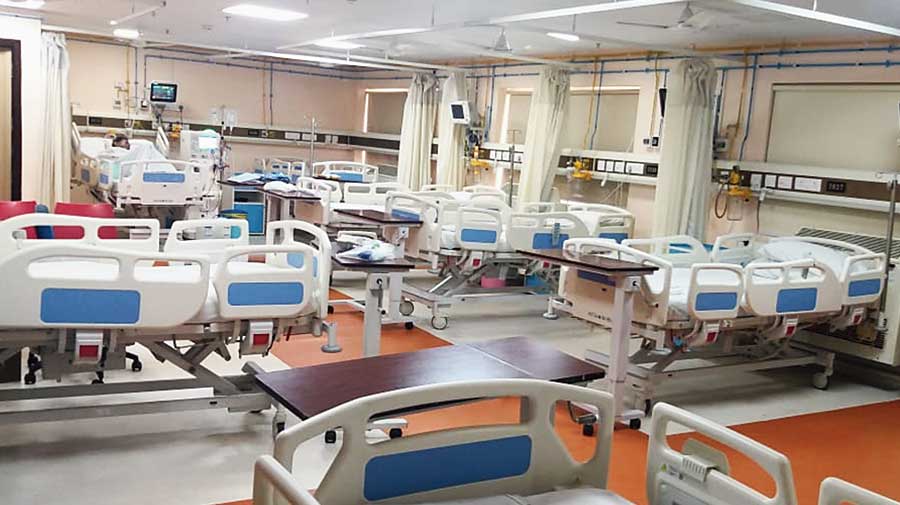 ---
---
Over 50 casual employees of the Covid-19 hospital in Jalpaiguri struck work and held a dharna on the premises on Wednesday demanding immediate payment of their due salaries.
Some ancillary services at the hospital were affected because of the strike which was lifted in the evening after a senior official of the Jalpaiguri district health department had assured the casual staff of necessary intervention to solve the issue.
The Covid hospital was opened at Biswabangla Krirangan, a sports complex, six months ago. After the facility was opened, 57 casual employees were engaged by a private agency as security guards, ward boys and housekeeping staff.
In September, the district health department engaged another private agency for providing casual workers, but the earlier staff were not removed as they were experienced.
"The new agency asked us to continue our work as we gained experience. However, the old agency did not pay us our salaries for September. The festivities are ahead and we are sitting here high and dry. That is why we have resorted to cease-work and want our salaries to be disbursed immediately," said Manoj Singh, one of the casual workers.
Rakhi Rajbanshi, another casual employee, said none from the new agency had contacted them so far.
"It is fine that we have not been removed from our jobs but none from the new agency has spoken to us. Many of us do not have any idea of the new agency. On the other hand, those in the old agency are dilly dallying in paying our salaries. We are in a fix now," she said.
As the demonstration continued, an official in charge of the hospital spoke to the agitators and assured them of necessary steps.
Later, Gayaram Naskar, the superintendent of the Jalpaiguri district hospital, said the authorities were looking into the issue.
"We have spoken to the private agencies concerned and hope the issue will be resolved soon. It is good that the casual employees have withdrawn their protests and joined their work," Naskar said.