Squall bares lapses in tree care in Calcutta
Every year the city loses tens of trees in thunderstorms and squalls during summer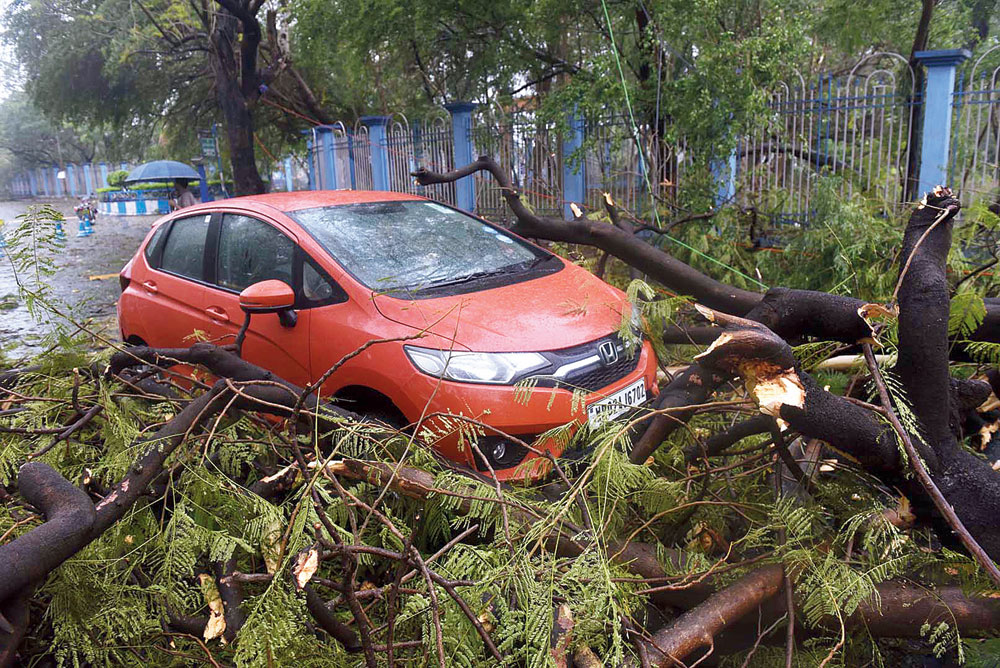 Trapped! A car stuck on Boroj Road near Rabindra Sarobar after it accidentally drove into branches of a tree that got uprooted during the squall on Monday.
Picture by Sanjoy Chattopadhyaya
---
Calcutta
|
Published 25.02.19, 11:08 PM
|
---
A squall that clocked barely 58kmph at its fiercest felled as many as 17 trees across Calcutta and Salt Lake early on Monday.
The heavy toll on the fast fading green population of the city again highlights the cost of the tight grip of concrete around a tree, unplanned plantation and almost zero post-plantation care.
Calcutta has too many fast growing trees whose roots do not strike deep and are prone to getting uprooted during a squall. Too much of concretisation around a tree further worsens the situation.
Every year the city loses tens of trees in thunderstorms and squalls during summer. Uprooted trees have claimed the lives of a number of pedestrians as well as people inside cars.
On Monday, trees were uprooted along Heyshyam Road (Bhowanipore) and Bagbazar Street, in Golf Green and Hindustan Park, and near Lake Kalibari on Southern Avenue, Santoshpur lake and the intersection of Baker Road and Belvedere Road in Alipore.
An official of the Calcutta Municipal Corporation said branches of another 31 trees broke and fell on the roads, a consequence of what experts call improper pruning.
At least five trees were uprooted in Salt Lake, while branches of many trees crashed on the Broadway, which connects the township with EM Bypass. Branches of coconut trees fell on the Salt Lake Bypass, which connects Chingrighata with Sector V. No one was injured.
Naturalists and architects blamed unplanned plantation for the loss of trees to storms. "There are too many Krishnachura and Radhachura trees in Calcutta. Their roots do not go very deep. As a result they topple easily," said Anuradha Rathore, a landscape architect.
She also blamed the lack of care or upkeep of roadside trees for their frequent fall. "Note that Monday's storm and rain came after a dry spell since October. So, the trees didn't probably get any water and nutrition in these months," she said.
Naturalist Arjan Basu Roy blamed cementing of the footpath around a tree or reduction of width of a median for the frequent toppling of trees. "Roots of a tree grow vertically and horizontally. By widening roads, we are reducing the soil around a tree on the median. The roots cannot spread horizontally. Cementing of the footpath around a tree also reduces the scope of horizontal growth of roots. All these make trees unable to endure storms," he said.
Debashis Kumar, CMC's mayoral council in charge of parks and squares, admitted plantation had been unplanned. "We have stopped planting saplings of Krishnachura or Radhachura. We are growing trees that have deep roots," he said.