Spirit of revolution in tutor's mission
Subhash Chandra Kundu's speech is not what it used to be but his clarity is as sharp as ever, cutting through the din that invades the room from outside as he explains Fresnel's biprism experiment to a group of students seated around him on floor mats.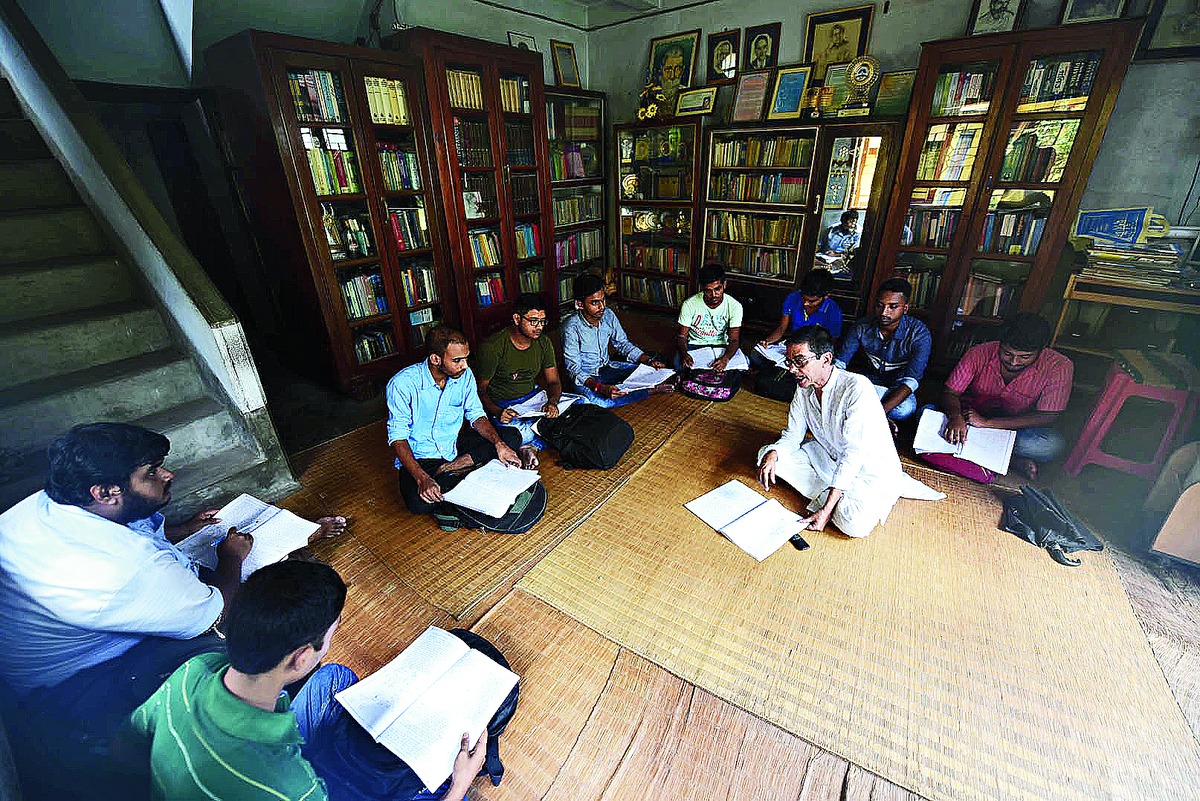 ---
Basirhat
|
Published 27.08.18, 12:00 AM
|
---
Basirhat: Subhash Chandra Kundu's speech is not what it used to be but his clarity is as sharp as ever, cutting through the din that invades the room from outside as he explains Fresnel's biprism experiment to a group of students seated around him on floor mats.
We are at Kundu's Institute of Physics, a two-storey red landmark in Basirhat that shares its immediate surroundings with Priyo Cake Centre and Joydeber Hotel, two roadside shacks you won't find on Google Maps.
Across this narrow stretch of Taki Road is Falguni Cinema, where a crowd mills before an afternoon show of the Bengali potboiler Sultan: The Saviour. In a strange way, the title of the film evokes the image of the frail 71-year-old teacher in the building opposite the cinema.
For three decades since he found his calling, Kundu has been as much a saviour as he has been a teacher. Most of his students have been from families struggling to send them to college, let alone pay for tuition. Some of them have gone on to teach at the IITs and other top institutions like St Xavier's College in Calcutta.
"I am here to spread the knowledge of science, especially among students from poor families. How can I slap them with the burden of fees? Science is the way forward for these boys and girls. This can make them employable," says the septuagenarian, one of the recipients of the Dr Mrs N.B. O'Brien Memorial Lifetime Achievement Award at The Telegraph School Awards for Excellence 2018, presented by IIHM and powered by Sister Nivedita University.
Kundu, partially paralysed by a cerebral stroke about a decade ago, had set up the Institute of Physics in 1988 on a two-cottah plot that he bought from his siblings.
The institute has grown but the ground-floor classroom still does not have any furniture apart from bookcases filled with tomes on physics. The spartan ambience mirrors how Kundu has conducted much of his life, dedicating himself to a mentoring mission far removed from science coaching centres that charge fees by the hour.
"When I was a teacher at Basirhat High School, I never took a paisa from my students for private tuition. I always thought that my salary as a teacher was enough for my sustenance. Post my retirement, what I receive as pension remains more than adequate. Arrey, ghore lakh lakh taka pore aache (Come on, I have cash lying around at home)!" he says.
Kundu credits his participation in the Naxalite movement from the late Sixties till the early Seventies for his zeal to serve. He was studying for an MSc in physics at Rajabazar Science College when, like scores of other students of the time, he was drawn to the movement.
"I was into active politics between 1968 and 1971, when I was teaching at Basirhat College. The movement floundered as we tactically pursued the wrong line. My biggest takeaway from the movement was being infused with the spirit to serve. After being released from the Dum Dum correctional centre in 1974, I decided to pursue a mission not through the path of armed revolution but by spreading science education among the poor," he recounts.
Although it is not a happy memory, Kundu thinks being subjected to police torture for days after being picked up during a combing operation made him stronger and more determined. "You see, student politics was not as bad during those days as it is now. There was a purpose to it. That experience has carried me along and spurred my dream of developing this institute," he says.
Such is the respect that Kundu commands that Sayan Ghosh, a third-year student of physics at Barasat Government College, can't bring himself to speak about his teacher without lowering his head in obeisance. "He makes it so easy for us to understand the most critical of theories. It is an honour for me to receive lessons from him," says Sayan, a topper.
A few of his former students were at the Science City auditorium on Saturday to applaud their "Sir" when he received the lifetime achievement award. Kundu called them to the stage and happily posed for groupfies later.
Since he teaches his students for free, running the institute isn't easy. But Kundu soldiers on. At the time of starting the institute, his students had made small contributions. The rest of the resources came from his pocket. "I took multiple loans to develop the institute," he recalls.
As the size of the building grew, so did its reputation. In Basirhat, it would be regarded a shame if a resident didn't know where the Institute of Physics is located. "This is how popular Sir is. He has earned the respect of the people of this entire belt for his dedication," says Chandra Mitra, a student of Kundu who now teaches in a girls' school in the district.
The institute currently has six rooms, two of them used as classrooms. These are on the ground floor. The rooms on the mezzanine and first floors house laboratories packed with new and old instruments purchased and donated over the years.
A spectrometer, a cathode-ray oscilloscope, an optical bench and a microscope sit on a desk in one of the laboratories. Earlier this year, a former student gifted Kundu a function generator.
To stoke interest in science, this lifelong teacher and student of physics holds exhibitions and quizzes across the district. He feels no effort is enough to ensure that the pursuit of science becomes a passion for each generation.
"The natural knack for science is on the wane, so I try to attract students to science in as many ways as possible," says Kundu.
And don't other teachers also have a responsibility?
"Yes, they do. My advice to them would be: just do your job honestly and motivate the students. As I myself realised after coming out of the Naxalite stint, Albert Einstein is as relevant in Basirhat as he is in Europe and America. Sikshay kono khad hoy na (There is no impurity in education). So just keep teaching."