Special farm trains to Calcutta launched
Vendors will be allowed to travel with their produce on the trains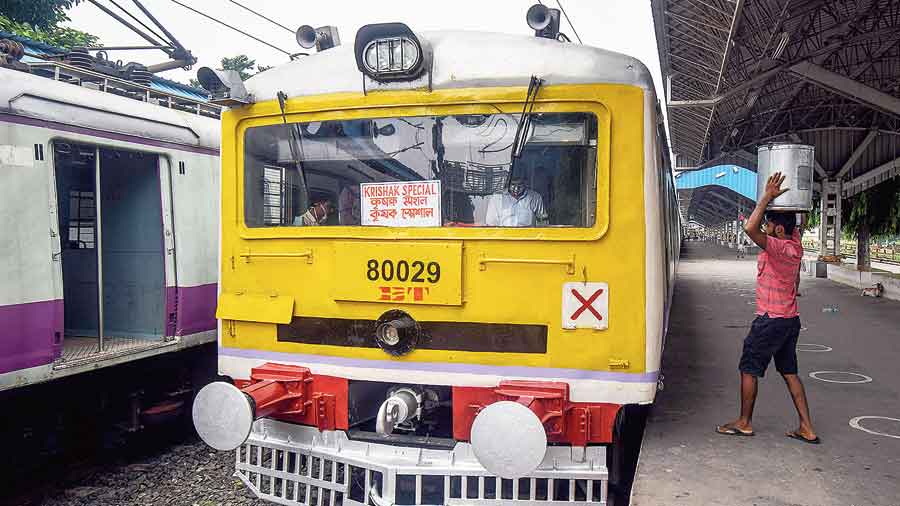 ---
Calcutta
|
Published 13.08.21, 02:23 AM
|
---
The Eastern Railway on Thursday launched an exclusive train service for farmers in its suburban section on an experimental basis for transportation of agricultural and perishable products to markets in Calcutta.
Two trains — Krishak Special — will run between Gede and Sealdah as well as between Santipur and Sealdah six days a week. Vendors will be allowed to travel with their produce on the trains.
The two trains will help a large number of farmers and vendors from Nadia district and some parts of North 24-Parganas district to bring agricultural produce, particularly green vegetables, to markets in Calcutta.
On August 7 last year, the railway ministry had introduced the inter-state farmers' special train (Kisan Rail) between Devlali (Maharashtra) and Danapur (Bihar) in pursuance of an announcement in the 2020-21 Union Budget. This followed the launch of more similar inter-state Kisan special trains.
But Eastern Railways' Krishak Special is the first ever intra-state service launched in the suburban section to cater for a huge number of farmers and vendors who regularly struggle to transport their produce to the city markets from rural areas. Otherwise, they travel largely in general compartments.
The nine-coach trains from Gede and Santipur will have limited stops and general passengers will not be allowed to travel, a railway official said.
The Krishak Special train would leave Gede at 3am and reach Sealdah at 5.46am. On the other hand, a similar train from Santipur will start at 1.20pm and reach Sealdah at 3.50pm.
"Vendors will be allowed to carry their agricultural produce by using their monthly vendor season ticket, luggage tickets as well as unreserved tickets to travel in the train," an ER communication stated.
Speaking about the objective of the two trains, an ER official said: "The early morning train from Gede is aimed at helping farmers ferry agricultural produce, particularly green vegetables, so that they could ensure supply to the city markets in the morning. The other train from Santipur is to help chhana producers who regularly supply huge quantities of cottage cheese to satisfy the demand of the confectioners," the official added.
ER authorities have decided that if this new special service becomes popular, similar trains will be introduced gradually in other suburban sections as well.
"This Krishak special train service has been introduced on an experimental basis in the suburban section. If this experiment becomes successful, launching of similar train services will be considered in other suburban sections as well," Ekalavya Chakraborty, chief public relation officer of Eastern Railway, told The Telegraph.