Sorry state of Salt Lake roads
Road repairs had started in the run-up to the Book Fair held in Central Park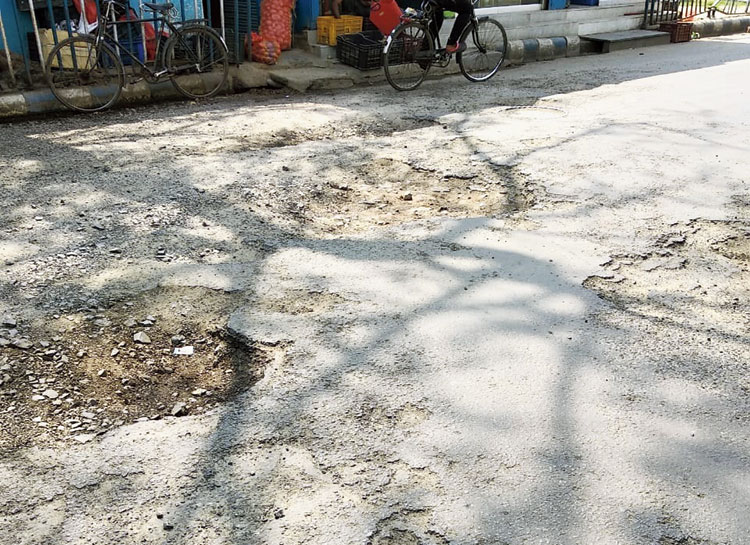 ---
|
Calcutta
|
Published 25.02.19, 08:27 AM
---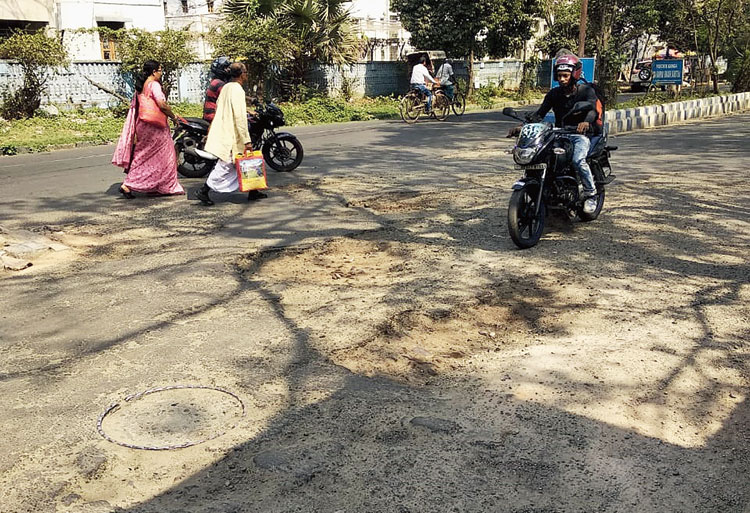 Several roads in Salt Lake, including the arterial road leading from the Bypass crossing near Hyatt Regency to the Salt Lake stadium, are filled with craters and potholes.
Road repairs had started in the run-up to the Book Fair that was held in Central Park from January 30 to February 10.
But residents alleged the repairs were carried out in the Central Park and neighbouring areas, leaving a major chunk of bad roads in most blocks unattended.
"Most roads inside our block are riddled with potholes. On top of this, several areas plunge into darkness after dusk because street lights don't work, making it extremely dangerous for vehicles and pedestrians," Suman Bhattacharya, a resident of FE Block, said.
Piyush Agarwal, 32, a businessman who stays in the neighbouring FD Block, said roads in his block were in "bad shape". "The main roads are okay... but the problem starts once you enter the block," he said. "It is a back-breaking ride home."
A civic official said work had started in some parts of the township following a prod from urban development minister Firhad Hakim.
He had held a meeting with councillors before the Book Fair but several roads are still to be repaired, the civic official said.
Sunil Agarwal, a resident of LB Block in Sector III, said there were at least 30 craters in front of his housing complex. "An entire portion of the road near the JC Block roundabout in front of SN Bose National Centre for Basic Sciences has caved in," he said.
"A huge ditch has formed. The civic body has filled it up with sand and gravel but I skidded there twice while riding my scooter."
Salt Lake mayor Sabyasachi Dutta said the finance department had cleared Rs 19 crore for the road repairs. "We cleared the dues of contractors and repairs have started. We are doing the repairs in phases," he said.
Tapas Chatterjee, the deputy mayor and the council member in charge of roads, said Rs 15 crore had been earmarked for road repairs in all 41 wards in the corporation's jurisdiction.
"Our men are working and we hope to complete the repairs by the end of March," Chatterjee said.