Social outfit sows seeds of alternative farming at Mousuni
Bid to promote new vegetables that can withstand salinity of soil in Sunderbans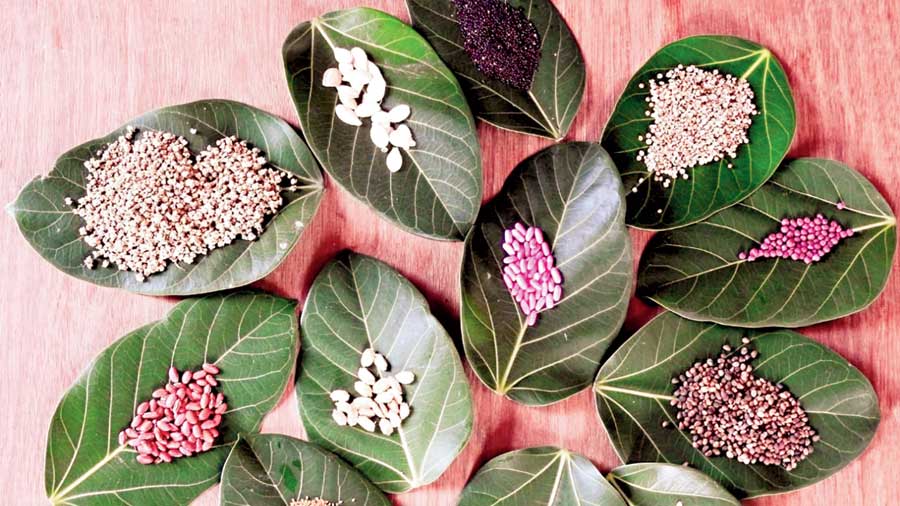 ---
---
A social organisation has started an experiment in alternative farming at Kusumtala on the Mousuni Island by encouraging the farming community to use seeds that can withstand salinity of soil.
A large number of villages in the Patharpratima, Namkhana and Joynagar 2blocks of South 24-Parganas are regularly flooded by rivers that are linked to the sea and have high saline content. As water from these rivers keep flooding the villages, cultivating rice and several varieties of vegetables have become difficult. Similarly, the increase of salinity in the ponds make farming sweet water fish species, such as rohu and katla, difficult.
The odds that farmers in the region face has been the trigger behind the experiment that Rupantaran Foundation, a Calcutta-based organisation carrying out livelihood restoration programmes across the state, has taken up in the region.
Tapas Mandal, head (capacity building) of Development Research Communication and Services Centre, a resource and knowledge centre for sustainable agriculture and alternative livelihood, said they had recommended 12 vegetable seeds to Rupantaran based on the soil condition in the region.
"Vegetables will be cultivated on raised land, where salinity level has decreased because of rain. As saline water remains locked in low-lying paddy fields, the vegetables will be cultivated on raised land structures that border these fields. These raised stretches of land are ideal for alternative farming because rain has decreased the soil's salinity level. The use of mustard cake as an organic fertiliser will further reduce salinity in the soil," Mandal added.
According to him, this model will yield good results in areas affected by Cyclone Amphan that devastated large parts of the Sunderbans in May, affecting the livelihood of the people in the region. Amphan-induced surge in the rivers, tidal waves and breach in embankments had led to flooding of large tracts of agricultural land and ponds with saline water.
As cultivation of traditional crops has become a challenge in the three blocks following Amphan, Rupantaran took up the problem with agricultural experts who suggested introducing peasants to farming vegetables that can withstand salinity in the soil.
Earlier this week, Rupantaran distributed packets containing 120gm seeds each of red amaranthus (laal saak), water spinach (kalmi saak), red spinach, bitter gourd, pumpkin, lady finger, cucumber, yardlong bean, French beans, radish, and coriander, all of which can survive salinity. In the coming days, 4,906 families will be given seeds, along with 5kg of mustard cakes for fertilisation.
Soma Ranjit, a widow in Kusumtala with two children who received the seed packets on Tuesday, said: "We have no work since March. In the past few months, we hardly got anything to eat other than boiled rice. I will grow vegetables on the boundary around my land."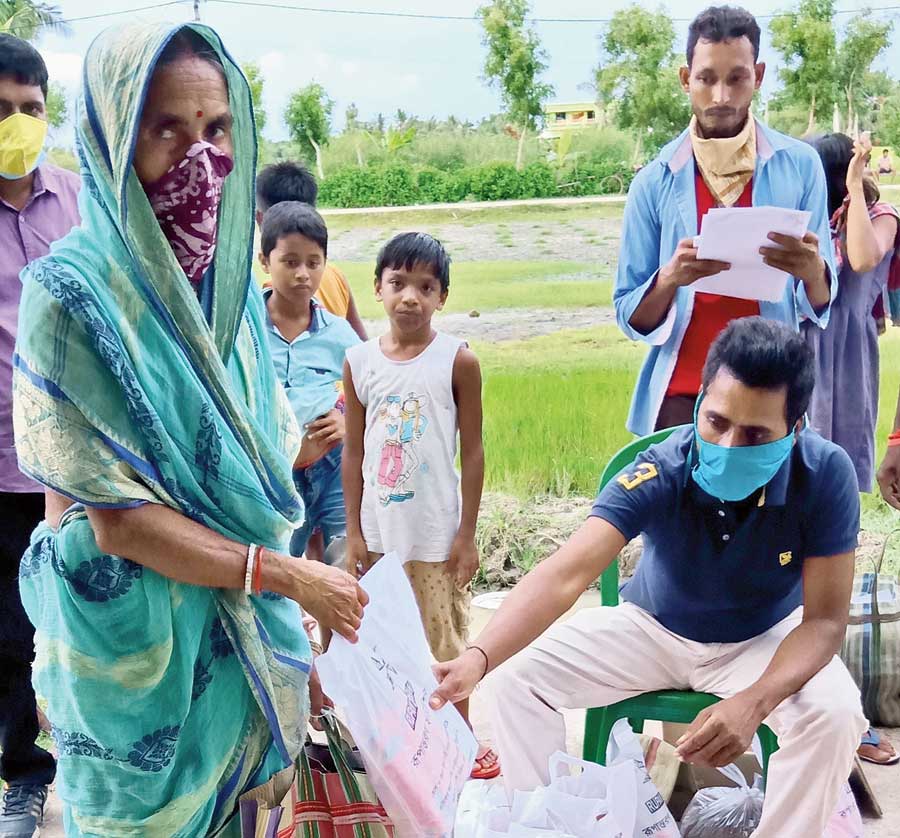 Rupantaran's beneficiary Sankar Dhara, 58, a farmer in Kusumtala, said he had cultivated paddy on his 2 bigha land last year and earned Rs 12,000. But, Amphan had damaged his crops this year.
"Amphan has destroyed my livelihood. I cannot grow paddy this year because of high salinity in the soil. At present, I have no income and had to take a loan to run my family. I am banking on the seeds Rupantaran has given us to grow vegetables. We will be able to eat the vegetables and earn as well by selling the surplus produce."
As part of its livelihood support programme, Rupantaran Foundation has identified 6,389 marginal families in the Patharpratima, Namkhana and Joynagar 2blocks.
The Amphan victims without a pucca house, betel orchard, boat and land more than two bighas, have been identified for the project.
Speaking to The Telegraph, Rupantaran's founder-director Smita Sen said: "During distribution of relief materials among Amphan victims, we noticed the miserable condition of people in Mousuni (Namkhana block), Gopalnagar (Patharpratima block) and Manirtat (Joynagar 2 block). Those villagers were worst affected as their agricultural land and ponds had been inundated with saline water. This made agricultural activity a difficult proposition and many were beginning to migrate to earn a living. This made us take up a restorative support programme in these areas."
"We spoke to agricultural experts to find out alternative survival means and they suggested farming vegetables since these people were getting free rice from the government. The vegetables will help the families because of their nutritional values and they could earn by selling the surplus produce," Sen said.
Pranab Hazra, a professor at Bidhan Chandra Krishi Viswavidyalaya in Kalyani and an expert in horticulture, welcomed the initiative but expressed doubts about the "salinity tolerance" of some vegetables. "Some of these vegetables can resist salinity to some extent. However, it is true that rainfall helps reduce the salinity level in the soil," Hazra said.
In several phases, these families will be given seeds of 12 types of vegetables that can grow in saline soil conditions. Those who do not have land but own ponds will be given fish like hybrid Telapia that can be farmed in saline water. Those without land or ponds will be given chicks to start poultry farming. The organisation will also train the beneficiaries to grow fish and vegetables in a sustainable way to meet their nutrient needs and sell the surplus in the markets.
Hasna Banu Biwi, the chief of Mousuni gram panchayat, said: "I am hopeful the endeavour will benefit the poor families who have been hit hard by Amphan and lockdown."