Smooth landing at 35,000ft. It's a boy!
In-flight birth up in the sky, landing in Calcutta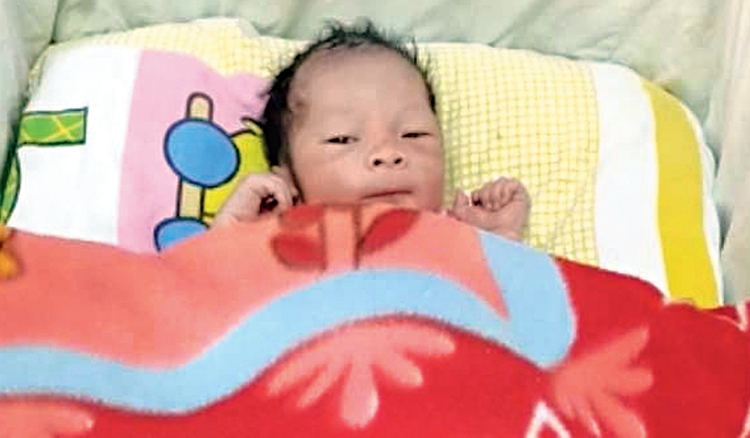 ---
|
Calcutta
|
Published 04.02.20, 08:45 PM
---
A 22-year-old woman gave birth to a baby boy 35,000ft above sea level in Indian airspace on a Boeing 777 early on Tuesday with the help of five air hostesses and a doctor who happened to be a co-passenger.
The private hospital in New Town where the mother and child were taken after the plane made an emergency landing in Calcutta is awaiting clarification on whether it can issue a birth certificate for the newborn because he was born mid-air.
"We have written to the Thailand consulate and the chief medical officer of health, North 24-Parganas, about whether we can issue a birth certificate to the boy and are waiting for their replies," an official of Charnock Hospital said on Tuesday night.
The mother, Phromkasikornb Wassana, is Thai and the father, Ahmed, is from Oman.
In-flight births are rare, with reports quoting aviation medical support firm MedAire as saying these occur in approximately one in every 26 million passengers. Some countries, including the US, offer citizenship to babies born in their airspace.
The Qatar Airways flight QR 830 from Doha to Bangkok had landed in Calcutta at 3.10am. Phromkasikornb and her baby were rushed to hospital, where they are both stable.
Phromkasikornb said from her hospital bed on Tuesday afternoon: "I had a fight with my boyfriend and so was going to my home in Bangkok after calling my mother."
Thirty-six weeks pregnant, she had first travelled from Muscat to Doha. "Sitting at Doha airport, I was feeling a little pain but I didn't mention it to anyone thinking it would pass," she said.
She boarded the flight and was seated at 44K, an economy class window seat.
"Sometime after the flight had taken off, I was feeling an unbearable pain, which was travelling from my feet to the upper portion of my body. I could not bear it and so told one of the air hostesses about it," Phromkasikornb said.
"The air hostess helped me as she immediately understood that I was going to give birth. One of the air hostesses made an announcement whether there was a doctor on board. Then I saw one lady passenger coming forward," she said.
"I was taken to the rear of the aircraft and there were many air hostesses and the doctor, all of whom helped me with the delivery. They made me lie down on the floor and put pillows and blankets to support my head and had covered the place with curtains," she recounted.
The pilot called Calcutta airport's air traffic control at 2.20am, saying there was a medical emergency and the flight would land at Nagpur. The flight was then about 35,000ft above sea level and around 330 nautical miles or 611km southwest of Calcutta.
Then the pilot said a baby had been delivered on board and that he wanted to land in Calcutta instead of Nagpur, an airport official said.
"Qatar Airways flight QR 830 travelling from Doha to Bangkok on 3 February was diverted to Calcutta due to a medical emergency — a birth — which was supported by a doctor on board and five trained cabin crew members. The passenger and her healthy baby boy were immediately taken care of by authorities upon arrival in Calcutta. The aircraft then resumed its onward flight to Bangkok," Qatar Airways said in a statement.