Small is big for Durga Puja
Forty schoolchildren to go pandal-hopping as judges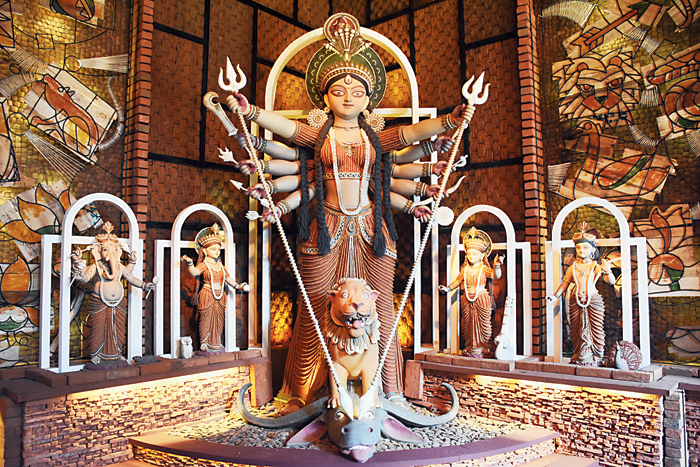 ---
|
Calcutta
|
Published 29.09.19, 08:35 PM
---
Yubasana Kapas has lost sleep in excitement ever since she came to know that she would don the judge's hat once again this Puja. Abheri Banerjee has been waiting all year to make it a hat-trick.
The two girls will be among 40 students who will judge pujas for TTIS Choto Chokhe Boro Pujo, presented by Subhas Bose Institute of Hotel Management and powered by admissiontree.in. Students of classes VI to X have been selected on the basis of an essay- writing competition on Aamar Pujo (My Pujo).
"I made my CCBP debut last year and it was an amazing experience. It felt great to judge so many big pujas. Every pandal was different. I made so many friends and had so much fun that I was eagerly waiting for another chance," said Yubasana, a Class X student of Gokhale Memorial Girls' School.
Abheri has become a CCBP veteran. "CCBP is one of the best things to have happened to me. It will be a hat-trick for me this year. When I joined the event a couple of years ago, I didn't have a clue it would be so much fun. We get VVIP treatment at all the pujas and enjoy pandal-hopping," said the Class VIII student of Modern High School for Girls.
Abheri, Yubasana and the rest of the CCBP team will meet at The Conclave on Panchami morning before going pandal-hopping on 10 routes in groups of four. Each group will visit five pujas and judge them on parameters such as innovation, idea, idol and pandal.
Come Sashthi and the young judges will visit the prize-winning pandals along with a celebrity to hand over the awards. A sumptuous lunch awaits them at Swissotel.
Puja organisers are also gearing up to impress the young judges. "We felt special to be judged Best Pujo by so many kids last year and we are confident they will like our pandal this time, too," said Partho Ghosh, the general secretary of Shibmandir, where this year's theme is bandhani.
Rajib Sen, the chairman of Subhas Bose Institute of Hotel Management, said: "It is an amazing experience being a part of TTIS Choto Chokhe Boro Pujo. I feel children are the best judges because they are not biased. They pick the best pujas without hesitation. This is the reason why we have got associated with the event for the third time."