Sky's the limit for astronomy
Photos and video clips of a series of astronomical events displayed at the biennial astronomy carnival NAVONEEL 2019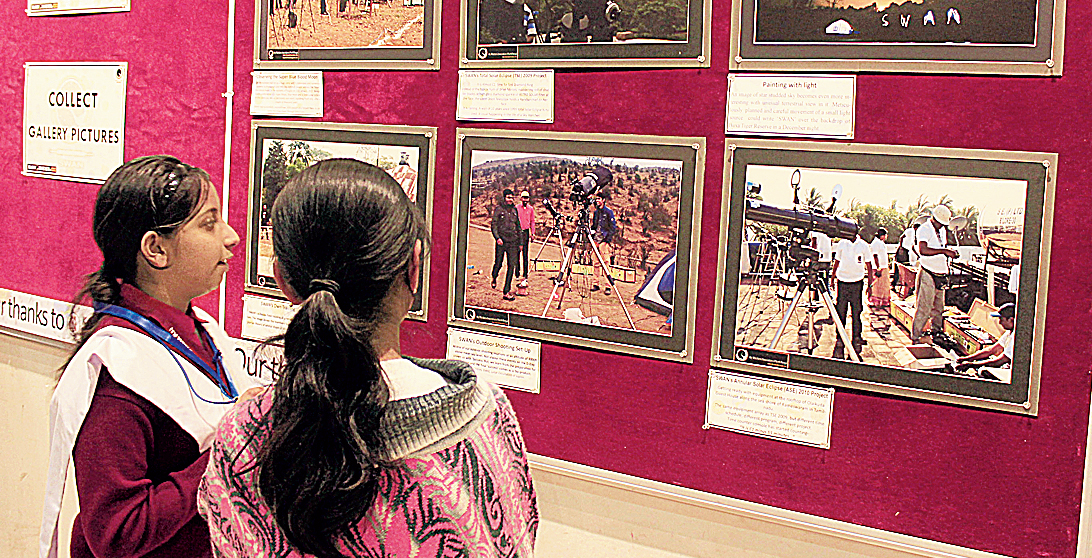 Visitors check out photos at NAVONEEL 2019 in Siliguri.
Picture by Passang Yolmo
---
Siliguri
|
Published 15.02.19, 08:30 PM
|
---
The fifth edition of "NAVONEEL 2019," the biennial astronomy carnival hosted by Sky Watchers' Association of North Bengal (SWAN) is drawing large crowds to Ramkinkar Hall of the city.
From schoolstudents to sky watching enthusiasts, people are swarming the venue to check out photos and video clips of a series of astronomical events, ranging from Total Solar Eclipse to Transit of Venue to passing of comets and constellations.
The event commenced on Thursday and will conclude on Sunday.
"We have been hosting the event once in every two years to inculcate interest in astronomy among people, particularly youngsters. Along with the display of photos, video and an array of instruments used in astronomy, a number of interactive events have been planned during the four days," said Debasis Sarkar, the secretary of SWAN.
In eastern India, this is the one-of-its-kind event where people can check out sophisticated telescopes, imagers and other equipment and can also learn details about astronomical events and astrophotography from guides.
"In total, we have trained around 100 children and youths who are acting as guides during the carnival. They are briefing visitors of the equipment and their uses and elaborating on the photos, several of which have been displayed at the fest," said Sarkar.
Along with the displays, there are attractions like selfie booth, photo booth, counter to buy memorabilia, multi-planet weighing machine and another counter from where visitors can collect study materials and different software on astronomy.
"This year, we have arranged another event, that is, to show the sky and the equipment to visually-challenged students. Many of them have turned up and we could make them learn about planets through body contact or touch, accompanied with a consistent commentary and allied sounds," Sarkar said.