Skating gets an address
Skaters rejoice as Bengal's longest flat track is built in Bidhan Sishu Udyan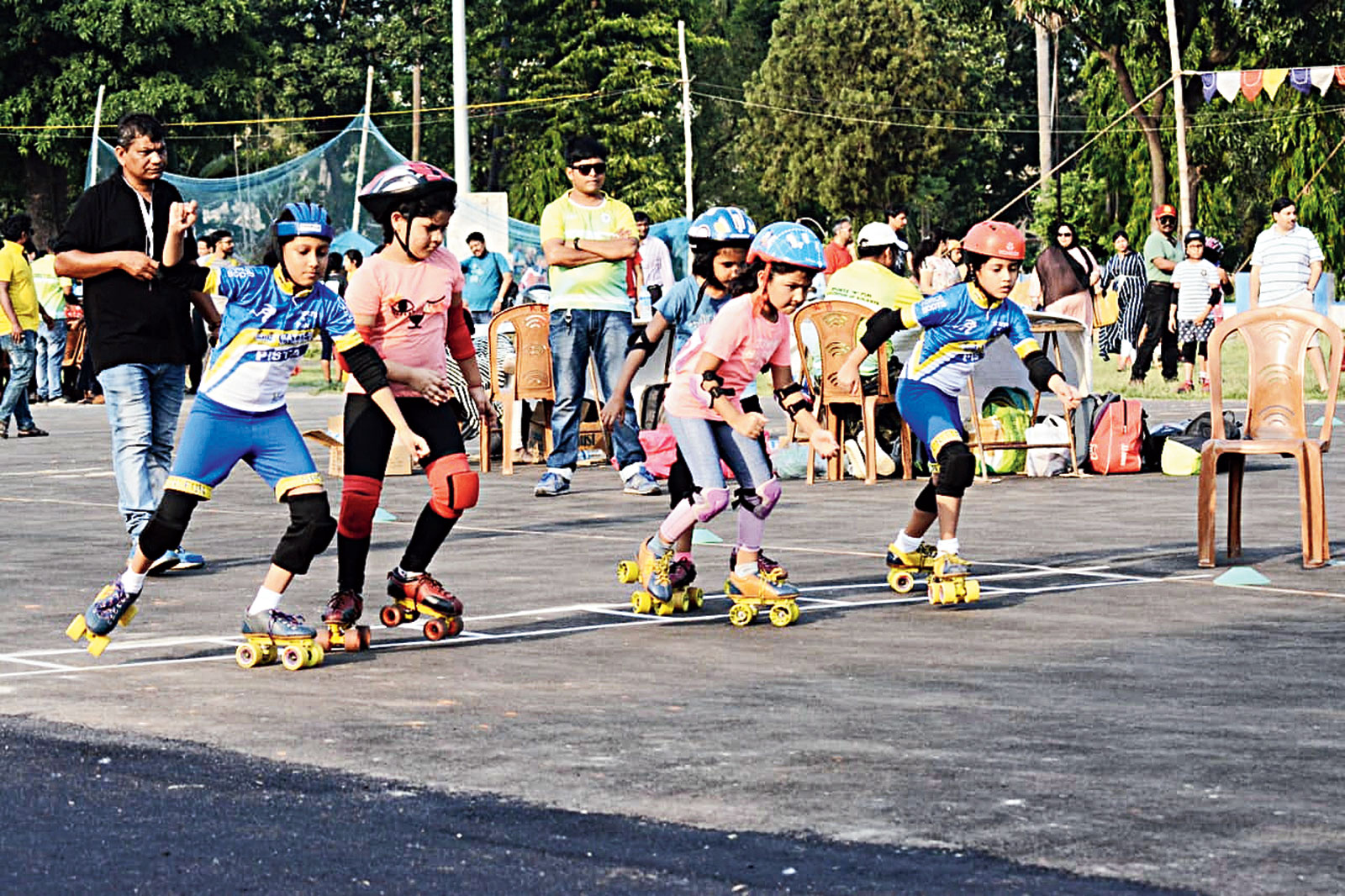 Participants on the starting line at a competition to mark the launch of the BSU Roller Skating Academy on March 31.
The Telegraph picture
---
Calcutta
|
Published 21.04.19, 11:12 AM
|
---
Bengal's longest flat road circuit for skating is being built in our neighbourhood — at Bidhan Sishu Udyan in Ultadanga. A track which was built about five years ago for cycling but fell into disuse has been relaid for speed skating.
The track, organisers say, is 320m long and 6m wide. This may be a bit shorter than international track specifications of 400m x 8m, but it is still by far the longest in the state.
Though classes at BSU Roller Skating Academy had started a month ago, the formal inauguration was done on March 31 with a competition.
"The idea came to me on seeing parents park their cars along Kona Expressway providing cover to their children skating at a side of the road as heavy motor vehicles sped by. The skaters, I realised, loved the sport enough to ignore the risk. Our aim is to allow children from middle class families get access to the sport," said Udyan secretary Gautam Talukdar.
Bidhan Sishu Udyan, opened in 1976, imparts training in over 20 activities, from swimming to yoga to learning foreign languages, at no expense barring the Rs 100 form.
But for skating, a fee structure has been introduced, depending on the number of days a student wants to train. The admission fee is Rs 2,000 and the monthly fees Rs 400 for those wanting to attend one class per week. The highest slab is Rs 1,300 for those training six days a week. "These are the state and national level skaters needing long hours of training," he added.
While laying the bitumen top, Talukdar said, experts were consulted to make sure the track had the right proportion of smoothness and roughness. "A skating track cannot be as smooth as asphalt roads," he explained.
The circuit is slightly oval and there are plans to install safety walls at the bends to guard against accidents while overtaking or turning. "We need to raise another Rs 2 lakh to arrange for lighting," Talukdar said.
Victor Balmiki, an associate coach of the Bengal skating team and a former state championship gold medallist, is in charge at the academy. "Earlier we trained on the road at Owl More in New Town. It is great to have a secure place to train our students," he said.
Currently classes are taking place 4.30pm to 6pm daily and 6am to 8am in the weekends. "We can train 20 to 30 kids at a time. But once more students come, we will increase the timings."
"This is Bengal's first proper road track and is a step in the right direction," said Pradip Ganeriwal, patron and past president of the Roller Skating Federation of India.
The Sports Authority of India has a 125m flat track on its premises where the national championships are held. "They had offered the federation the use of the track from 6.30pm to 8.30pm but players are not available in adequate numbers to make the offer viable," he said.
The only other option - also a 125 flat track - is at the base of the clock tower in New Town, run by the Newtown Business Club. "Earlier, I used to train students at the 50m parking lot of Space Circle," said Shubhro Ganguly, the coach at Clock Tower Skating Class. Training is free for club members and for non-members, up to the age of 18, the monthly fees are Rs 700. "So many schools offer skating classes but they train in basketball courts or in halls."
A banked track, in which the surface is oval and which allows higher speeds, is still a pipe dream. "It costs at least Rs 3 crore to build. No state in eastern India has one. The closest is a 200m one in Chhattisgarh. Some parents of my students had approached NKDA. They said they would consider the proposal to build one once we have enough students," Ganguly said. For now, serious skaters like Aishi Mishra are delighted to have a track for skating. "We still go to the Owl road at 4.30am for road practice with Victor sir but we can head back to the academy after that for track practice," said the 16-year-old from AK Block who has competed in two national meets as well as the Flanders Grand Prix in Belgium last year.