Sisters' birthday party with gift of life
West Burdwan couple, guests turn up for blood donation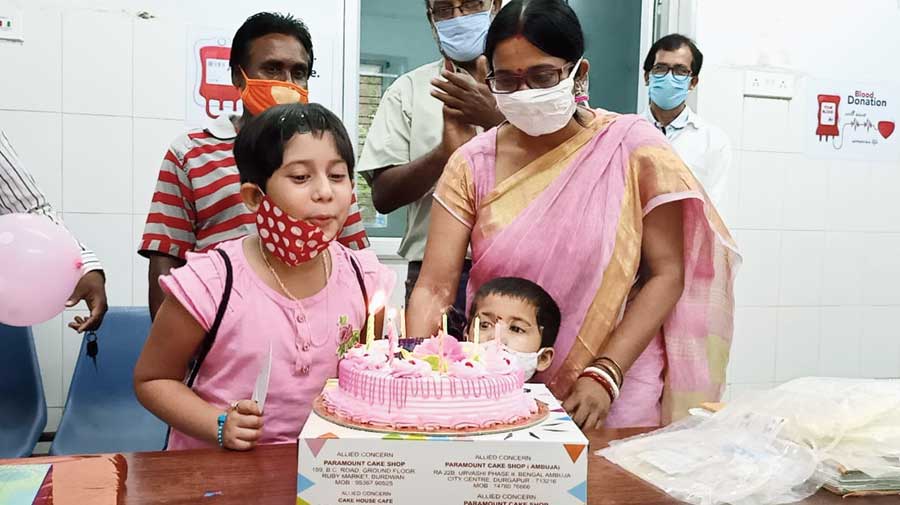 Srestha and Nistha with their parents at the blood bank of Durgapur sub-divisional hospital on Tuesday.
Swapna Barua
---
Durgapur
|
Published 24.09.20, 01:54 AM
|
---
Move over, flashy birthday parties at food courts of malls and banquet halls. A couple in West Burdwan's Jhanjra celebrated their two daughters' birthdays at a blood bank. Parents Saugata and Parama Mandal hosted an unusual birthday party for Nistha, 8, and Srestha, 3, at the blood bank of the Durgapur subdivisional hospital on Tuesday where 12 invitees joined the couple to donate blood.
Of them, seven guests were first-time donors.
Saugata runs a computer shop at Laodoha's Jhanjra, 20km from Durgapur, Parama is a homemaker. Both donate blood regularly and are involved in the blood donation movement in Jhanjra colliery area of West Burdwan. 
Nistha turned eight on September 18 and Srestha had turned three on August 22. So, the couple decided to host a joint birthday party with a difference this year as they knew that fewer people were donating blood amid the pandemic. "We decided to celebrate the birthdays of our daughters in a way that would help our fellow citizens who need blood in times of the pandemic," said Parama.
The couple also brought along a pretty birthday cake to the blood bank as they wanted it to be a real party as well. The sisters in colour-coordinated dresses looked happy as the birthday cake was cut before the 12 invitees joined their parents to donate blood.
The couple had invited some of their neighbours and parents of their daughter's friends to donate blood at the camp. Saugata and Parama then distributed fruits and snacks to donors and blood bank employees.
Saugata said the blood donation camp could not have been held without the support of CPM leader Kabi Ghosh, also the state secretary of Federation of Blood Donors' Organisation of India.
"Kabi Ghosh is a veteran activist in the blood donation movement and his organisation helped us organise the blood donation camp," said Saugata who has donated blood over 40 times since 2016.  
The hospital's blood bank in-charge Karabi Kundu lauded the couple for their heartfelt gesture and blessed their two daughters.
"If other parents come forward like this, many lives can be saved," she said.
Ghosh said there was a demand for blood among non-Covid patients but because of the pandemic donors had dwindled. "Before the pandemic, on an average 50 people used to donate blood at the Durgapur subdivisional hospital's blood bank every day. Now it is around 20-30. But the number of people turning up every day to ask for blood here is around 35-40 people. This has created a gap between demand and supply," he added, saying the couple did a great job.
"Donate blood and save life is our campaign. What the couple did would go a long way in generating awareness about donating blood," said Ghosh.