Siliguri budget focus on roads, improved civic services
Deb promised to address issues which include a new building of the civic body, reduction of pollution and waste and better sewerage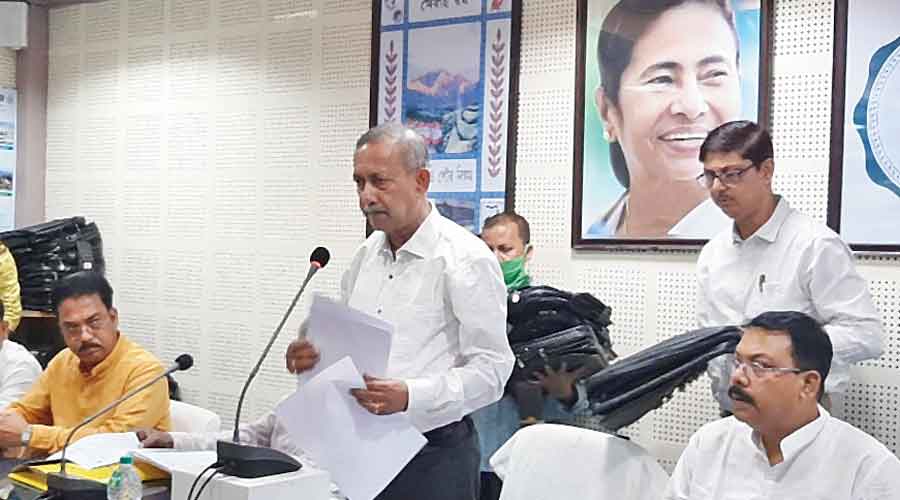 Mayor Gautam Deb reads out the annual budget at Siliguri Municipal Corporation on Monday.
Passang Yolmo
---
Siliguri
|
Published 29.03.22, 01:34 AM
|
---
Gautam Deb, the mayor of Siliguri Municipal Corporation (SMC), on Monday tabled the annual budget of Rs 318.66 crore for the 2022-23 fiscal at the civic body with a deficit of Rs 4.7 crore.
"We want infrastructure development, improved civic services and transparency in administrative work. Keeping these issues in mind, this is the budget prepared for the next fiscal," said the mayor.
Deb promised to address issues which include development of roads, a new building of the civic body, reduction of pollution and waste, better sewerage, beautification of the embankments of the Mahananda river and rivulets Fuleswari and Jorapani, renovation of parks and more sports infrastructure.
"We need to widen roads for hassle-free traffic. We are working with RITES for better road network and improved traffic management in the city. They have submitted a feasibility report that we are looking into. The civic body is also scouting for land for multi-layer parking arenas," he said.
Deb said henceforth each of the five borough offices will receive Rs 1 crore a year instead of Rs 50 lakh to deliver basic civic services such as maintenance of electrical network and conservancy services.
"We have given equal importance to the development of health infrastructure in Siliguri. We will spend Rs 84 lakh to upgrade 10 urban primary health centres in the SMC area. We will also set up 25 new wellness centres in the city for which land has already been identified in 20 spots," the mayor added.
Other announcements Deb made include:
SMC to spend Rs 40 crore in next one year to develop road network in the city
Water tax for over 40,000 residents of the SMC area withdrawn
SMC to set up a sports academy in Siliguri in association with state sports and youth affairs department
Two major lanes of Siliguri to be named after Mohunbagan and East Bengal football clubs
Civic body to promote digitisation and paperless work
A plastic waste management unit to come up at the existing dumping ground of the SMC with the help of the United Nations Development Project at a cost of Rs 1 crore
A statue of Rabindranath Tagore to be installed at Airview More and of Deshbandhu Chittaranjan Das at Deshbandhupara
A quality control lab to be set up at SMC to examine the quality of infrastructure work
Siliguri Carnival, an annual cultural extravaganza, to be held
Amit Jain, the leader of the Opposition and a BJP councillor, termed the budget  bundle of disappointments.
"Ahead of the polls, they (Trinamul) promised to develop Siliguri like Calcutta. But the budget didn't reflect it. Also, there is no mention of the proposed drinking water project, pending with the state government, in the budget," said Jain.