Sikh festival of lights is Bandi Chhor Diwas
As Calcutta gurdwaras mark Guru Hargobind's liberation, Bengalis and Sindhis also turn up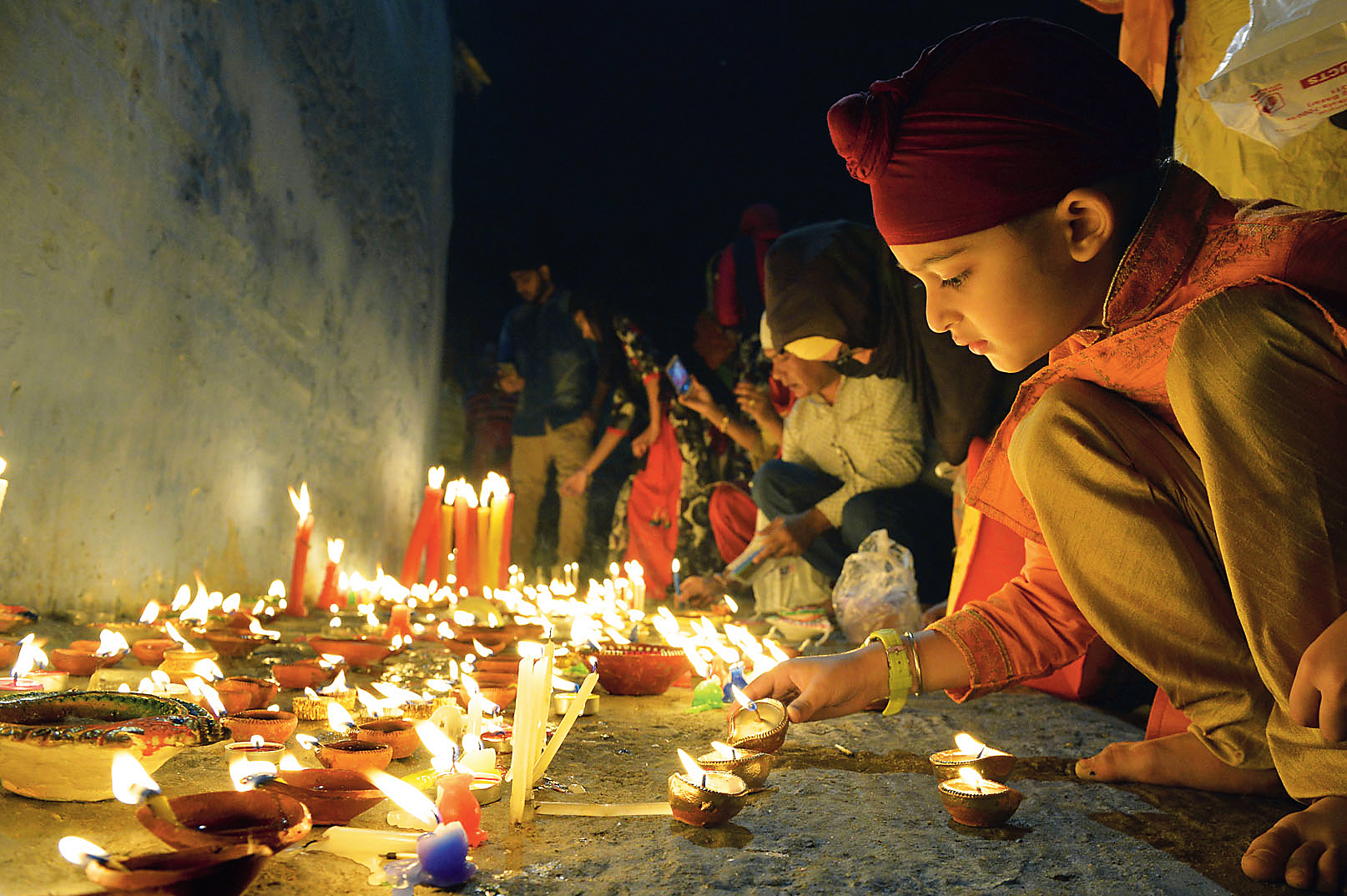 ---
|
Calcutta
|
Published 07.11.18, 07:55 PM
---
A festival of lights that celebrates an epic escape alongside an epochal homecoming on Wednesday lent cultural diversity to Diwali and elevated it beyond the cacophony of firecrackers piercing the night air in some parts of the city.
For the Sikh community, Diwali coincides with Bandi Chhor Divas, a commemoration of Guru Hargobind's liberation from Gwalior Fort along with 52 princes held captive by the Mughal emperor Jahangir.
For 84-year-old Santosh Sodhi of New Alipore, it is one of the few occasions in a year that she steps out of home with her family to light lamps and pray at the Behala Gurdwara. "My grandmother wouldn't miss this visit to the gurdwara for anything. She looks forward to meeting her old friends and their children," said Dashmeshbir Singh Sodhi, her grandson.
The family of Dashmeshbir, a young chartered accountant, was among the 1,000-odd congregation at the Behala Gurdwara that also included many people from other communities.
Satnam Singh Ahluwalia, general secretary of the Gurdwara Behala Prabandhak Committee, said the background of Bandi Chhor Divas was a fascinating one both in terms of Sikh and Indian history.
The story goes that when Jahangir offered freedom to Guru Hargobind, he refused to leave the fort until all 52
Rajput princes incarcerated there were freed as well. What followed added to the legend of the sixth Sikh Guru, whose father, Guru Arjan, had been executed on Jahangir's orders around 13 years before.
"Jahangir set the condition that only those rajas who were able to hold on to Guru Hargobind's cloak would be freed with him. Legend has it that a special cloak was made with 52 tails for each of the rajas to hold and walk out free with the guru," Ahluwalia said.
On his return to Harmandir Sahib in Amritsar on the eve of Diwali in 1619, Guru Hargobind was welcomed into a shrine that had been lit up in celebration along with the rest of the city. "This was the genesis of the tradition called Bandi Chhor Divas (prisoner liberation day)," Ahluwalia said.
In Calcutta, all 12 gurdwaras organise kirtan and discourse along with the customary illumination on Bandi Chhor Divas. One of the highlights of the evening is the narration of stories centred on Guru Hargobind by the granthi or head priest of the gurdwara.
"Many Bengalis and Sindhi people also come to our gurdwara. Their presence makes it an inclusive celebration," Ahluwalia said.