Signal violation charge a shocker, say Arsalan Parwez's friends
'Disciplined boy' at school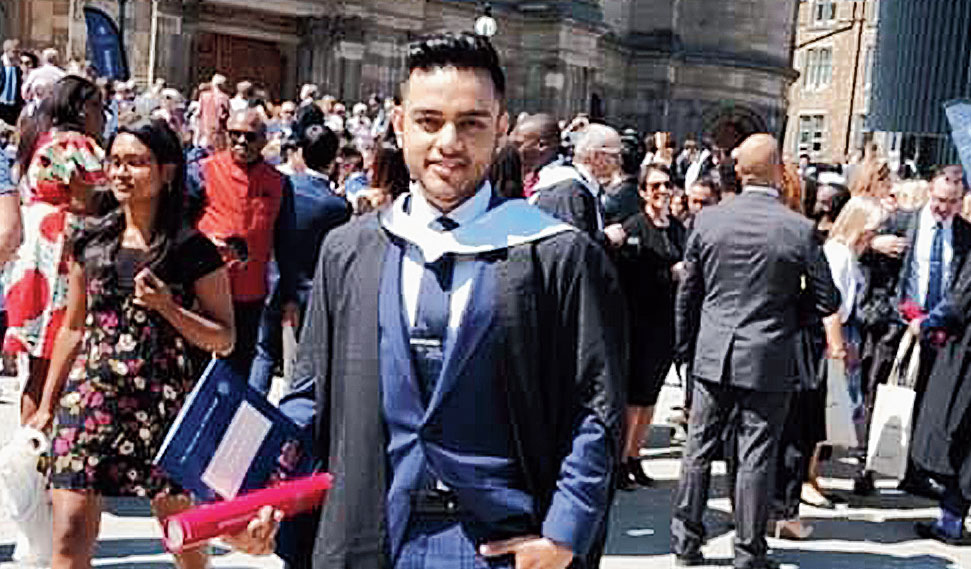 Arsalan Parwez
(Sourced by Correspondent)
---
Calcutta
|
Published 18.08.19, 08:38 PM
|
---
Friends and classmates of Arsalan Parwez said that the 21-year-old was one of the most well-behaved students in school who loved playing cricket and football.
Arzu — as he was known to his family and friends — "was a disciplined boy" in school and that he could jump signals came as a shocker to many.
"Last Sunday, a few of us had gone out for a drive with him. Arsalan drove us around in his Jaguar. We returned home and then settled for games," said Snehal Gupta, one of his friends from the school.
Snehal and Subham Baldi were among a small group of friends present in the courtroom on Sunday afternoon when Arsalan walked in. There was an exchange of glances with friends, who stood with family members praying for a bail.
"He would never drive at high speed. We have gone out with him on several occasions within the city and he was very responsible," said one of his friends. "It is really shocking for us to know that he could overspeed."
After completing his MBA from Edinburgh, UK, Arsalan returned to Calcutta last year and would remain mostly engaged in overseeing the various units of the biryani chain. Family members said he would visit all the units across the city regularly and talk to the staff explaining why maintaining hygiene was important for the brand.
On Friday, some of his relatives claimed Arsalan was returning from Taratala after overseeing the functioning of one of the chain's units there.
Police, however, claimed that he was returning after taking a trip across various parts of the city.
Arsalan loved being at the wheel, a friend said. Among a fleet of cars that the family owned, he preferred the Jaguar F-PACE, which was registered in April 2017. He would drive around Calcutta and sometimes to its adjoining areas when out on a long drive.
Arsalan is the second child of his parents. His elder brother is studying in Australia, family members said.
After the court rejected his bail plea, a dejected family member said: "We had hoped to get back Arsalan by evening, but we have resolved not to lose hope."