SHIRTOLOGY OF DANCE
Read more below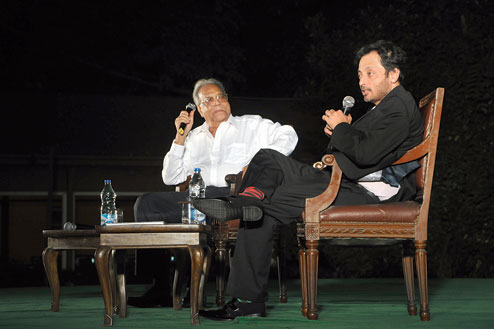 ---
---
Jerome Bel at the Alliance Francaise du Bengale library and (below) at the dance festival in Delhi. Pictures by Bishwarup Dutta and Soumita Bhattacharya
Which dancer would consider a dictionary, a vacuum cleaner, a pocket lamp or a carpet as props? That's how Jerome Bel started out, in 1994, with a stark piece called Name Given by the Author. The French choreographer, seated in the Alliance Francaise du Bengale library, is a leading proponent of European conceptual dance.
In his first show, for two hours two men moved around 10 objects on stage. "The audience was angry. They wanted their money back," Bel, 46, chuckles. "Only the critics realised I was doing something."
He took minimalism to another level with his next work. The five dancers were naked. "I wanted to show that the naked body is not Nature. It is full of cultural constructs. We behave and move in a certain way." The piece caused "a scandal". "I became famous."
If there's a touch of semantics in his dance, it's not just chance: he read post-structuralist theory in the early '90s. "I love to bring in semiology. Roland Barthes, Foucalt… I use their strategies on dance."
From the lack of clothes, he turned to clothes per se with Shirtology. "I bought 300 T-shirts and made each dancer wear about 30 at a time." What followed was a strip tease. Some of the shirts were numbered, some sequenced by colour or bore slogans that the dancer followed as instructions (such as replay, shut up and dance, relax…). "It was a comment on Western capitalism."
Bel is alive to the power of live art. Ask him to explain the intriguing title of another work, Hamlet or Andre Agassi, and the tennis buff asks: "Why do I go to Roland Garros? TV is so much better. How is an archaic practice like theatre or dance alive today? Hollywood is so powerful. Because this experience is rich and rare. It is interesting to be conscious that the performer is doing it for you. You can stop it or leave, and he will be aware of that."
At Alliance, Bel screened a recording of his celebrated work, Veronique Doisneau, created on invitation from the venerated Paris Opera. "They lined up seven star dancers, but I wanted their worst. We settled for Veronique from the middle ranks. She had the guts to say she did not like Maurice Bejart and Roland Petit, two of the gods of Paris Opera."
The black and white film was shot on the last evening of the performance as Veronique was soon to turn 42, the opera's retirement age. It did not matter that the show was still drawing full houses!
The performance is poignant yet unsentimental. Veronique walks in, announces her name, age, marital status, number of children and even her salary. When she leaves, the camera stays put on the bare stage as before the live audience. When she returns, she is still short of breath, and the audience has to wait before she speaks. "I like to consider a dancer as a worker, not an artiste. What is the price of being a ballerina today? Through dance I question society."
Bel is in India to take part in DanSe Dialogues, a contemporary dance festival which will stage his Pichet Klunchun and Myself. "I had been invited to Thailand to work with Pichet, a classical dancer. Yet because of traffic jams, we could hardly meet. On the day of the show, we had nothing ready. So we just redid our initial conversation about our craft, with dance demonstrations. It became a global success."
He chose to come to Calcutta on his own. He was introduced to Satyajit Ray at 16 through Jalsaghar. "The film had 10 minutes of kathak." After that, he would attend every Indian production that came to Paris. "While contemporary dance is abstract, Indian classical dance is somewhere between expression and abstraction."
Calcutta has "overwhelmed" the choreographer. He walked non-stop for three hours across north Calcutta. "At Marble Palace, I wanted to caress the walls. It seemed I had walked into the music room of Jalsaghar." After India, he is off to Tokyo, but he has promised himself another date with the city.