She hosted lunch for Shah, got job from TMC
On Thursday, Gita Mahali joined as a 'special home guard' in Naxalbari police station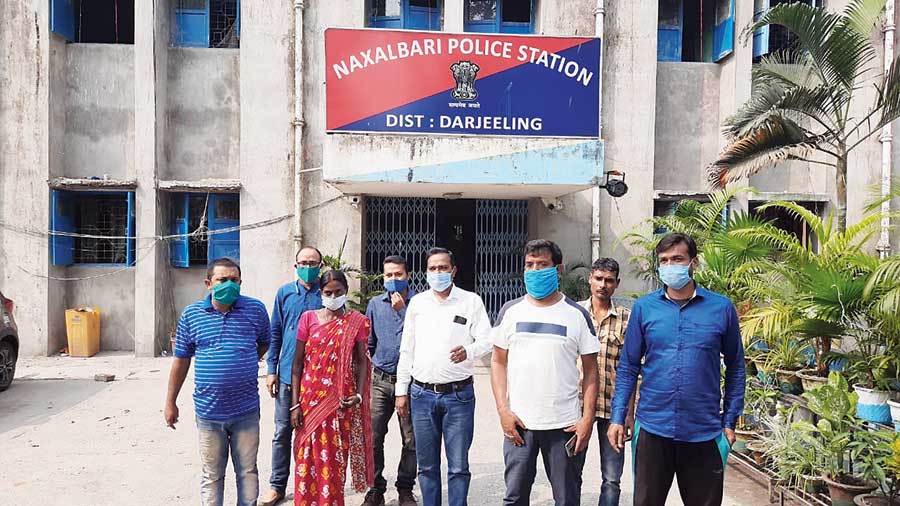 ---
|
Siliguri
|
Published 06.11.20, 01:02 AM
---
Gita Mahali, a tribal woman hailing from a dusty village in Naxalbari block of Siliguri subdivision, had served lunch to Amit Shah three years back. Almost like Bankura's Bibhishan Hansda did on Thursday.
On Thursday, Gita joined as a "special home guard" in Naxalbari police station, the employment opportunity coming her way on a day the Union home minister was on a similar tribal outreach mission in Bankura.
Ranjan Sarkar, the Darjeeling (plains) district Trinamul chief, who along with other party leaders went to Gita's house to congratulate her, accompanied her to the police station where she joined her job.
Sarkar alleged Amit Shah and other BJP leaders visit tribal households only to earn political dividends.
"Amit Shah and his party colleagues dined at Gita Mahali's place but did nothing for her. It is the Mamata Banerjee government that gave her a job, provided a house to her family and stood by them in the hour of crisis," said Sarkar.
In April 2017, Shah, who was the BJP president then, had been into the house of Raju and Gita Mahali who live in South Kotiajote village of Naxalbari (around 30 kilometres from here) where Gita had served her lunch.
Immediately after his visit, state minister and Trinamul leader Gautam Deb was quick to rush to Naxalbari.
He inducted the couple into Mamata Banerjee's party and later handed over financial assistance to them for a house under a state-run scheme.
The couple — both of whom were daily wage earners — were caught by surprise by such proactive moves of Trinamul, which many feel were made to outwit the BJP.
In Siliguri subdivision, there is a sizable population of tribals in Naxalbari and Phansidewa blocks.
The Trinamul leadership ensured that either Raju or his wife get a government job. Finally, on Thursday, as Shah reached the Bankura hamlet, Gita, accompanied by Trinamul leaders, reached Naxalbari police station.
"The Trinamul government provided us with a house and now, a job. We had served lunch to Amit Shah but after his visit, no one from the BJP came to us," said Gita.
District BJP leaders gave a different reaction. "It is good that Gita Mahali has been provided with a job. We want to invite the Union home minister in our state time and again for such visits so that at least one member of all families he meets get similar jobs from the Trinamul government," said Anandamoy Burman, the general secretary of BJP's Siliguri organisational district.