Shanu Lahiri's wall artwork gone in plain sight
This isn't the first time a Lahiri artwork has been obliterated in a city that prides itself on being regarded as the country's culture capital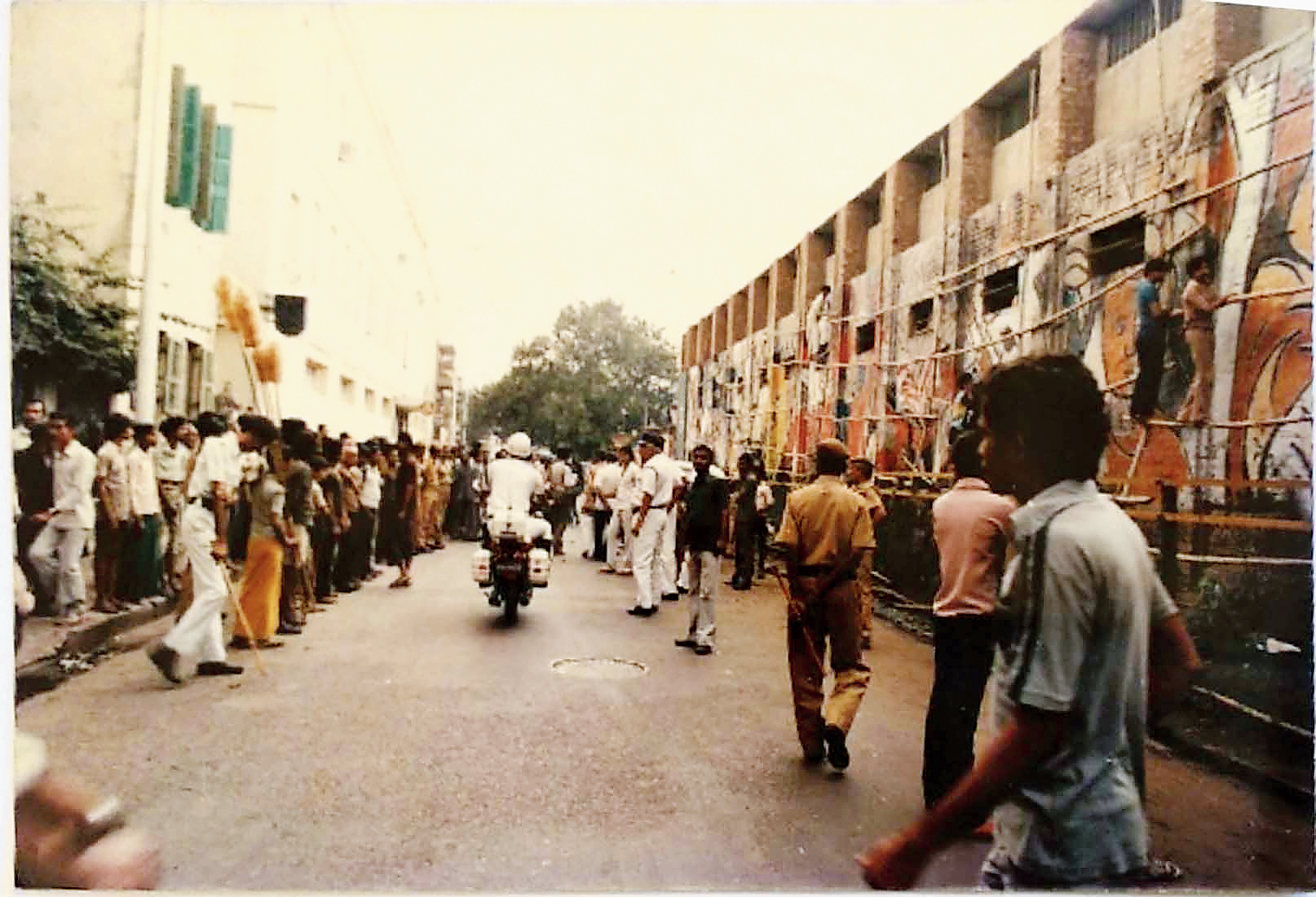 A crowd watches the mural being painted in 1985 as police stand guard
Telegraph picture
---
Calcutta
|
Published 29.11.18, 09:32 PM
|
--- This isn't the first time a Lahiri artwork has been obliterated in a city that prides itself on being regarded as the country's culture capital. A 25ft tall fibreglass sculpture by the artist had been destroyed while being removed from the Parama roundabout to make room for the Biswa Bangla logo in 2014.
"There is no surprise this time, only sadness. Another part of the city's character is gone," said Damayanti Lahiri, the artist's daughter.
She came to know about the mural's "disappearance" only a few days ago from a friend who noticed it was missing while driving down the road.
A workshop of Hindustan Motors, the makers of the now-extinct Ambassador, used to be the landmark of Justice Chandra Madhab Road. An apartment complex now stands on that plot.
A roadside mural made 33 years ago by one of Bengal's most accomplished artists has been wiped out and replaced with the familiar shades of blue that now blanket everything from the walls of state government offices to the girders of bridges.

Shanu Lahiri, who died in 2013 at the age of 85, had conceived the mural celebrating harmony between nature and humankind for a 200-metre-long wall along Justice Chandra Madhab Road in 1985. She and her team of young artists covered the wall with drawings of birds, animals and trees.
The thoroughfare that runs parallel to Elgin Road once had an office of the Dutch multinational Philips, which funded the project.
When Metro visited the area on Thursday afternoon, a row of private cars lined the blue wall of the building that once flaunted Lahiri's mural. The building houses the transport department's pool car office, including a garage with more than 40 vehicles, some of them used by ministers.
A senior official of the transport department said the wall had been repainted in white five years ago. Around seven months ago, it got a coat of blue. "There was no mural on it when we decided to give it a cleaner look. It was just a pale wall in front of which people had started dumping garbage," the official said.
Damayanti contested the claim that her mother's mural was destroyed long ago. "The colours on the wall had faded for lack of upkeep but the paintings were very much visible," she said. "The government should have informed us before it decided to paint over the mural."
Artist Chittrovanu Mazumdar, who is Lahiri's nephew, was one of the contributors to the mural. "It was 1985. Shanu pishi had led us in the project. We used scaffoldings to reach the higher portions of the wall and I remember hundreds of people gathering to see what was happening. It was a celebration," he recalled.
According to him, the wall should have received a facelift without changing the artwork. "That would have been a nice gesture towards an artist of her stature."
Nobina Gupta, artist and art curator, said this wasn't just about a mural being erased. "There is no public art policy. We should have an archive of similar artworks."