Seven turtles found dead in Sagardighi, Cooch Behar
Sources said some morning walkers noticed the dead turtles and informed the state forest department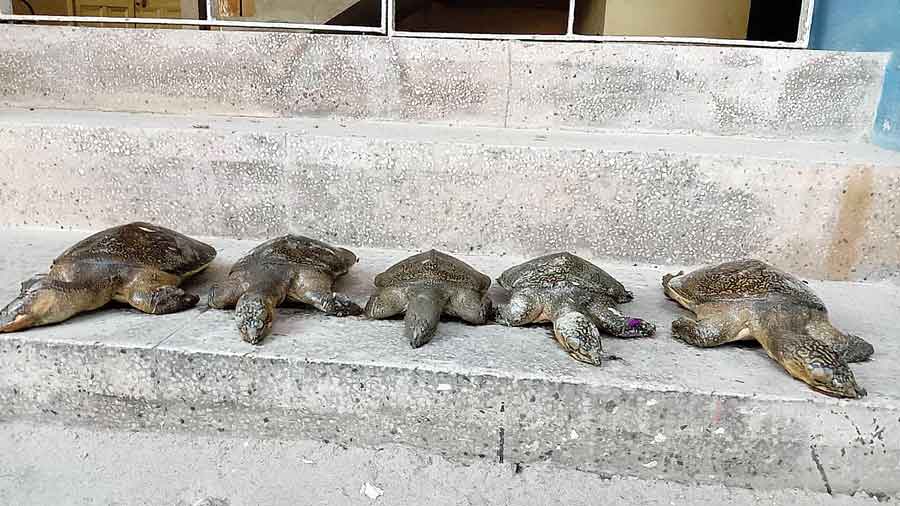 Some of the Indian peacock softshelled turtles found dead at Sagardighi, the largest water body in Cooch Behar, on Wednesday.
Main Uddin Chisti
---
Cooch Behar
|
Published 18.11.21, 02:00 AM
|
---
Seven Indian peacock softshelled turtles, a vulnerable species, were found dead in Sagardighi, the largest water body in the heart of Cooch Behar town, on Wednesday.
Sources said some morning walkers noticed the dead turtles and informed the state forest department. Till evening, seven turtles were found dead. They were taken to the veterinary hospital for post-mortem to ascertain the cause of death.
"We are in touch with the state forest department and the animal resource development department. Once the cause of death is ascertained, steps will be taken to ensure their safety at Sagar Dighi," Rakibur Rehman, subdivisional officer (sadar) of Cooch Behar, said.
Forest officials said this species of turtles is a Schedule-I animal under the Wildlife (Protection) Act and are considered to be a vulnerable species under the red data list of the International Union for Conservation of Nature (IUCN).
The turtles, scientifically known as Nilssonia hurum, are usually found in India and Bangladesh, mostly in streams, rivers, lakes and ponds. In Cooch Behar, the turtles are found in Sagar Dighi and in another water body in Baneswar, a locality on the outskirts of the
district headquarters. Local people fondly call them Mohan.
Srihari Dutta, a local resident, said: "We came to know that the water body has been leased out to some private agency for pisciculture. Also, washing of clothes has not stopped at Sagar Dighi. We want to know if the turtles died of pollution or any chemical in the water."