Seven persons arrested with deadly kite strings in Nadia
The recent accidents coupled with an increasing demand among residents for action prompted the police to raid several pockets in the town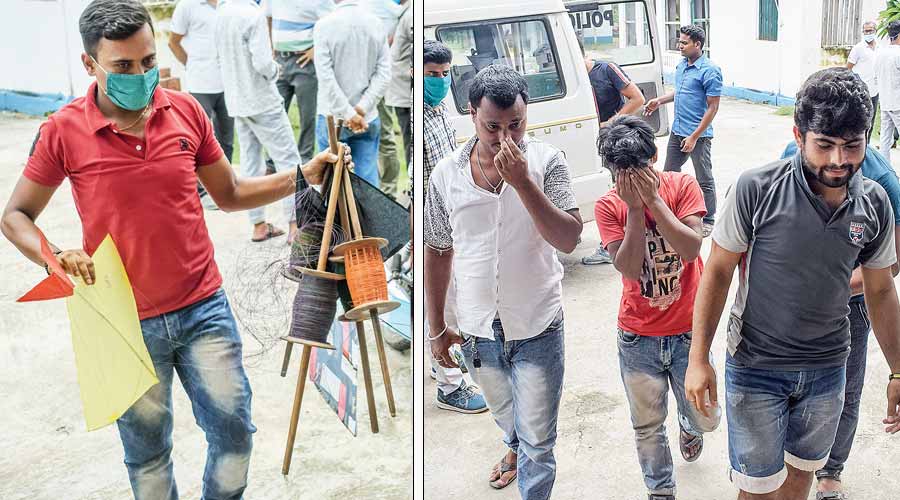 Kites and spools seized during raids in Nadia's Santipur town on Monday, and (right) some of the arrested kite-fliers.
Telegraph Picture
---
Santipur
|
Published 20.07.21, 01:54 AM
|
---
Seven persons flying kites were arrested from Nadia's Santipur on Monday for endangering public life, the action coming in the backdrop of a spate of accidents in the town over the past one month related to the use of nylon and other banned strings by kite fliers.
On Monday afternoon, a Class XII girl suffered a deep cut in the throat from a nylon-made kite string while she was cycling back home after her tuition.
Last week, the police arrested two persons for selling and stocking nylon strings after many cases of injuries were reported, including one in which a four-year-old suffered a severe gash on his throat and had to be given six stitches.
The recent incidents coupled with an increasing demand among residents for action against kite fliers using life-threatening strings prompted the police on Monday to raid several pockets in the town.
"We have tried our best to sensitise people and also urged them to refrain from flying kites using life-threatening nylon and metal strings. But, a section of people have preferred not to listen and hence we were forced to take action," a senior police officer of Ranaghat police district said. 
The senior cop added: "The use of life-threatening nylon kite strings compelled us to act against kite fliers. Nylon and metallic strings are stronger and  more dangerous than regular cotton strings as the former do not snap easily. Falling kite strings become lethal when they catch unsuspecting cyclists and motorcyclists by the throat and lead to severe injuries."
On Monday, police personnel, along with civic volunteers, raided several houses and arrested seven kite fliers, all in their 30s, from rooftops of their homes. Several others were detained  for interrogation. The police also confiscated a large number of spools and prohibited kite strings.
Police sources said the arrested persons will be produced before the additional chief judicial magistrate's court on Tuesday.
Separate police teams during the raids also seized several rolls of prohibited nylon strings, kites and spools from those flying kites.
Welcoming the police action, social activist Anupam Saha said: "The government should  ban the sale and stocking of all types of dangerous strings used for kite flying."