Cyclone: Sea turbulent, tempers on beaches too
Around 200 tourists who had booked to visit the Sunderbans from Sunday cancelled their trips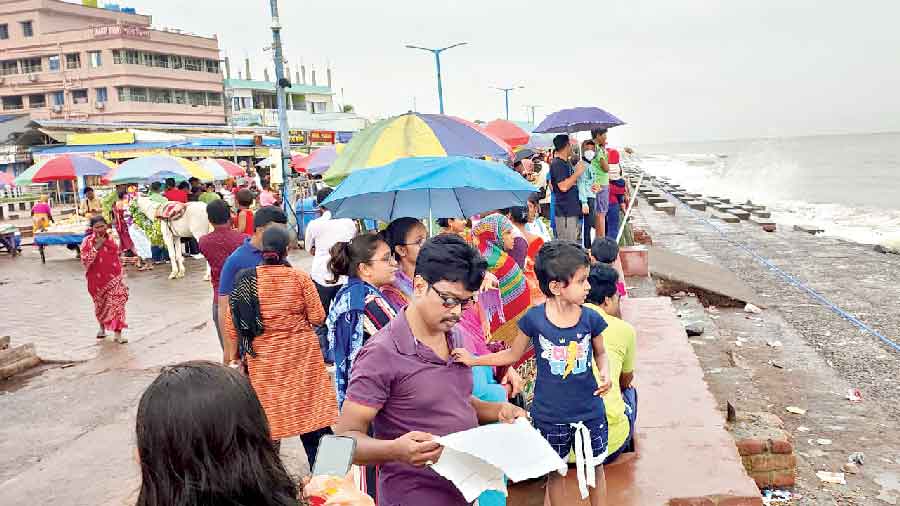 Tourists crowd near the sea in East Midnapore's Digha to catch a glimpse of the choppy Bay of Bengal on Monday
The Telegraph Picture
---
Tamluk(EastMidnapore)
|
Published 25.10.22, 12:55 AM
|
---
Police and administrative officials of East Midnapore and South 24-Parganas had a trying time on Monday as thousands of tourists resisted appeals to clear the sea beaches of Digha, Mandarmani and Bakkhali in view of a turbulent Bay of Bengal triggered by the impending cyclone Sitrang.
"In a few cases, tourists were involved in heated exchanges with cops, demanding they be allowed to spend a few hours on the beaches. A group of agitated women even chased police and a local BDO when asked to leave the seashore in Digha. We had to struggle throughout the day to vacate the sea beaches according to the directive of our superior officials," said a senior official in East Midnapore.
Cyclone Sitrang is expected to make a landfall in Bangladesh early on Tuesday, which is likely to affect coastal districts of North and South 24-Parganas and parts of coastal East Midnapore.
Although there was no report of any damage in the Sunderbans till late Monday evening, the state government has sounded a high alert and officials of the coastal districts said that they are prepared to meet any eventuality. Sources said that a police team headed by the block development officer of Ramnagar-I arguably experienced the worst response of the day when they asked a group of tourists, mostly women, to leave the seashore in Digha.
Sources said the women turned furious and said that they would not leave the beach as they had come to enjoy their holidays, and charged at and chased the officials.
According to a source, the situation turned so volatile that officials had to leave and send lady constables to handle the tourists.
"There was a severe tidal wave when the women were standing on the guardwall. We had to call lady police personnel as they did not heed our requests," said Ripon Biswas, the Ramnagar-I BDO.
Sources said though several tourists cancelled their bookings, around 25,000 people were present in the sea resorts of Digha, Shankarpur, and Mandarmani.
Police and civic volunteers had a tough time controlling tourists in Bakkhali on Monday as well. Many refused to listen to appeals to clear the beaches.
"Many tourists took our announcements very casually and did not comply with our safety directives. They accused us of spoiling their holiday mood," a police officer in Bakkhali said.
Some tour organisers in the Sunderbans were also upset because ferry and boat services across the delta were cancelled from Monday. They said they had to face severe monetary losses. "Around 200 tourists who had booked to visit the Sunderbans from Sunday cancelled their trips. As travelling on a boat is a must to go around the mangroves, tourists who had come earlier also left when they heard no boats are allowed," said Dipankar Mondal, a tour organiser.
South 24-Parganas district administration evacuated 23,457 persons till Monday evening to safe shelters in Sagar, Namkhana, Kakdwip, Kultali, Mathurapur, Basanti, Gosaba, Patharpratima.
Sagar block recorded the maximum evacuation of 3,775 persons, of which more than 2,000 persons were evacuated from Ghoramara island. Many families were accompanied by livestock.
Sources said around 30,000 people were evacuated from various locations of East Midnapore, too.
A multi-storey multipurpose cyclone centre with over 2,000 accommodations has been set up on Ghoramara island.
"Earlier we used to shift people from vulnerable locations of Ghoramara to the main island apart from accommodating them at a local school. However, shifting people with their belongings, particularly livestock, was tough. People usually do not like to shift to flood or rescue shelters leaving cattle behind. But a vast cattle shed with fodder has been accommodated at the multipurpose cyclone centre in Ghoramara, which is very helpful," said Sagar BDO Sudipta Mondal.
CM's message
In a video message issued from her residence on Monday evening, chief minister Mamata Banerjee said the cyclone was expected to make landfall near Barishal in Bangladesh around midnight on Monday.
"In Bengal, there is a possibility of rain and storm till October 25. Those we have evacuated, we will request them not to go back immediately. These things are unpredictable, let the cyclone get completed first, especially in the coastal areas. All protective measures and the state of alert by the administration will remain in place," she said and added that the weather could deteriorate from Tuesday's small hours
Pandals hit
A strong gust of wind, accompanied with a bout of heavy rain, damaged at least two Kali Puja pandals in Alipurduar district on Monday. Sources said that the pandal of Sabuj Sangha, a club that hosts one of the major pujas in Alipurduar Junction, tilted to a side because of the strong winds.
In Falakata, the pandal of Subashpally Unit also tilted on Monday morning amid winds.
A similar incident has been reported in Sahebganj, Cooch Behar district.
Additional reporting by Snehamoy Chakraborty and Subhasish Chaudhuri