Screen On & Off
The power of Shaktiman Shaktiman back Superstardom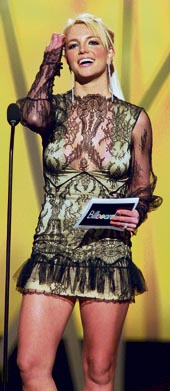 ---
---
Britney Spears: Love story on TV
After exclusive rights to weddings, it is now time for celebrities to sell the story of the lead-up to the long walk down the aisle. Pop icon Britney Spears and husband Kevin Federline have reached an agreement with UPN to broadcast a television series that shares their love story through private home videos they shot themselves during their courtship, engagement and wedding, it was announced by Dawn Ostroff, president, UPN.
This series, filmed by the couple, will give viewers a glimpse into the stars lives.
The footage begins shortly after Britney and Kevin first met in Los Angeles and headed off to Europe together on tour, leading up to and including their wedding day. The show will have an exclusive second window on MTV Music Group channels.
In an official release, Britney stated: ?From the day that Kevin and I met, there have been constant rumours and inaccurate speculation about our lives together. Last year, the tabloids ran my life and I am excited about showing my fans what really happened. I am now going to be expressing my personal life through art.?
In fact, the pop diva recently announced on her website that she?s pregnant.
Mukesh Khanna: Meaningful moves
The power of health as preached by a powerful man. Shaktiman Mukesh Khanna is writing a book on the human body. ?As Bhisma (of B.R. Chopra?s megaserial Mahabharata), all I have to do is wish people ayushman bhava. But as Shaktiman, my responsibilities are much more tangible. I want to use my influence over kids for socially relevant ends,? he states.
It will not be another biology book. ?Text books are written in dry language. Kids forget it all and become totally dependent on doctors when they grow up. The book will also make them stay away from bad habits like smoking and drinking.?
It will take a year to finish, but Khanna has his plate full. Shaktiman has taken off anew on Pogo (weekdays, 6 pm to 7 pm). ?We are airing the series from the first episode as part of the Superhero Season. Shaktiman will be accompanied by other superheroes from across the world like Superman, Batman, Ultraman and Wonder Woman,? says Anjana Devraj, programming head, Pogo.
?Due to the poor reception of Doordarshan in the cities, children could not enjoy the serial. Also, it is great that Shaktiman is now being broadcast on a children?s channel,? Khanna points out.
It will not be an exact rerun of the serial that started in 1997 on DD National and continued for about 300 episodes for seven years. For Pogo, Shaktiman will have a revamped look. ?In keeping with the evolving viewing needs of kids today, the series has been re-edited for a racier pace. We have re-done select music scores and re-voiced certain parts of the show,? Devraj adds.
Khanna admits that he has a fight on his hands with the other superheroes on the viewership scale, but he believes he has the homeground advantage. ?It is weird to have blonde figures talk in Hindi. That?s why even The Incredibles flopped here.?
But in Chennai, Shaktiman has been dubbed in English. ?Pogo wanted to do it in Tamil. But I didn?t have the time. I was impressed with the English version, especially the voice of Gangadhar.?
He admits that whether it will get an extension after the initial episodes will depend on TRP. Neither has he decided whether to seek an extension on DD. But there is no question of a rerun of cases of kids imitating Shaktiman and injuring themselves.
?When I sent my men to check on the incidents, most cases turned out to be fabricated. One story ran that a boy had set himself on fire and was waiting for Shaktiman to rescue him. It turned out that he worked in a tea stall and a stove had burst. In another, children getting hurt during a bow-and-arrow match was blamed on Shaktiman. Tell me, where does Shaktiman use such weapons??
Sudeshna Banerjee
He?s one of the most controversial rappers in the music industry, but Marshal Mathers III, alias Eminem, is also one of the most popular rap stars. His journey from humble beginnings in Detroit to fame and fortune has been dogged by conflict. His break-up with ex-wife Kim, the custody fight for his daughter Hailey, his brushes with the law, his troubles with his mother and of course, Eminem?s music are the subject of the documentary, Evolution of Eminem.
Watch it on VH1 on June 17, 10 pm. The show includes exclusive interviews with the rapper, in an effort to delve deep into Eminem?s transition from a trailor park kid to international stardom.