Sandakphu has a date with snow
Darjeeling is not so lucky although the temperature was around 4 degrees Celsius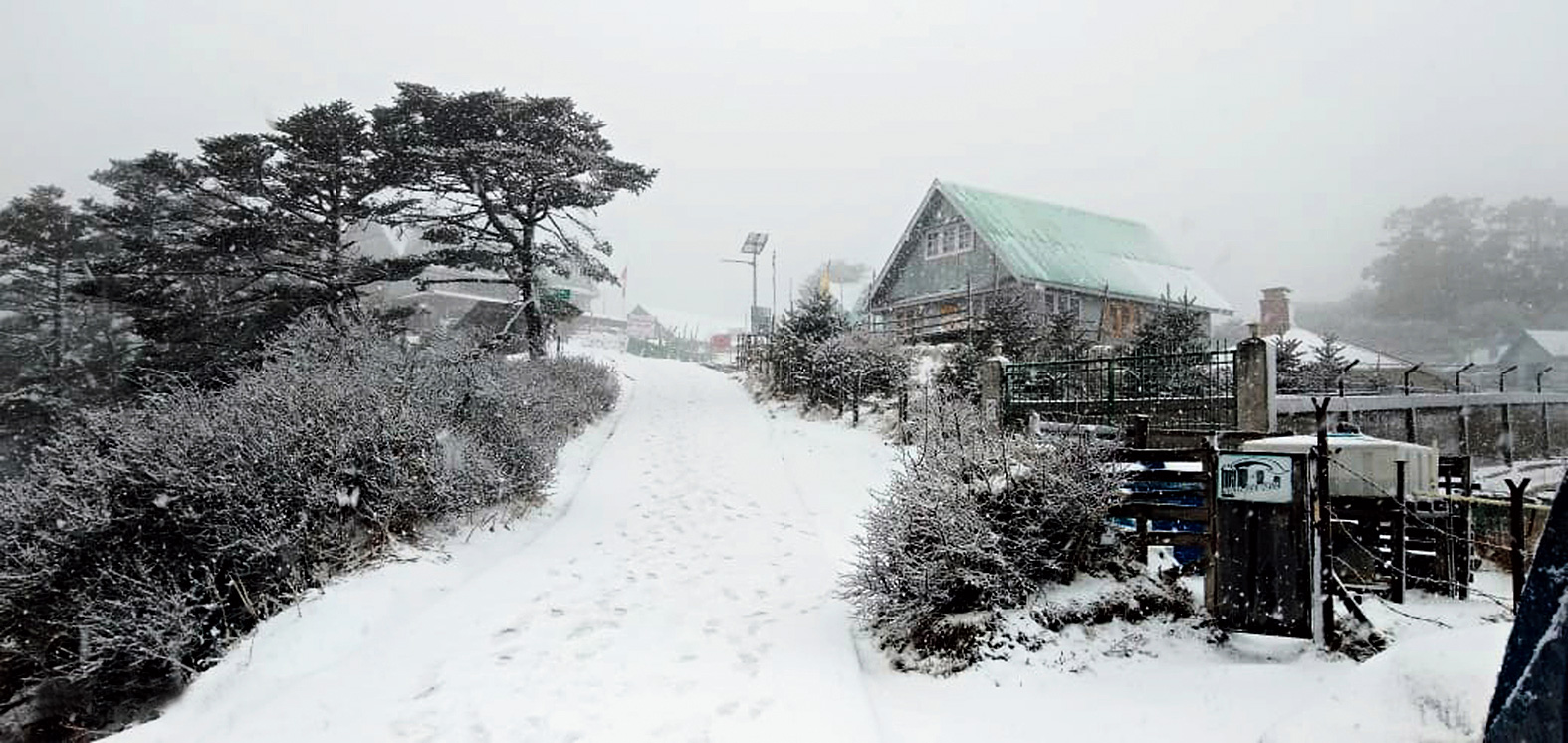 A Sandakphu neighbourhood covered in snow .
The Telegraph picture
---
Published 18.12.18, 09:44 PM
|
---
Sandakphu radiated the romance of winter on Tuesday after heavy snowfall at the highest point in Bengal left it swathed in a blanket of white.
More than three inches of snow fell within a 3km radius of Sandakphu, located at 12,000ft, bringing cheer to tourists and residents waiting for the chill thrill around 70km away in Darjeeling.
The day temperature in Darjeeling hovered around 4 degrees Celsius. "It is really cold and this is the winter feel," said Sanvi Sharma, a resident of Darjeeling. It had snowed in Sandakphu last week but a drizzle washed it all away.
Meteorologists trace the origin of the current weather to cyclone Phethai, which developed thousands of kilometres away in the Bay of Bengal.
Avijit Sinha, a tourist from Howrah who witnessed the snowfall in Sandakphu, said: "The sight was wonderful. We are speechless."
It started snowing from 2am on Tuesday and continued through the morning. "No tourists are stranded," said Joyoshi Dasgupta, the district magistrate of Darjeeling.
From Sikkim to Bhutan, there was snow across the hills. Darjeeling itself had no such spectacle but Sandakphu ensured the town got its winter thrills. In the plains of Bengal, weather officials said showers over the past few days had sent day temperatures plunging. With the clouds clearing, they forecast a dip below 10 degrees Celsius in some districts.