Guardrails set up in the middle of the road to slow down vehicles and check accidents have turned into a hazard as many of them cannot be seen from a distance.

Two bikers have died in accidents caused by guardrails in Action Area III of New Town in the past fortnight. One was thrown off the two-wheeler after a taxi driver in front of him spotted a guardrail late near Karigari Bhavan and braked suddenly. The biker landed under the wheels of a truck.
Subham Kothiwale, 23, rammed into a guardrail near Uniworld City that had no reflectors or warning lights. He was flung off the vehicle and his head hit a road divider.
The first accident occurred during the day and the second early on Friday.
Metro spotted several such guardrails on the Major Arterial Road (MAR) in New Town on Friday. Most of them were difficult to spot from a few metres away, leave alone from a distance, as the blue-and-white paint had faded and was peeling off in places.
Most of the crash barriers were covered in a thick layer of dust and some had rusted. They were easily camouflaged by the trees and shrubs planted on the median divider.
Safikullah Sapui, 36, who rides a motorcycle to and from work said it was worse at night. "None of the guardrails can be seen from a distance as they don't have reflectors on them," he said.
Amit Javalgi, deputy commissioner, headquarters, Bidhannagar commissionerate, said the guardrails will be fitted with reflectors in phases.
"We have put up the crash barriers to prevent speeding. All of them will be fitted with reflectors so that they are easily visible," Javalgi said.
Guardrails on several stretches of EM Bypass, the Rashbehari connector, Park Street and JL Nehru Road pose a similar risk.
On Friday afternoon, Park Street flyover was closed with guardrails for Esplanade-bound traffic for some time. There was no way one could spot them from a distance.
At night, when fog settles, drivers often spot the guardrails at the last minute and have to brake suddenly.
"We are in the process of getting new ones that would have better reflector tapes. The traffic guards have been asked to ensure better maintenance of the guardrails," a senior officer at Lalbazar said.
The Indian Road Congress (IRC) specifies three types of guardrails — for pedestrians, median dividers and the moveable ones mounted on wheels. There are specifications for each.
The moveable guardrails, engineers familiar with the IRC norms said, should be in black and yellow.
Across Calcutta, the guardrails are painted blue and white, which may not be visible under the blue sky while driving down long stretches. Ideally, the tubular pipes that make up the frame of a guardrail should be wrapped in prismatic reflective sheets so that the guardrail glows in the dark and can be seen at night.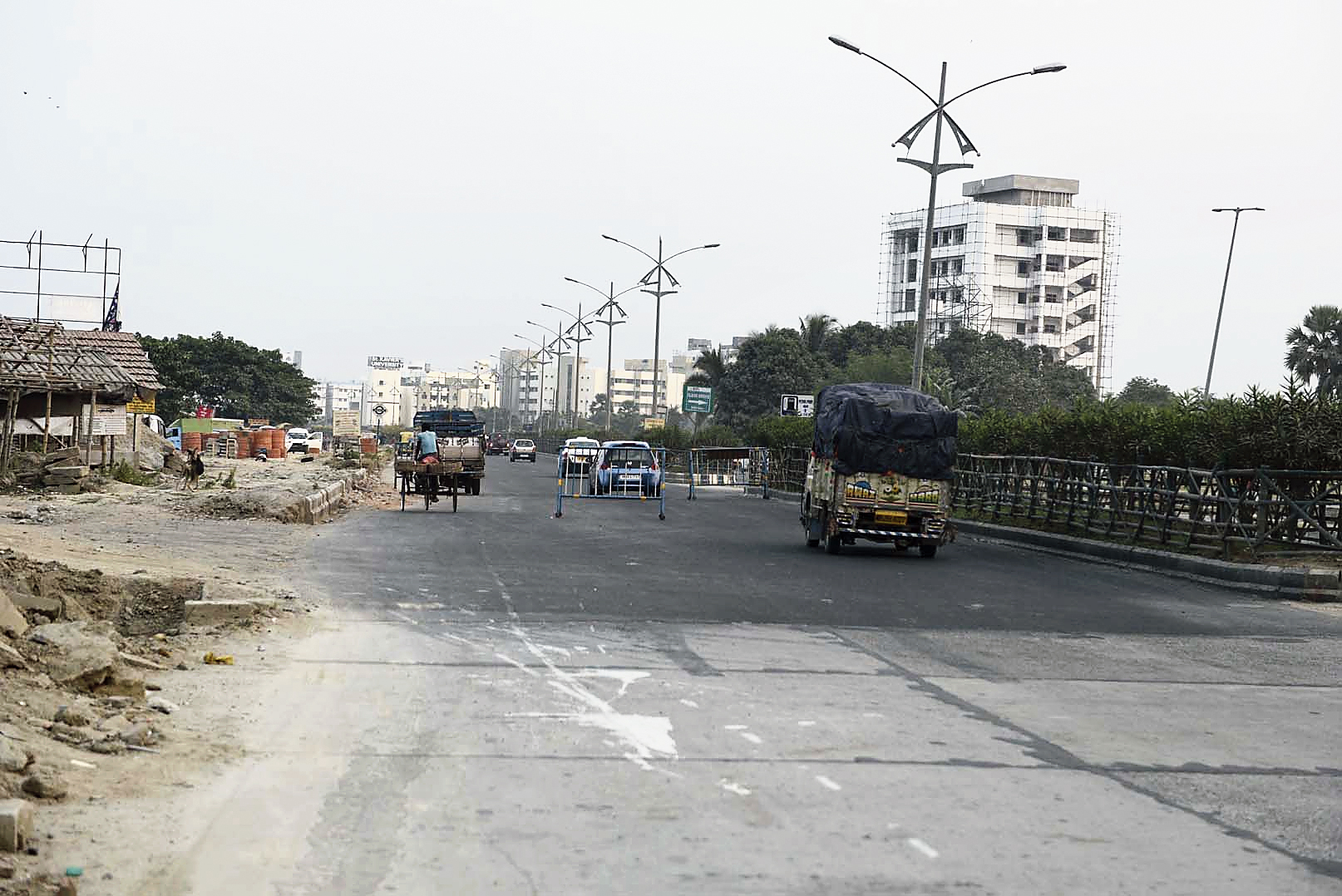 Guardrails on the Major Arterial Road in New Town without signage or glow strips Picture by Gautam Bose
"Unless a guardrail can be spotted from a distance, one can't slow down. A border with reflective tape is crucial in ensuring efficacy of a moveable guardrail," said a senior engineer of the traffic and transportation department.
"The minimum braking distance depends on several factors, including the drivers' ability to react in an accident, the vehicle braking system, the condition of the tyres and the speed of vehicles. A vehicle would need some time to slow down after spotting a guardrail from a distance," the engineer said.
Engineers usually lay down specifications for moveable guardrails when disbursing money to districts and police commissionerates to buy "traffic furniture", sources in the transport department said.
"The length should be 2.86 metres and the height should be 1.78 metres. The distance between the vertical rods can't be more than five inches," said an officer. "Usually, the police place orders but don't check if the specifications have been met."
Across the city, guardrails are positioned arbitrarily with a home guard or a constable following orders to pull them to the middle of the road.
"One tends to see through the rods of moveable barriers during the day," said an officer of the state traffic police.
But traffic police insist guardrails are required for two reasons — a sudden naka and to force drivers to slow down.
Without guardrails, it is impossible to run checks such as drink-driving or to ask a driver to slow down and show documents if necessary, officers said. Guardrails are also vital in case of sudden diversions.
"Guardrails help slow down vehicles and control speed in areas where there aren't speed cameras," said an officer of Calcutta traffic police.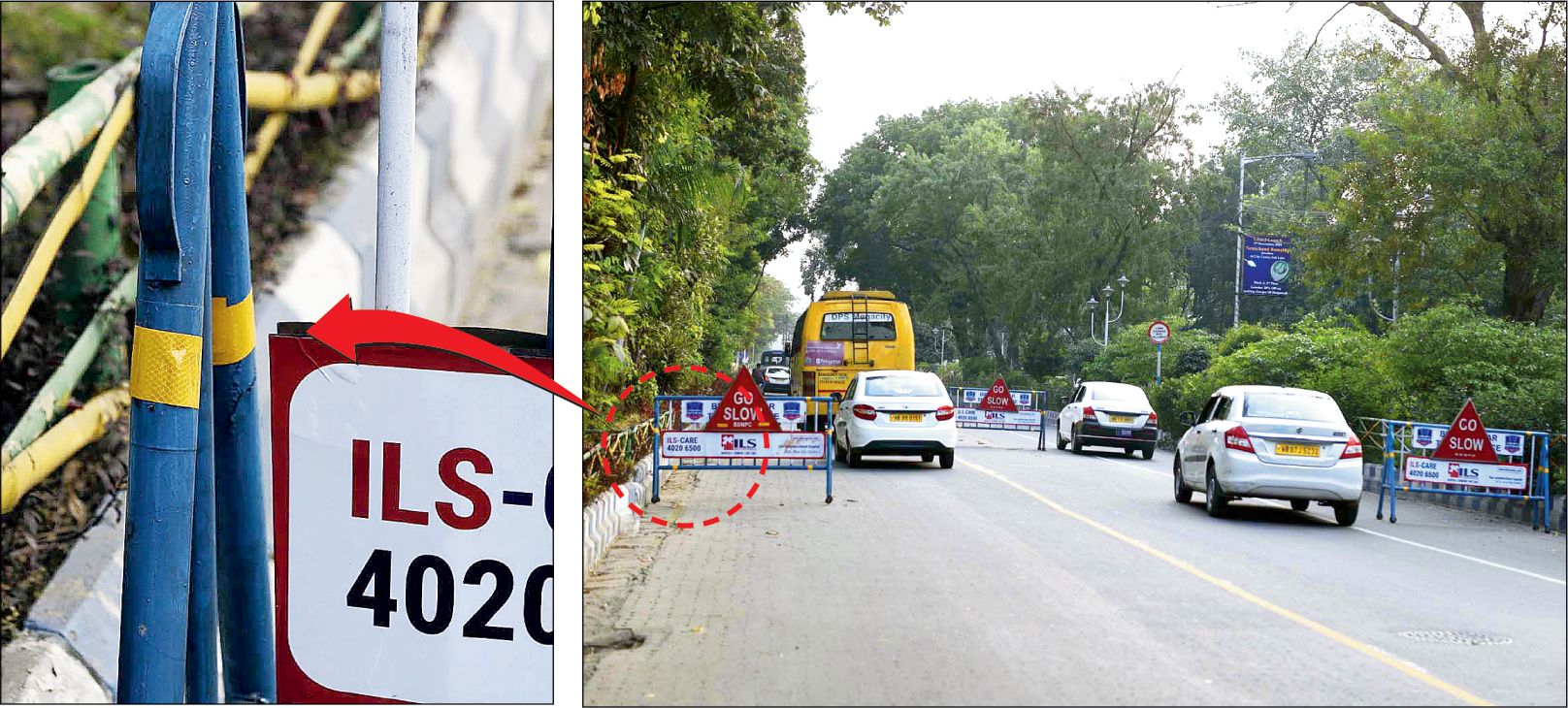 Guardrails with signage on a Salt Lake road with (above left) glow-in-the-dark strips. Picture by Gautam Bose