RUBY, more than a mere crossroads
INSIGHT: A dip into the bylanes and the shadows for a sense of what else this Calcutta station is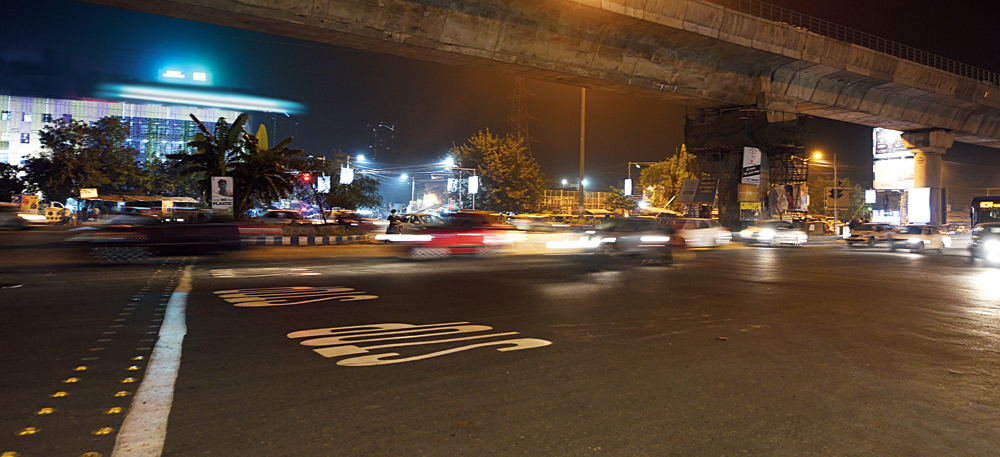 ---
|
Calcutta
|
Published 04.01.20, 07:54 PM
---
In the years before my long absentia from the city, Ruby was not a thing on the map. The word's only recall for Calcuttans was that it was the name of a fond footballer — the Bengali word for the gemstone is chuni. The only other resonance was the catchy R.D. Burman song about unrequited love — "Mone pore Ruby Ray… Remember, Ruby Ray."
Upon return too, for a good while I knew of Ruby by sound alone. After office hours in central Calcutta I would overhear people hurl the two syllables at slowing yellow cabs, sometimes matter-of-factly, sometimes like a command. Roo-be. Concise, smart, rhotic consonant in place, it had a different feel to it from the ambitionless -purs, -gunjes, -haats and -bajaars. In the soft dusk, the twin syllables would wink at me like their 8-point-something carat Puertas namesake that Elizabeth Taylor found herself surprised with one red, red Christmas by Santa Burton.
At the Rashbehari Crossing I would hear auto drivers cry itinerantly — "rubirubirubirubirubi…"
James Joyce wrote in one of his short stories: "The syllables of the word Araby were called to me through the silence in which my soul luxuriated and cast an Eastern enchantment over me." Replace Araby with Ruby, soul with self, and enchantment with nothing for now, and there is my story.
The story of Ruby.
Ruby takes its name from a multispeciality hospital that came up sometime in the 1990s quite literally in the middle of nowhere. But as I return to the geography again and again, I figure that today the name means different things for different people.
For some Ruby is a busy intersection.
For some Ruby is the spread of eateries along the highway.
For some it is a clutch of hospitals.
For some a stretch of soiree gardens.
For some, impossible real estate.
For some, newly sprung schools.
Passport office. Transport office. GST Bhawan. High-end auto showrooms. Pillar-ads. Overhead metro, albeit in progress. And the greatest common denominator, a mall named after a handsome Greek word.
Ruby. Araby. Ruby.
In erstwhile Burma, present-day Myanmar, where the world's best rubies are supposed to be birthed, there is a term used to describe the exact shade of the finest variety of the gemstone. Ko-twe means pigeon's blood. This Ruby is built on stories aplenty of grinding poverty and unbelonging, hope and desperation and struggle. And I am also told that at some point the land has been stained with blood, human blood.
"Once upon a time, these were paddy fields," says Subrata Mondol. The retired employee of the Calcutta Corporation is sitting on a low bench somewhere along the stretch that is contiguous to the rear of the mall. He is facing empty plots and one under-construction building and is relishing the winter sun. On his side of the wide road there are two copper sulphate private buses parked, both empty. The ochre band through their middle reads Lake Town (Jaya) Ruby (Dhaan Math) and Lake Town (Jaya) Kalikapur (Ruby), respectively.
"This place is still known as Dhaan Math; the Bengali word for paddy is dhaan, math means field," says Mondol. Though he has been a resident of the area for only the last five years, he is well-acquainted with the place and its evolution. He would come here as a child with his father who had bought the land on which his house stands now. "It was snake-infested in the early 1960s, barely any human habitation. And where the mall stands now there was a hogla bon, a kind of grass that grows along rivers and canals. My father bought land at Rs 500 a cottah," he adds.
Mondol suggests I speak to the chawallah further down the road. Dilip Mondol's cha corner appears to be a cycle rickshaw stand as well. It must be understood that the rickshaw has been and still is an important means of transport in these parts. Because there were all kutcha roads here, I ask one rickshawpuller. "Because there were no roads," he replies with a snort. Dilip tells a staccato tale. His parents came away from Bangladesh and settled here many years ago. That was the time when only jackals roamed this place. He hems and haws and then points to a little figure crouched before a rickshaw.
Satya Paik is a natural raconteur. He has the kind of gravelly voice that could burst into a baul song anytime; he speaks knowingly and with feeling. Halfway through the narration, though, he tells me that it is only on a good day that he allows himself to talk so much — by then despite a blocked nose I have had a whiff of something off him that is certainly not Dilipbabu's brew. According to Paik, who has been living here the last four decades, the land was acquired by the government in the mid-1980s, and during the construction of the Metro rail in the 1990s, the agricultural land turned into a landfill.
Why did you decide to settle here, I ask him. He replies, "I was a poor man. Like many others I started to live by the khaalpar, or canal, because I could." It seems an entire basti or settlement came up where now stands a towering hotel. At the turn of the century, Paik and his ilk moved out of the basti and into the refugee colony built by the Left Front government.
Paik says even 30 years ago this place was not fit for humans. It was a bhagar, a place where animal carcasses were dumped; a lot of human bodies were also routinely recovered from here, the desi liquor trade flourished here and it was a crime den. "Khoobi danger place chhilo," he says. Later, going through The Telegraph archives, I come across a 1983 report that reads: "The Eastern Metropolitan Bypass, a gigantic CMDA project, has become a den of anti-socials. Brewing of illicit liquor and prostitution are the main activities on which they thrive. Another source of income for them is the fisheries, many of which are owned by the government. Last year an officer in-charge of the Tiljala police station, Mr Gangadhar Bhattacharya, was killed when he intervened in a feud between two groups of anti-socials but till now the police has not been able to do anything about the gangsterism in that area." The report is titled "Police 'intelligence' unable to tackle crime".
Shyamal Sardar is the owner of one of the pucca shops in a lane adjoining Ruby Hospital. His shop stocks everything from woollens to sarees to school uniforms to towels to drawstrings. He says, "Before it came to be known as Ruby, this place used to be known as Kasba depot." He continues, "That year when Indira Gandhi died, that was when the Bypass linked this place to the rest of the city. Those days, taxis would be scared to come here."
According to Subrata Mondol, the area's development began with the creation of the VIP road — that would be 1962. Paik, the rickshawpuller, had spoken about "promoting" activity during Jyotibabu's reign that started to change the face of the place. For Sardar the starting point is the Bypass.
Post Bypass, government housing complexes started to come up. The land adjacent to what is now Ruby Hospital was apparently where the khatals or cowsheds stood. Those days, Sardar worked in the air conditioning department of a hospital in south Calcutta. He would cycle his way to and from his workplace. He tells me how the state government sold plots at throwaway prices to refugees/settlers during Jyotibabu's time. He says, "I too could have bought something then, but it didn't seem like a place one should invest good money in."
Around 1990, construction work began on Ruby Hospital. The area was awash in the electric light that was Ruby's. Says Sardar, "Making the most of it, some of us started to sell our wares in the evening market conducted largely off our jute and plastic thrones."
Then came the housing schemes.
Roads were widened.
The Kasba Depot became bigger.
In 1994 when Anjan Dutta sang out in the voice of a young man who had just found himself a job and was finally free to settle into the life of his dreams with his beloved, Kasba was the chosen site of his new life. "Aar kichhudin tarpor Bela mukti, Kasba-r shei neel deoyaler gho-o-or…" sang Dutta.
At some point, many more hospitals came up here. A close rival even campaigned to rename the area after itself but by then the name had stuck. Ruby it was.
Ruby. Araby. Ruby.
They say, Ruby you are like a dream/ Not always what you seem/And though my heart may break/When I wake/Let it be so/I only know/Roo. Bee/It's you..." That would be Neil Diamond singing away in the 1970s.
As I keep meeting people, I realise that Ruby is not a constant.
Rajkumar is an istiriwallah. His station is outside one of those housing complexes that came up 15-20 years ago, one of those that Sardar had spoken about; he has been here as long as this particular housing. Over the years as demand for his kind of service increased, he brought over nephews and other kinsfolk from Bihar to lend him a hand. He too talks about the problematic past but in his telling I find a strand of the now with the then. He tells me the "good folks" are leaving this place now. "Everyone is headed for Rajarhat," he adds.
And another strand.
Deepali Ganguly's one-storey brick house is close to the office of a German multinational. On the other side of the road that runs in front of her house are a couple of eateries — noodles and other quick-eats. "They weren't there even six months ago," she says as she vigorously rubs the head of her little girl with a towel. Deepali says a lot has changed about the area in the last 15 years, which is when she got married and moved here. She says, "You see, I am from the village. This place used to feel no different. But now that is changing. Too many strangers all around, all the time."
And another strand.
Somewhere between a spanking new posh housing and a college lies Bangshibadan and Shyamali's stall. The couple serve bread slices and boiled eggs, biscuits. Between kneading dough for some kind of fried savoury item, Bangshi gestures at a sweep of land and says, "All that was mine. I used to grow kolmi shaak, lal shaak, daanta. But the last three years they have turned it into a waste dump." They, who? Avoiding a response, Shyamali points to a small office room that sticks out incongruously some distance from the shop amidst all that green and open and cuckoo calls. "They will make garages for buses," she says with a sigh.
Change, making actual inroads.
Towards the end of my meanderings I arrive in the colourful settlement of Nonadanga. Rambabu — his full name is R.B. Singh — lives here and also runs the NGO, Janakalyan Samiti. He says, "We were evicted from khaalpar and resettled here in 2007. It has not been long since we got pucca roads here, electric supply in every block, a thana of our own (Anandapur) and, very recently, mishti jol (drinking water). But if we really have to rise above the past and our conditions in times to come, we have to change the course of the future generations."
The NGO has set up a school for the children of Nonadanga. The children of all those men and women who work as domestic helps and masons in the tall shiny buildings that make Ruby.
It was Tagore who wrote, "Amari chetonar ronge panna holo sabuj/Chuni uthlo ranga hoye… It is I who make the emerald green/ The ruby redder still."
Of course, you could always say it is a stretch.