Rs 9cr allotted to civic bodies for dengue fight
Move comes after the CM repeatedly said at Nabanna meetings over the past few months not to forget the vector-borne disease during the fight against Covid-19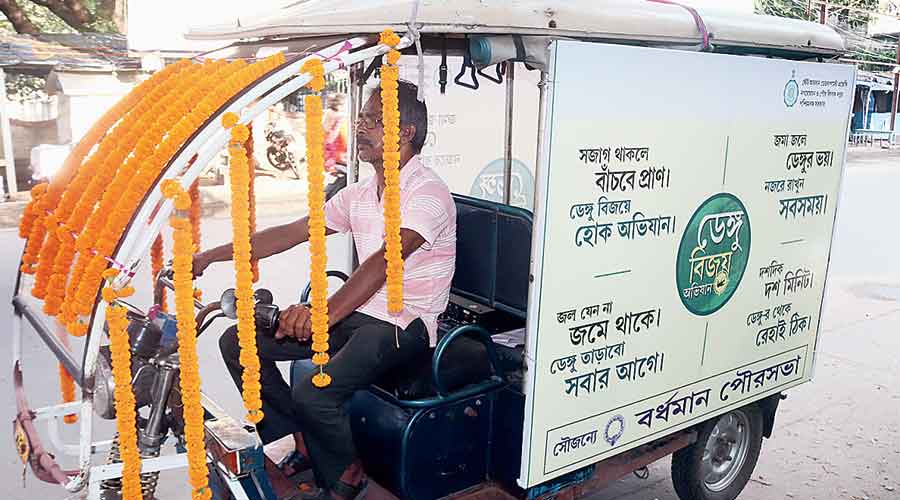 ---
Bolpur(Birbhum)
|
Published 21.09.20, 12:45 AM
|
---
The Bengal government has allotted Rs 9 crore to 126 civic bodies across the state  in a bid to enlist civic personnel to fight dengue, with senior health officials reiterating chief minister Mamata Mamata's assertion that the vector-borne disease could not be neglected amid the Covid-19 pandemic.
The "Dengue Bijoy Obhijan" drive was launched by officials on Sunday, flagging off a three-month drive against the disease.
Sources said the move came after the chief minister repeatedly said at Nabanna meetings over the past few months not to forget dengue during the fight against Covid-19.
In a meeting with district magistrates and other senior officials last month, Mamata had expressed her worry over dengue with particular reference to North 24-Parganas and Calcutta. "Please carry on the work needed to prevent dengue. Ensure that a situation does not arise later where you have to fight dengue and Covid-19 together," Mamata had warned recently.
Later, in a late August meeting with district officials, she had ordered a close watch on dengue-prone areas in the district.
Sources said the State Urban Development Agency (Suda) had allotted Rs 9 crore to municipalities this year according to the area allotments of the civic bodies. Large civic bodies like Asansol Municipal Corporation in West Burdwan received Rs 28.62 lakh whereas smaller civic bodies like Basirhat in North 24-Parganas received Rs 6.81 lakh.
"We have allotted the funds to civic bodies as a first step in outsourcing persons who can join as vector control team members. Members will visit homes and take immediate action to remove stagnant water. The programme will stop the spread of the disease," said Santanu Mukherjee, Suda director. "Funds are hereby released electronically in favour of Urban Local bodies as honorarium to Vector Control Team Members…" an order issued by Suda this week read.
Suda officials said they would continuously send money to civic bodies every month till November —t he peak time for dengue — and would ask civic bodies to send utilisation certificates of the funds by the fifth of every month.
Sources in different municipalities said the government had increased funds for controlling Dengue for the first time in a number of years, and welcomed the move citing clear directions to take actions in dengue-prone areas.
"Earlier, our staff from the municipality used to look after dengue-related matters. Now, the government will hire personnel dedicated to keep vigil for the vector disease," said Aswini Tiwari, chairman of the Rampurhat municipality.
On Sunday, state urban development minister Firhad Hakim inaugurated the new drive against the disease. which was followed up with an inauguration at all civic bodies in Bengal on Sunday.
"All municipalities have been asked to conduct door-to-door surveys mainly to locate stagnant water and to campaign in urban pockets to make people aware about dengue in the time of Covid-19," said an urban development department official.
On Sunday, several municipalities took out tableau to campaign against dengue and initiated cleanliness campaigns in their respective areas.