Royal Bengal tiger drags away fisherman in Gosaba
Asit Sarkar, 50, was taken away by a big cat when he went to catch crabs in creeks and rivers of Jhila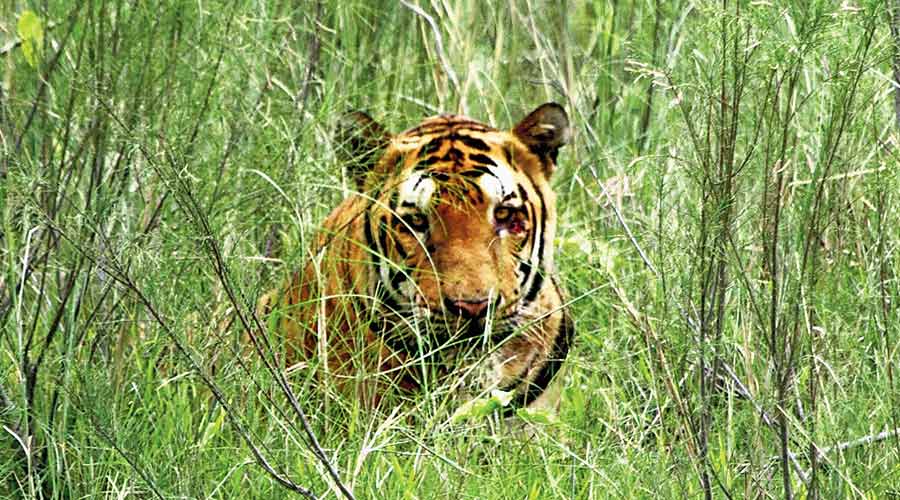 ---
Bolpur(Birbhum)
|
Published 06.10.21, 01:28 AM
|
---
In the third attack in four days, a royal Bengal tiger dragged away a fisherman inside the dense forest early on Tuesday, leading the Sunderbans Tiger Reserve (STR) authorities to issue a ban on fishing in creeks and rivers of Jhila forest.
Asit Sarkar, 50, a fisherman from Gosaba, was taken away by a big cat when he went to catch crabs in creeks and rivers of Jhila. His co-workers said they tried to save him from the tiger but they were unsuccessful.
The fisherman is still missing.
"It is the third attack by tigers in four consecutive days and all incidents happened in the Jhila zone of the STR. So, we have issued a ban on fishing in an area covering 58sqkm of Jhila forest. We will keep an eye on the tigers to understand the reason for their aggressive behaviour," said Jones Justin, the deputy field director of STR.
The foresters said as per their survey there were two tigers who we suspect of attacking fishermen. The 2020-21 census shared by the Bengal administration on Wednesday, on the eve of the International Tiger Day, counted at least 96 tigers in the Indian territory of the Sunderbans.
On Monday, the victim, Samad Mollah, 31, died in the tiger attack when he was catching crabs in Chilamari Khal, a creek in the delta.
On Saturday, A 37-year-old fisherman Gour Mistri was severely injured by a Royal Bengal tiger in Gosaba of the Sunderbans and his co-workers were able to rescue him from the jaw of the big cat after fighting with bamboo sticks and oars.
"It is really a reason to worry as we have never witnessed such recurrent attacks. After the pandemic several people lost their jobs in other sectors and have taken to collecting crabs and fish from restricted forest areas of the Sunderbans," said Umashankar Mondal, a geography teacher who runs mangrove plantation movement in the largest tiger reserve.
Sources in forest departments said apart from fishermen with official permission from the STR, many people illegally entered the restricted areas and risked their lives.