Roadblock over 5-day power cut
Agitators allege because of prolonged power cuts, obtaining drinking water had become a problem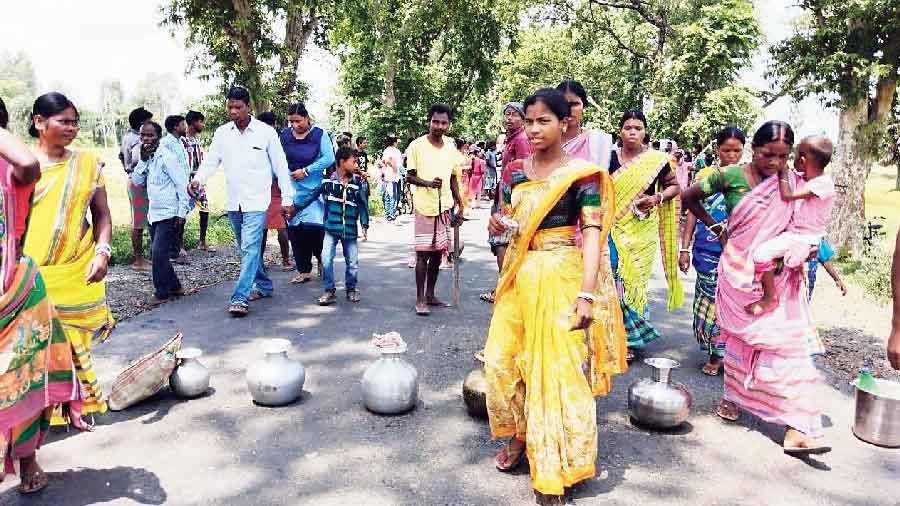 The protest on the state highway at Habibpur in Malda district on Friday
Soumya De Sarkar
---
Malda
|
Published 25.06.22, 03:23 AM
|
---
Residents of six villages in Malda district blocked the Malda-Nalagola state highway for over three hours on Friday, protesting a halt in power supply for the past five days.
As traffic movement stopped along the route, police officers rushed to the spot, which comes under the Mangalpura panchayat of Habibpur police station, and urged the protesters to withdraw the blockade. The protesters, however, didn't budge and refused to disperse unless power supply was restored.
On Friday morning, hundreds of tribal women, who were at the forefront of the agitation, walked up to the highway and blocked it. Around 10,000 people living in these villages are suffering for almost a week, they said.
"We were compelled to block the road as our repeated appeals to restore power supply remained unheard by the authorities. We have had to face huge inconvenience as there has been no electricity in our areas and even the administration did not pay any heed to our pleas," said Esthar Murmu, a protester.
Residents of villages like Nirail and Gopalnagar alleged that theft of power cables was the reason behind the power supply stopping.
"This is not the first time that we are suffering. Miscreants steal electric wires and prolonged power cuts hit the villages. Officials of the West Bengal State Electricity Distribution Company Limited (WBSEDCL) are not taking any steps to check the thefts. Also, there is no initiative from the local police. That is why we decided to register our protest through the road blockade," said Sarada Soren, another protester.
The agitators alleged that because of the prolonged power cuts, obtaining drinking water had become a problem.
Kunaram Tudu, another agitator, said women have had to walk for 2 to 3km to collect drinking water.
"Many of them fell sick as the scorching heat has worsened the situation. Children have not been able to study at home. After sunset, our villages plunge into darkness. We met WBSEDCL office and sought appropriate steps, but nothing happened," said Tudu.
As the blockade continued, police officers contacted the WBSEDCL authorities and asked them to come to the spot and speak to the agitators.
Finally, after three hours, the blockade was withdrawn.
"It is true that there has been no power supply in these villages since June 19. It happened because the power cables were stolen. We have installed new cables and hope the supply will resume this evening or latest by Saturday morning," said Ganesh Choudhury, an official of WBSEDCL posted at Aiho in Habibpur.