Road repair for 17,000km
Aim to make distressed roads motorable within October third week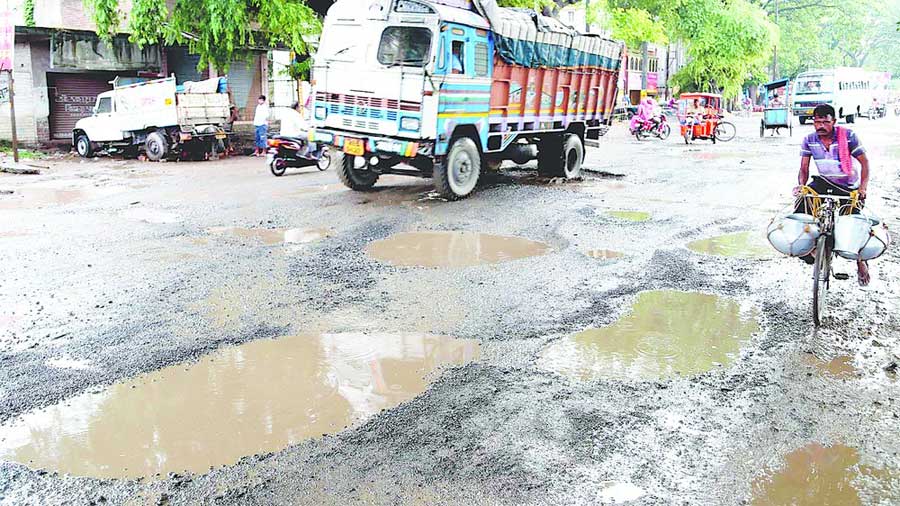 ---
|
Calcutta
|
Published 23.09.20, 01:22 AM
---
The Bengal government has taken up a Herculean task of repairing 17,000 km of roads ahead of Durga Puja after chief minister Mamata Banerjee made it clear to the state administration that all distressed roads in the state had to be made motorable within October third week.
"Of these, there are 7,000km of rural roads maintained by the panchayat department and remaining 10,000km are semi urban or urban roads maintained by the PWD. Both the departments carried out a survey and found that altogether 17,000km roads are really distressed and needed urgent repair," said a senior state government official.
Sources in Nabanna said that usually roads across the state are maintained regularly but the pandemic scuttled this routine maintenance. That's why such 17.000km roads were in distressed condition.
The roads in several districts across the state have been damaged in the past six months. But roads in districts like South and North 24 Parganas, Hooghly and Howrah have suffered the most as they have borne the brunt of cyclone Amphan.
A senior official pointed out that repair of roads was delayed as the chief minister did not conduct her district tours because of the pandemic.
"Usually, before the chief minister's visits to the districts, all damaged roads are repaired as the PWD officials don't take any chance ahead of the chief minister's visits. As the chief minister could not visit the districts since March this year, the roads remained neglected," said an official.
The official pointed out that the PWD usually carries out repair work of damaged roads in September as monsoon usually leaves an impact on several roads, particularly those built more than five years ago.
"But this year, the exercise has been affected too due to the pandemic and weak financial condition of the state coffers. Now, the state has to carry out repair work on roads that were damaged before the monsoon and during the monsoon at one go. This is a Herculean task," said a bureaucrat.
Sources said that the panchayat department has earmarked a sum of Rs 700 crore for undertaking repair work on damaged rural roads and the PWD has estimated a sum of Rs 1,200 crore for repair of all the damaged roads.
The panchayat department is likely to arrange a large portion of required funds from the PMGSY, but the PWD will face real trouble in arranging the funds, said sources.
"The PWD is planning to use funds from non-Plan heads to carry out the repair work," said a source.
Mamata's October third week deadline also appears tough, said a PWD source. "The work is huge and some stretches would require a couple of months for complete repairs. So, we have fixed a target of completing repair work on minor affected areas before the Pujas," said the source.