Rivers overflow, several bridges submerged in south Bengal districts
Red alert issued in two blocks of Bankura after water level of the Dwarakeshwar threatened to touch danger level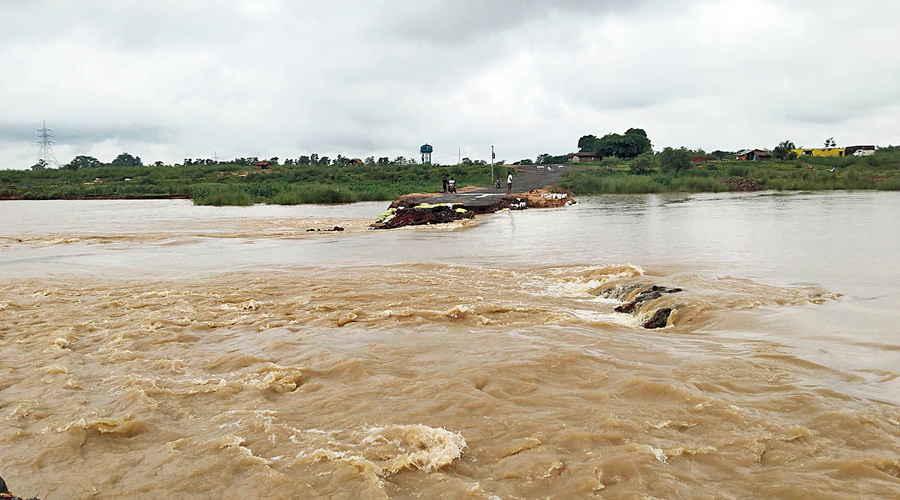 ---
Bankura
|
Published 17.06.21, 01:36 AM
|
---
Incessant rain in several south Bengal districts and adjoining parts of Jharkhand over the past few days has disrupted normal life in several pockets of Bengal as water level of seasonal rivers began to rise since late Tuesday.
At least 50 villages of Bankura were disconnected from the main town after four fair-weather bridges over the Gandheshwari and Dwarakeshwar rivers were submerged early on Wednesday morning. Two fair-weather bridges in Bhadul and Minapur over the Dwarakeshwar went underwater and disrupted communication with district headquarters Bankura.
Fair-weather bridges are causeways built over rivers or water bodies that remain dry during most part of the year other than the rainy season.
Red alert has been issued in the two blocks of Bankura — Katulpur and Joypur — after the water level of the Dwarakeshwar threatened to touch danger level. Four wards under Bankura civic body became waterlogged following continuous rainfall.
"We have alerted officials in those two blocks and directed them to evacuate people from low-lying areas adjacent to the river embankments as soon as the water level touches danger mark," said K. Radhika Aiyar, the Bankura district magistrate.
Around two dozen villages at Jambuni in Jhargram snapped from the mainland after a bridge on river Dulung went under water following heavy rainfall in Jharkhand.
"The water level in Dulung increased after heavy rainfall in Jharkhand and it disconnected several villages from the district town. We are keeping an eye on the situation there," said an official in Jhargram district.
On Wednesday afternoon, a motorcycle was swept away in the current of river Ajay in Birbhum's Joydeb after a person from Illambazar tried to cross the fair-weather bridge despite the river water flowing over the bridge.
"The person and his son were fortunately saved from being swept away, but their motorcycle disappeared in the swift-flowing river water. We have also stopped people and vehicles from plying over the fair-weather bridge that connects Birbhum district to West Burdwan," said an official in Bolpur.