Rival and ally raise brows at Anit Thapa
There is a significant Opposition in the autonomous hill body with Hamro Party bagging eight of the 45 elected seats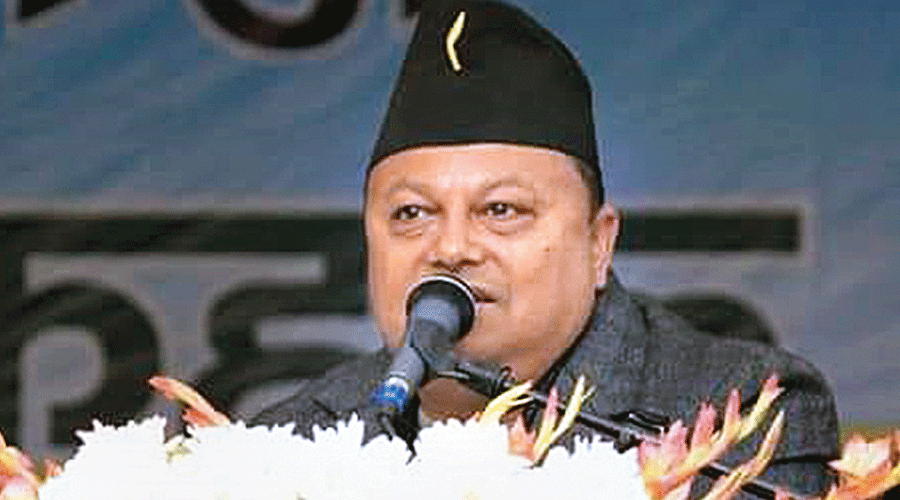 ---
Darjeeling
|
Published 24.07.22, 01:12 AM
|
---
The first two major decisions of the Gorkhaland Territorial Administration (GTA) — that of appointing "members on duty" and holding a review meeting with the Bengal government — has come under scrutiny from the Opposition and ally alike.
Anit Thapa's BGPM has formed the GTA Sabha with support from Trinamul. Also, there is a significant Opposition in the autonomous hill body with Hamro Party bagging eight of the 45 elected seats.
On Friday, Thapa held a review meeting with the Bengal chief secretary H.K. Dwivedi and other senior officials in Calcutta. Later in the evening, Thapa, the chief executive of the GTA, appointed 14 executive GTA members and 17 members on duty (MoD)
The 14 executive GTA members head various departments. The members-on-duty will look after activities of some departments in specific areas.
On Saturday, Ajoy Edwards, Hamro Party head, and Binay Tamang, Trinamul leader from Darjeeling, protested the appointment of the MoDs.
Edwards said: "The GTA Act does not have the provision to create or appoint posts like member on duty."
The Hamro Party said these appointments violate the spirit of constitutionally prescribed limit of having a council of ministers from 15 per cent of members in both the state Assembly and Parliament. The party also said that the GTA Act allows the chief executive to allocate departments to "only executive GTA members".
Tamang's objection was on similar lines but the Trinamul leader also questioned Thapa's meeting with Bengal government officials in Calcutta without discussing the issues with the GTA Sabha.
"We welcome it, but want to know why a resolution was not adopted on these issues at the GTA Sabha before placing it before the government," said Tamang who once headed the GTA and has also been made an MoD.
Thapa, however, said the order to appoint MoDs conformed to the GTA Act. He said Section 50 of the GTA Act allows the chief executive to appoint committees from members to efficiently discharge work of the GTA."Section 45(2) of GTA Act also allows the chief executive to allocate business among Sabha members," added Thapa.