Rise in anxiety among students
Get help before it is too late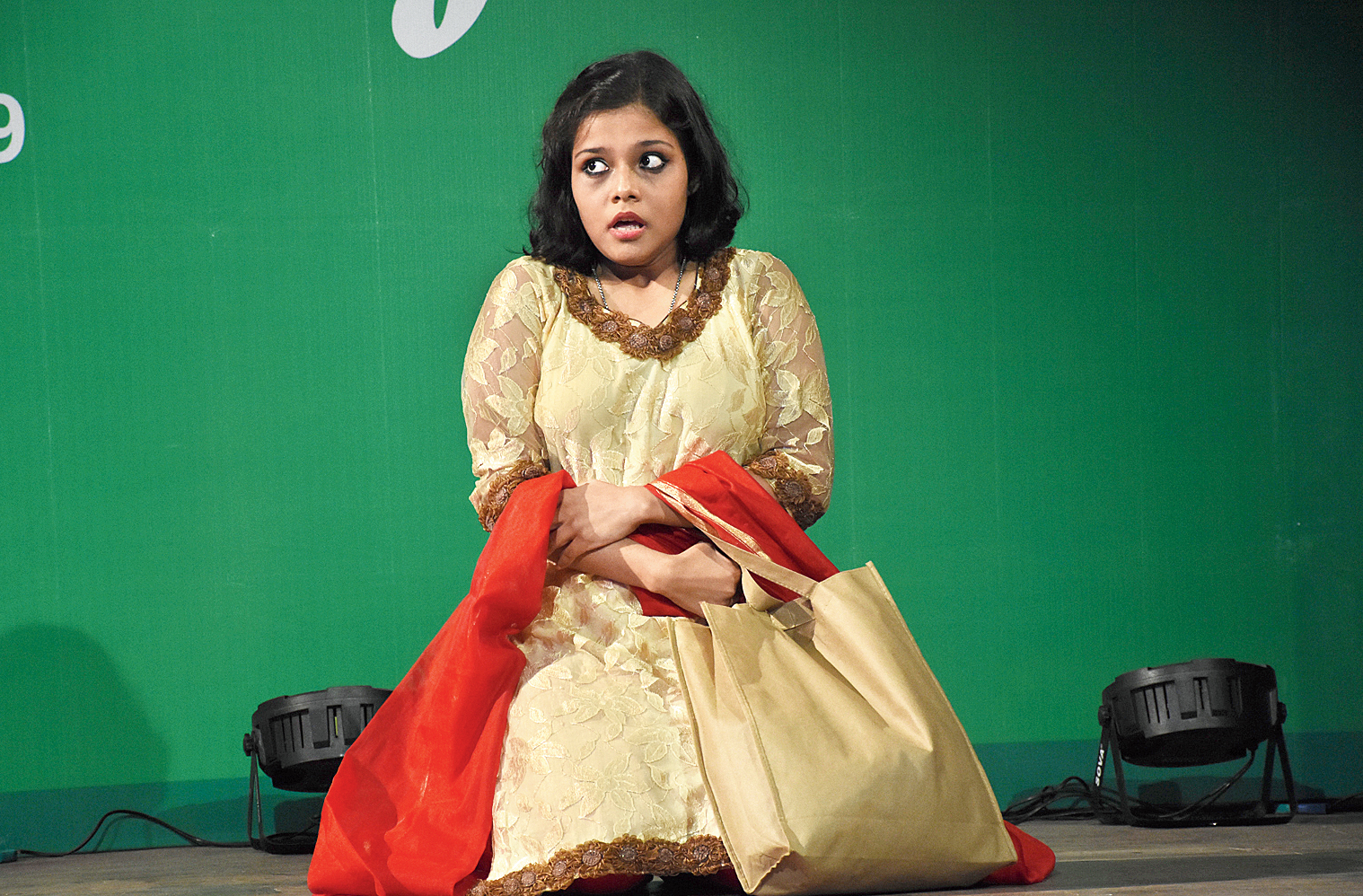 A student of Ashok Hall Girls' Higher Secondary Girl depicts the pain undergone by abused and vulnerable children in a skit at Kala Kunj on Friday.
Picture by Shuvo Raychaudhuri
---
Calcutta
|
Published 28.06.19, 11:07 PM
|
---
Students suffering from anxiety has doubled in the last five years, say psychiatrists, who feel parents and teachers often ignore a child's pleas of help till it is too late.
"Fifty per cent of kids suffering from anxiety are willing to talk initially but parents are not ready to act on them," Sanjay Garg, a consultant psychiatrist, said on Friday.
He was speaking on the sidelines of a five-minute drama fest organised by the mental health and behavioural sciences department of Fortis Hospital, Anandapur, as part of their summer internship programme at Kala Kunj on Friday. Twenty schools and over 200 students took part in the second edition of Get Your Act Together. From post-traumatic stress disorder to the scars of an abused child — schools staged skits on a plethora of issues to spread awareness. Their message: Get help before it is too late.
As the gap between expectation and reality triggers depression, four students from BDM International highlighted through their play what exactly was driving the youth to the brink in recent times.
"Parents often overlook simple signs such as sleeplessness, lack of appetite, irritability as symptoms of anxiety. The children often withdraw into their own world, spend more time on gadgets and fail to complete assignments on time as a result of it. Instead of pressurising them, parents and teachers need to understand what is really ailing the child," added Garg, the head of the mental health department at Fortis, Anandapur.
As they waited on the wings for their performances to start, many students confessed to being misunderstood or helplessly watching a friend suffer. "My friend had anxiety-related issues because of a sibling, yet his parents chose to ignore it," said Samudra Layek, a Class XII student of La Martiniere for Boys before performing a play on Fregoli delusion (a rare delusional disorder).
Hrishita Chatterjee of Class XII, Loreto House, added how some of her friends had been in distress but could not communicate it to their parents. "Through our plays we want to spread awareness and give more students the support they lack," she added.
Teachers admitted there was a thin line between attention-seeking behaviour and genuine disorder in students. "Teachers need more workshops to spot the difference. Depression in a child can surface early," said Chandrima Chakraborty, a psychology teacher at National High School.
Some of the plays highlighted the impact of domestic violence and abuse on a child's mind.
"Students face anxiety mainly because of relationships and academic pressure. Parents should relax and give children more time," added Samir Parikh, the director of the mental health and behavioural sciences department.