Citizens, leaders renew demand for separate Siliguri district
Speaking at the annual meeting of the WBCS (Executive) Officers' Association in Calcutta, CM said she was in favour of smaller districts in Bengal like in Bihar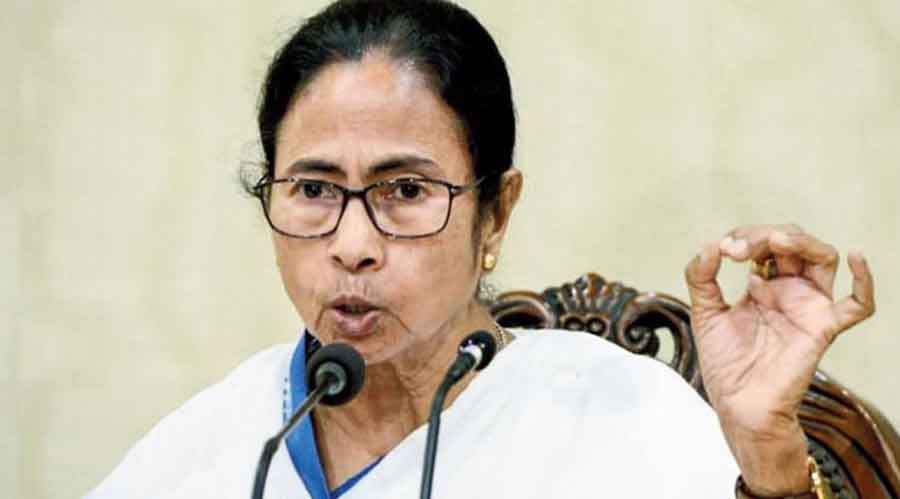 Mamata Banerjee.
File Photo
---
Siliguri
|
Published 14.05.22, 01:49 AM
|
---
Residents from different walks of life, including prominent political leaders, on Friday renewed the demand for a separate Siliguri district, within 24 hours of chief minister Mamata Banerjee's announcement that her government was considering a proposal to create new districts across Bengal.
Mamata, while speaking at the annual general meeting of the WBCS (Executive) Officers' Association at the Town Hall in Calcutta on Thursday, said she was in favour of smaller districts in Bengal like in neighbouring Bihar. As of now, Bengal has 23 districts, a number that could go up to 46, the chief minister said.
Mamata's plan has rekindled the demand by Siliguri residents for a separate district. Of the 47 municipal wards that constitute Siliguri, 33 fall in Darjeeling district and 14 are in Jalpaiguri district. Four gram panchayats in Rajganj of Jalpaiguri district — Dabgram I and II and Fulbari I and II — come under the Siliguri police commissionerate.
Siliguri is the largest urban hub in north Bengal with a population of over 10 lakh in and around the city. The geographical area of the Siliguri sub-division that fall under Darjeeling district is 837.45sqkm. This does not include the area that falls under Jalpaiguri district.
Ratan Banik, general secretary of the Brihattar Siliguri Nagarik Mancha, a citizens' forum, said they had been raising the demand for a separate district since 2012, when the chief minister had inaugurated the Siliguri police commissionerate. A number of memoranda with mass signatures have been sent to the chief minister, he said.
"We also want the state government to include the areas of Siliguri that are now part of Jalpaiguri district to be included in the new district, as and when it is formed. This will largely reduce the inconvenience of lakhs of people who, despite staying in the Siliguri civic area, have to travel to Jalpaiguri that is around 50km away for administrative and judicial work. Also, for Siliguri residents in Darjeeling, the district headquarter is 80km away in the hills. A two-way trip entails a journey of seven hours," Banik said.
Pradip Chakraborty, a retired schoolteacher in Kharibari — a block in Siliguri sub-division located around 40km from the city — said those living in rural areas of the sub-division had to travel around 100km to reach Darjeeling.
"If a separate district is created with its headquarters in Siliguri city, it will be of immense help for people of the entire sub-division. A police commissionerate is already there, along with a number of central and state government offices.… Unlike other districts, Siliguri will need less administrative infrastructure," he said.
Siliguri is also the largest trading hub in the region, which is the gateway to the Northeast. Daily business transactions in Siliguri city are estimated to be around Rs 200 crore across sectors. This goes up during the tourist season and ahead of festivals.
Surajit Paul, secretary of the Federation of Chambers of Commerce and Industries of Eastern India, an apex trade outfit having over 250 associations, said the Siliguri sub-division and its surrounding areas of Jalpaiguri have a population of around 10 lakh. Added to it are the three to four lakh people who visit the city every day.
"But even today in administrative parlance, it is just a sub-divisional headquarters. There is no reason why Siliguri cannot be upgraded to a district. It is also important because of the geographical location of Siliguri, which is part of the strategically located chicken's neck," Paul said.
Siliguri politicians also lent their support to the demand for a separate district. Shankar Ghosh, the BJP MLA of Siliguri, said: "The state will have to assure that a proper administrative set-up will be created with adequate manpower," he said.
Asok Bhattacharya, CPM veteran and former minister and Siliguri mayor, pointed out that it was during Left rule that the two 24-Parganas and the West Dinajpur district were bifurcated for smoother functioning of the administration.
"It would be an apt decision for residents of Siliguri and its suburbs," he said.
Political observers cautioned that delivering on the demand would be easier said than done. This is because of the perception that if Siliguri is separated from Darjeeling district, then the latter will be left with only the hill areas and some pockets in the foothills. This could lead to an intensification of the statehood demand in the hills, the observers feel.
"There is no such problem in other districts where bifurcation is necessary. As the demand (for a separate Siliguri district) is being raised again after the chief minister's remarks, it will be interesting to see how the state addresses it, keeping in mind the political dynamics of the hills," said a retired state government official.