'Prime minister's office humiliated me'
Ready to touch PM's feet for the welfare of people, says Mamata in scathing attack against Centre
'The PMO is feeding fake news to the media'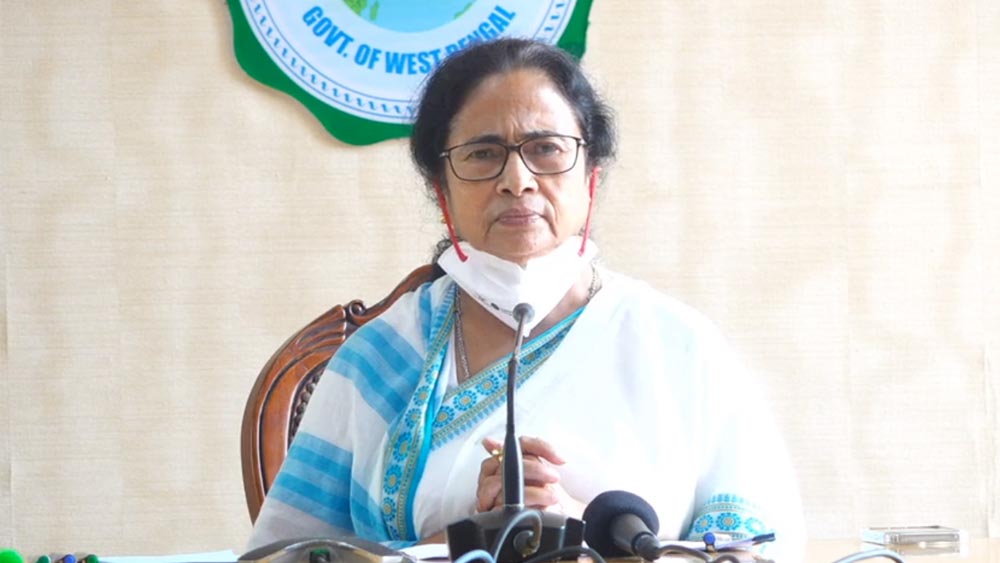 Mamata Banerjee addresses a press conference at state secretariat Nabanna on Saturday.
anandabazar.com
---
Calcutta
|
Published 29.05.21, 04:16 PM
|
---
Mamata Banerjee appealed to the Centre to withdraw its order attaching state chief secretary Alapan Bandyopadhyay to the Union government, while preparing the groundwork for what could be a long-drawn political battle in her third term.
"For the sake of Bengal, I am ready to touch the feet of the Prime Minister, if that makes him happy. But this is political vendetta. Don't defame me, don't humiliate me," Mamata said at a news conference at the state administrative headquarters, adding the "unconstitutional and illegal step" had shocked her and the IAS lobby.
The order, sent on Friday night _ hours after Mamata and Bandyopadhyay had skipped a review meeting called by Narendra Modi, informed the state government about the Union cabinet's appointments committee's nod to "placement of services" of Bandyopadhyay, a 1987 batch IAS officer, to the government of India.
Chief secretary Bandyopadhyay has been asked to appear at North Block in New Delhi on Monday, May 31, the day he was due to retire, though he was granted a three-month extension following a request from the state government. 
Modi visited cyclone-affected Odisha and Bengal on Friday and had scheduled meetings with the respective chief ministers. Mamata met Modi to hand over a report on the damage caused by the cyclone Yaas and left soon after for Digha without attending the review meeting. Bandyopadhyay accompanied her. Her decision to skip the meet has led to a political storm and the state chief secretary finds himself caught in it, that too at the fag end of his bureaucratic career.
"We got a landslide victory and that is your only worry. You want to bulldoze the federal structure. There are two sets of law for Bengal and the other states… Why are you behaving like this? You can't digest the defeat. Every time you are going for confrontation…in my state whenever you come you create confusion and confrontation," Mamata said.
"Within hours of my oath-taking the governor made a statement on law and order, within 48 hours central ministers were sent here. There were some small sporadic incidents, that too not in my time. After May 5 (the day she took oath) we have not allowed any incidents. But, BJP is trying to provoke communalism," she added. Recalling the timeline from Friday afternoon, Mamata said she and Bandyopadhyay waited for Modi for 10-15 minutes at Kalaikunda. When they tried to meet him, they were told by the SPG to wait for an hour.
"Later on we heard, they were going to the conference room. We went there. There were no chairs to sit in, we stood at some distance from him and explained the situation.
"They showed some empty chairs later. Maybe those were kept later. Why didn't they release footage of us standing in front of the Prime minister? The PMO is feeding fake news to the media," Mamata alleged.
The chief minister said she had taken permission from Modi to leave along with her team of officers thrice.
"Yesterday's was not a PM-CM meeting as it was decided earlier. In the revised list they had invited the governor, central ministers. I have no objection to central ministers but local MLAs... what locus standi do they have?" she asked. "Thrice I told him with your kind permission sir, we would like to leave since we have come from far and we have to go to Digha for an administrative meeting. The weather is not good and we took a risk coming to meet you here," she said. The former Gujarat Congress chief, Bharat Solanki, had sent a reminder on Friday soon after Modi's meeting in Kalaikunda about his recent visit to his home state Gujarat after the cyclone Tauktae.
"It is good to know that PMO India has invited leader of the Opposition in Bengal as well to the meeting convened to discuss Yaas cyclone aftermath! I am surprised he forgot to invite the Opposition leader of Gujarat during his recent visit Tauktae cyclone affected areas," Solanki had tweeted.
On Saturday, Mamata chose to remind Modi how as Prime Minister he had undermined the country's Opposition in the last seven years. "In Delhi, why haven't you recognised the main Opposition party? In Gujarat, why wasn't the Opposition leader called?" she asked.
The Bengal government is understood to be waiting for the Centre to make its next move. Mamata said the Centre had filed a caveat before the central administrative tribunal and Supreme Court. "I hope good sense will prevail and the letter will be withdrawn," she said.