Rain triggers waterlogging in sub-Himalayan region of Bengal
The rainfall has led to rise in the water levels of rivers like Teesta, Jaldhaka, Diana, Sankosh, Murti, Neora, Chel, Ghish and the Raidak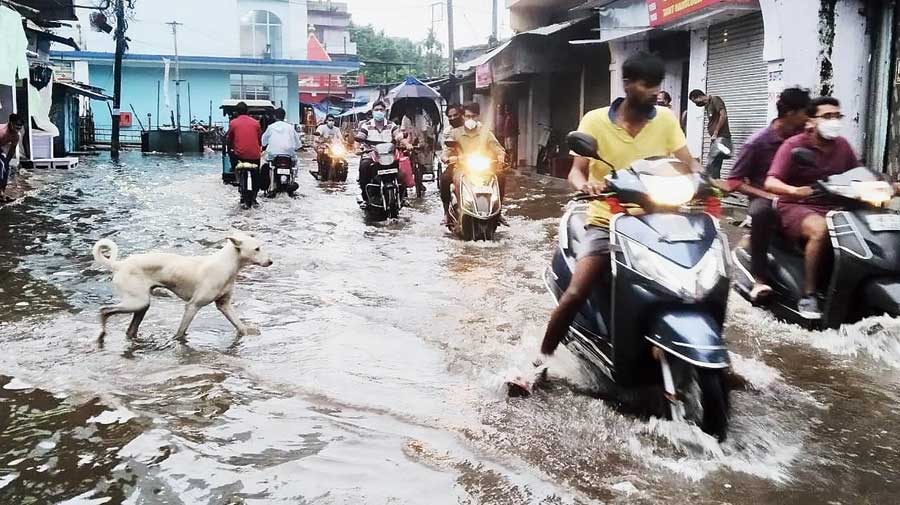 ---
|
Siliguri
|
Published 24.09.20, 02:04 AM
---
Consistent bouts of monsoon rain in the sub-Himalayan region of Bengal for the second day on Wednesday led to flooding and waterlogging at several places in the plains and triggered major landslides in the hills.
As it rained heavily in the districts of Darjeeling, Kalimpong, Jalpaiguri, Alipurduar and Cooch Behar, weather experts issued a warning that there might be flooding in low-lying areas.
In Siliguri, the Mahananda river flooded a number of areas on both banks while some other localities of the town like Milanpally, Haiderpara and Champasari and some places close to the Eastern Bypass were waterlogged. Waterlogging was also reported from adjoining areas like Matigara, Bidhannagar and Bagdogra.
Siliguri MLA Asok Bhattacharya, who is also the chairman of board of administrators at the municipal corporation, visited some affected areas. "A comprehensive drainage system is required for the entire civic area to resolve the problem of waterlogging. We have appealed to the state government for necessary assistance and proposals have also been submitted. However, no funds have reached us till now," he said.
In Jalpaiguri district, Hathi Nala, a stream flowing into Banarhat of the Dooars from Bhutan, spilled over its banks and flooded many localities. The stream also inundated at least five tea plantations. The continuous rainfall submerged most parts of Jalpaiguri town. The Karala river that flows through the town spilled over its banks and entered the outpatient department of the district hospital.
The downpour also caused waterlogging in a number of residential and commercial areas of Cooch Behar and some other places in the district.
The rainfall, sources in the irrigation department said, has led to rise in the water levels of rivers like Teesta, Jaldhaka, Diana, Sankosh, Murti, Neora, Chel, Ghish and the Raidak. "Yellow (primary) alert has been issued in unprotected areas (where there are no embankments) on either bank of a number of rivers," said an official.
According to weather experts, the southwest monsoon, which is vigorous over the region, is causing the rainfall. In 24 hours till Wednesday morning, it rained 180mm in Jalpaiguri, 130mm in Siliguri, 102mm in Alipurduar, 138mm in Cooch Behar and 240mm in Maynaguri. "Weather conditions are likely to remain the same in the region for a couple of days. But the amount of rainfall is expected to be less," said an expert.