Rain poses threat to crops in south Bengal
Shower keeps people indoors, Birbhum records minimum temperature of 15.7 degrees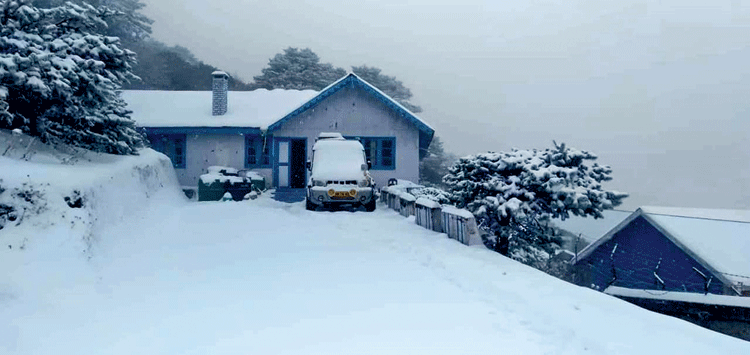 Sandakphu, the highest point in Bengal, after a snowfall on Friday
Telegraph picture
---
Tamluk(EastMidnapore)
|
Published 03.01.20, 07:49 PM
|
---
After a rise in the mercury that gave south Bengal residents respite from cold wave conditions at many places last week, a new bout of weather troubles kept them indoors from Friday morning.
Weather officials in Birbhum said on Friday that untimely spells of rain, besides the normal winter condition, posed a threat to winter crops like potatoes and onion and endangered farmers' livelihoods.
Sources at the Sriniketan Met office in Birbhum said the district had witnessed a minimum temperature of 15.7 degrees Celsius on Friday and it was unusual for the first week of January. The minimum temperature was almost twice the normal reading at this time of the year.
"A light drizzle started in the district around Thursday midnight. On Friday, the average rainfall in the district stands at 13mm," said a source.
In East Burdwan, officials said, average rainfall was 17mm, but few areas, including Ausgram and Memari, witnessed heavier spells of rain throughout Friday.
Jagannath Chattopadhyay, deputy director of agriculture in East Burdwan, said: "The rainy weather is a threat to winter crops, mainly potatoes, which get damaged easily. If the rain continues, the damage to crops will increase." District officials in Hooghly are also worried about the damage to potato and onion crops. The Hooghly district is the main contributor of the two crops in Bengal.
Districts like East Midnapore also witnessed daylong spells of rain, forcing picnickers and tourists at Digha to stay inside their hotel rooms.
"It was overcast and raining continuously on Friday. We could not leave our hotels because we were afraid of catching a cold in winter," said Sumanta Chakrabarty, a tourist from Behala in Calcutta.
Like other districts, Nadia and North 24-Parganas witnessed showers measuring 20mm and 13mm, respectively, with a minimum temperature of 11 degrees Celsius. Agricultural officials said saplings of different vegetables would likely to face damage in the rain.
"We have already directed our block-level officials to calculate the crop losses in the rain. If no further rain is reported, the loss will be minimum," said Ranjan Roychowdhury, deputy director of agriculture in Nadia.