Rain flattens flower fields, crisis looms before Pujas
Over 2,300 hectares in twin Midnapores destroyed leading to supply crunch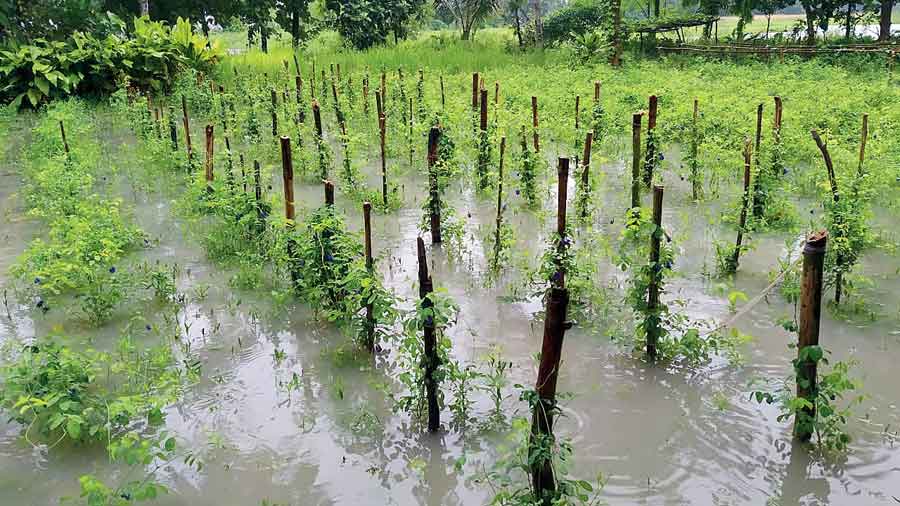 A flooded field in East Midnapore's Kolaghat last week
Telegraph picture
---
Tamluk(EastMidnapore)
|
Published 27.09.21, 01:00 AM
|
---
Around 2,340 hectares of flowers cultivated in East and West Midnapore districts were reportedly destroyed amid heavy showers triggered by a low pressure in the Bay of Bengal since last week.
The twin Midnapores are Bengal's chief districts for flower cultivation and export, producing varieties of marigold, tuberose (rajnigandha), jasmine varieties such as juhi and beli, and rose. 
Nearly 1,500 hectares are estimated to have been destroyed in East Midnapore and nearly 840 hectares in West Midnapore. Roughly 40,000 flower vendors and cultivators in East and West Midnapore have been affected.
Coastal districts, including North and South 24-Parganas also bore the brunt of the rain destroying acres of flowers.
The immediate fallout is a crunch in supply and imminent rise in flower prices with Durga Puja only days away. The Puja season is considered to be the lifeblood of flower cultivators in Bengal.
"Flowers are mainly harvested in two phases, after monsoon and in winter. It looks like the rain is set to ruin both," said a member of the Bengal Florists and Vendors' Association. By the end of the year the losses would be no less than Rs 15 crore, he added.
Deputy director of horticulture in East Midnapore, Swapan Sheet, said the district would be awaiting instructions from the state government regarding compensation to florists and farmers. Sheet added most cultivators take loans for land lease and saplings. "Both these assets have been destroyed," said Sheet.
Tapan Kar, a flower cultivator of Degra in West Midnapore, who planted an acre of rajnigandha in June, discovered last Saturday that all his farmland lay under water.
Tapan said he had no saplings or money left. "The only way out for small farmers is state help," he said.
Mohan Maity, a lotus farmer from West Midnapore's Kolaghat, took a loan of Rs 2 lakh earlier this year to lease and cultivate 20 bighas. "As far as I can see, my money is gone," he said.
His neighbour Gourishankar Ghata calls their predicament a "double loss" with rain ruining prospects of both monsoon and winter harvests.
In East Midnapore, Panskura and Tamluk are among the worst hit. In West Midnapore, badly affected areas are Degra, Daspur and Kharagpur. An average of 250mm of rainfall was reported in West Midnapore since Tuesday, "immense" for five days.
"The price of rajnigandha, marigold and roses is now five times the usual wholesale rate and will stay that way during Durga Puja owing to shortage. The average customer will be hit," said florists' association secretary Narayan Naik, adding the association would submit a memo to the state government for aid. Other districts hit are Howrah, Nadia and Dinajpur, said an association member.