Rail & road traffic hit in North Bengal
The Northeast Frontier Railway has cancelled several trains which connect Northeast with the rest of the country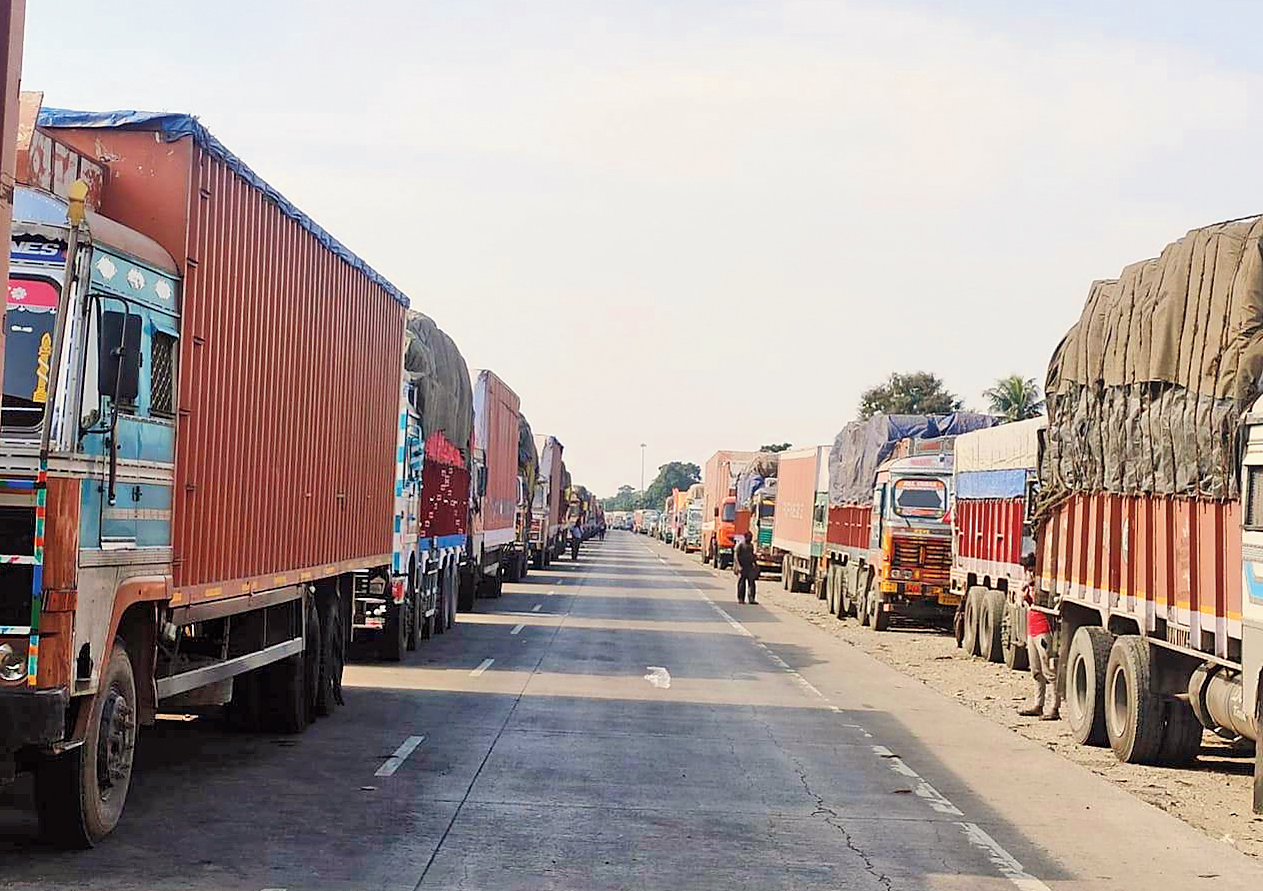 Trucks stranded on NH31C near Barobisha — on the Assam border — in Alipurduar district on Friday.
Picture by Anirban Choudhury
---
Siliguri
|
Published 13.12.19, 09:01 PM
|
---
Rail and road traffic in north Bengal has been hit by consistent protests against Citizenship Amendment Act 2019 in Assam.
The Northeast Frontier Railway (NFR) has cancelled several trains which connect Northeast with the rest of the country. Movement of trucks and buses has halted along two states, though a handful of maxi-cabs which run on local routes are ferrying passengers between the states.
According to sources in the NFR, around 40 trains, most of which run on distance routes, were cancelled on Friday.
"The cancellation of trains has inconvenienced hundreds of passengers in north Bengal. This is because people residing in this part of the state largely depend on the trains which connect Northeast to travel to different parts of the country and even to Calcutta. They use long distance trains to reach far-flung places like Mumbai, Delhi, Bangalore, Chennai, Thiruvananthapuram and many other places in north and south India. They need to travel via Calcutta," said Subrata Chanda, who is associated with a pharmaceutical company and travels to east and northeast India.
In Alipurduar, the police are keeping a close watch over the situation.
"There is specific instruction from the chief minister's office to extend help to anybody coming from Assam and seeking shelter. Senior police officers, including Debasish Boral, the IG (border), has visited the interstate boundary to take stock of the situation," said a source in the administration.
Hundreds of trucks are standing in queues on NH31C that enters Assam via Barobisha of Alipurduar.
"We are in touch with people concerned in Assam. They have advised us to wait for some days. We cannot afford to take risk as there were incidents of arson," said a truck driver stranded on the border.
The protests and shutdown in different areas of Assam have also affected the trade at places like Barobisha, Kamakhyaguri, Alipurduar and Cooch Behar.
"A substantial portion of retailers based in Dhubri, Kokrajhar and Bongaigaon buy goods from wholesalers in Alipurduar and Cooch Behar districts. But for the past four days, these people have not been coming to our areas. There has been a lull in the trade. We are keeping our fingers crossed and don't know when the situation will become normal," said Prasenjity Dey, the secretary of the Alipurduar Chamber of Commerce.