Question lingers over Pous Mela organiser
Santiniketan opinion divided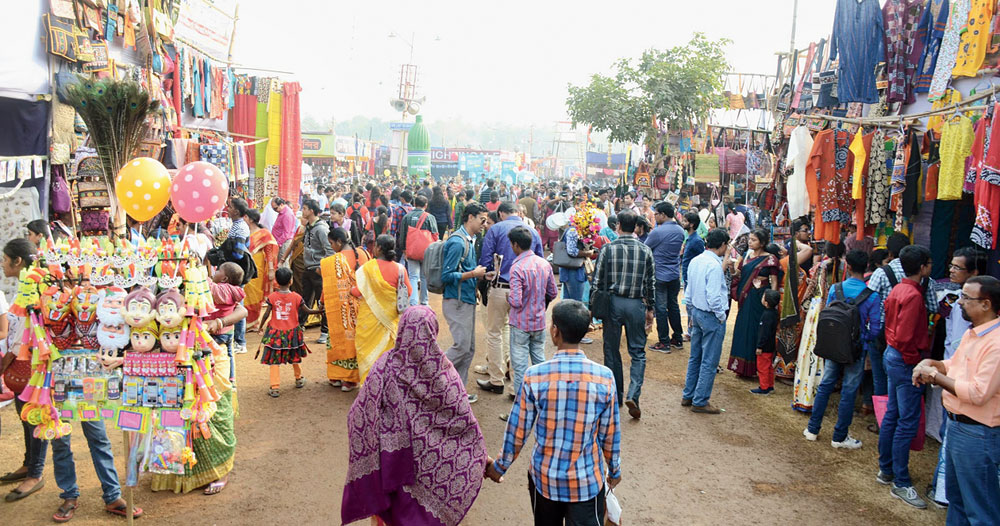 ---
---
A descendent of the Rabindranath Tagore family on Wednesday suggested that Visva-Bharati was the right institution to organise the annual Pous Mela and entrusting anybody else with the responsibility of conducting the fair went against the tradition.
On Tuesday, the central university had decided not to organise the fair anymore, saying it lacked adequate infrastructure and found it difficult to conform to green rules. Visva-Bharati said if anyone else wanted to hold the programme, the varsity would extend all help.
Supriyo Tagore, a descendent of the Tagore family and former principal of Visva-Bharati-run school, Patha Bhavana, told The Telegraph on Wednesday: "If Visva-Bharati refuses to organise the fair, then who will do it? It is not possible for Santiniketan Trust to organise such a huge fair. Any other organisation or an NGO holding the fair is against the tradition. Emotions of lakhs of people in and around Santiniketan and abroad are involved."
On Wednesday, the residents of Santiniketan and employees of Visva-Bharati were divided in their opinion. While one group said Visva-Bharati should continue to organise the fair and cannot not shun its duty, the other section feels the university, an educational institution, should not take the responsibility.
"It is a fact that Visva-Bharati is an educational institution but they should keep it in mind that the fair is associated with its founder Rabindranath Tagore and his father Debendranath Tagore. The fair is associated with the history and tradition of Santiniketan. So, the fair can't be stopped," said Amitrasudan Bhattacharya, a Tagore researcher.
However, another section of students, teachers and employees of Visva-Bharati said the university had taken the right decision.
Sudipta Bhattacharyya, the president of Visva-Bharati University Faculty Association, said: "Visva-Bharati is an educational institution and has no infrastructure to strictly follow pollution regulations. We agree to the decision. There are many agencies that can organise the fair. Even the state or the Centre can organise the fair."
The Santiniketan Trust has said it is yet to decide on its future course of action.