Put your feet up and let 'Dr Sil' take charge
Many doctors recommend a visit to Sil over surgery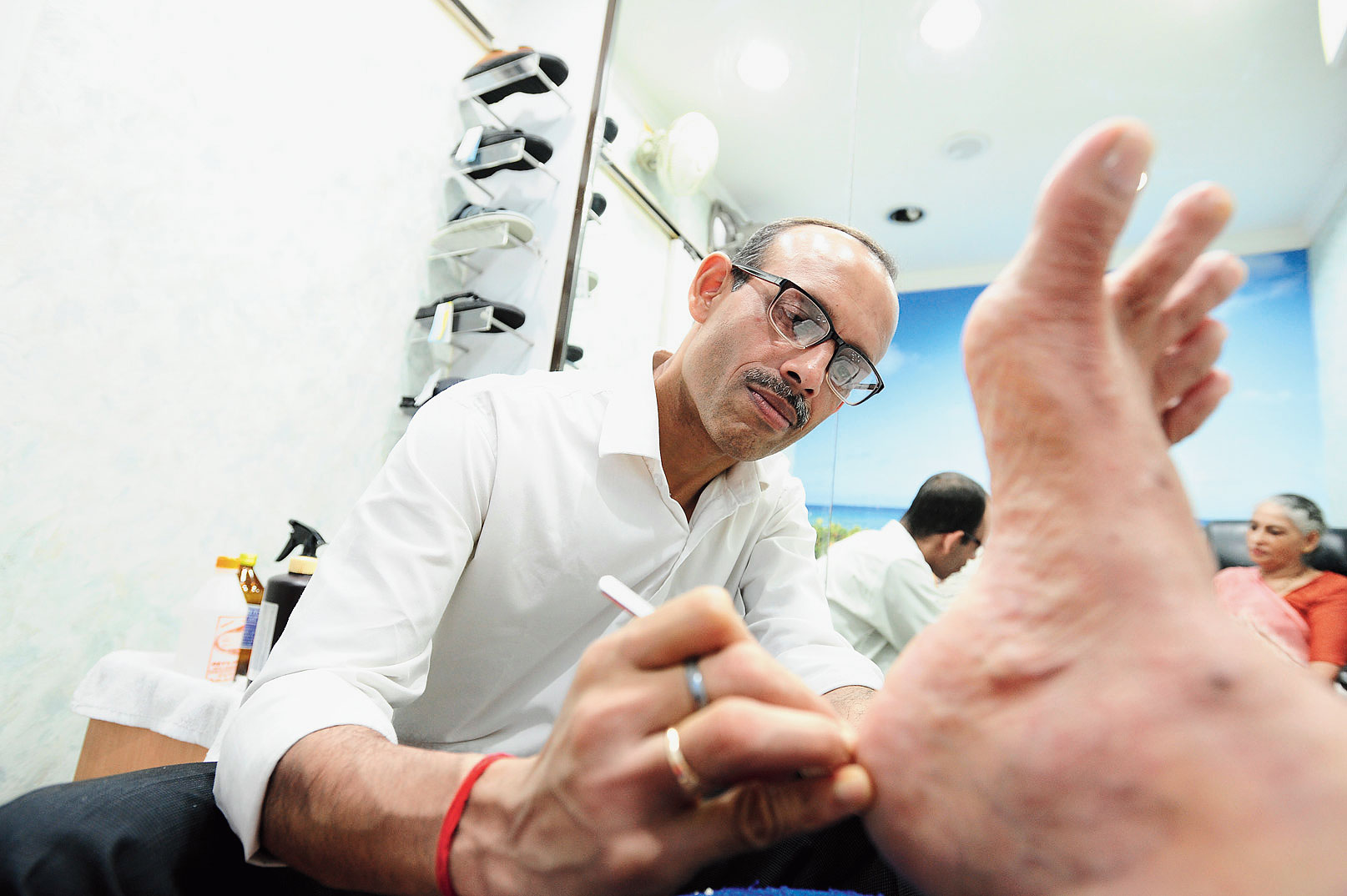 ---
|
Calcutta
|
Published 18.08.19, 08:38 PM
---
As I settle into the client's chair in Subhendu Sil's little chamber, I feel a bit like a distraught visitor entering 221B Baker Street. A sudden revelation about a part of me that I had not even noticed throws me off my guard.
"Do you wear hawai chappals with plastic straps that pinch you near your toes?" is the first thing Sil asks, with the sharp precision of a detective. Yes, I do. The hard plastic, which does not stretch, has bitten into the flesh and has calloused my feet, at a spot near the heels. I need to give up on the chappals immediately, says Sil briskly, his alert eyes scrutinising my feet, but his face, unlike Holmes's, betrays a gentleness and a serenity that are striking.
Sil, 48, has been looking at people's feet in this room for 20 years. A Bata employee, he is a chiropodist. He treats various foot problems, some of them extremely serious. His healing touch is so well-known that people queue up to meet him; sometimes they have to wait for a month for an appointment.
His chamber is located at the Hindustan Park branch of Bata on Rashbehari Avenue. It is a small, slightly cramped square room, measuring 49 sqft, and is tucked away behind stacks of shoes at the back of the store. It has a wall-to-wall mirror on one side to make him examine his clients' feet better, two unassuming chairs, a generous porcelain basin with taps for soaking the feet in, a shelf for the toolkit and a wooden stool covered in red for Sil to sit on.
Two slender shelves with shoes border the mirror on the two sides. The only decoration in the room — some plastic flowers.
In this room Sil is to be found almost always, bent over his clients' feet, almost as if over a musical instrument, but working with his toolbox, patiently removing layer after layer of dead skin to relieve his clients of deep-rooted corns or calloused feet. A resident of Sonarpur, he starts his work at 10.30am every day, and works till late evening, with a small lunch break in between.
Corns, particularly, can cause immense pain and immobility. A visit to Sil can take time, but the intervention is minimal. When he is done, his client's relief is enormous. Many of them leave the room blessing him. And keep recommending him to everyone.
Corns are the most common problem. People also come to him for treatment of in-growing toenails, calloused skin removal and hard skin removal.
Diabetic feet need special care. Any procedure becomes more complicated with the possibility of bleeding. Many diabetes patients come to him for foot care. "Warts are also an increasing problem," he says. Though most of his clients are over 50, many children visit him too.
Sil is reluctant to talk about the effects of his work, but he does mention two or three instances when he felt particularly rewarded. "One client, who had 12 to 14 corns in her two feet, told me that after coming here, she could visit her mother's house after 15 years."
Many doctors recommend a visit to Sil over surgery.
After joining Bata in 1990 as a salesman, Sil was chosen to work as a chiropodist in 1999. Bata was reputed for this specialised work. Both Jawaharlal Nehru and Indira Gandhi would be attended by Bata chiropodists.
"It is really a service that the organisation offers," says Sil. It is a paid service, but it does not burn holes into pockets.
To those without a specific problem, Sil offers a pedicure. It is quite unlike a beauty parlour treatment; again, layers of dead skin are peeled off, and a great peace seems to descend on earth. "You will sleep well tonight," says Sil, after my pedicure is done.
How many people has he seen in this room since he started?
Sil smiles. "Let me see. I see about seven to eight persons a day. In a month about 200 people." He calculates quickly. "That would make about 48,000 people in 20 years."
That is a substantial population.
Currently he is the only Bata chiropodist working in Calcutta, but others are being trained.
He joined Bata in 1990 when he was still in college and was chosen to be a chiropodist nine years later from five candidates, he was told later, because of his patience. He was trained by the organisation.
But patience is only one of his virtues.
The foot presents many challenges. Touching it can be an act of intimacy. At the same time, given our social and historical contexts, touching the feet also means an act of obeisance, or worship, or even abjection, as attested by so much of Hindu iconography, or Indian literatures, art or cinema. Tagore's works are full of feet being touched.
Padasheba (foot care — pedicure) is a great tradition, and an intensely personal one.
Sil negotiates this complexity well. He is completely engaged when he looks at a pair of feet, but is discreet, and distant, in a most friendly way.
He says his greatest reward is the relief he brings to his clients. Since he sits for so long every day — he has one full day and one half day off every week — he has to exercise regularly, twice every day.
After seeing thousands of feet, has he gained any special insight into human nature? If the face is the mirror of the mind, does the foot say anything?
"No, the feet are just feet," he says emphatically. Then adds, as an afterthought: "Even the face may not say anything about a person. How can you know anything from a pair of feet?"