Pure-water hope for arsenic-rich villages
2 bacteria species found to lessen toxicity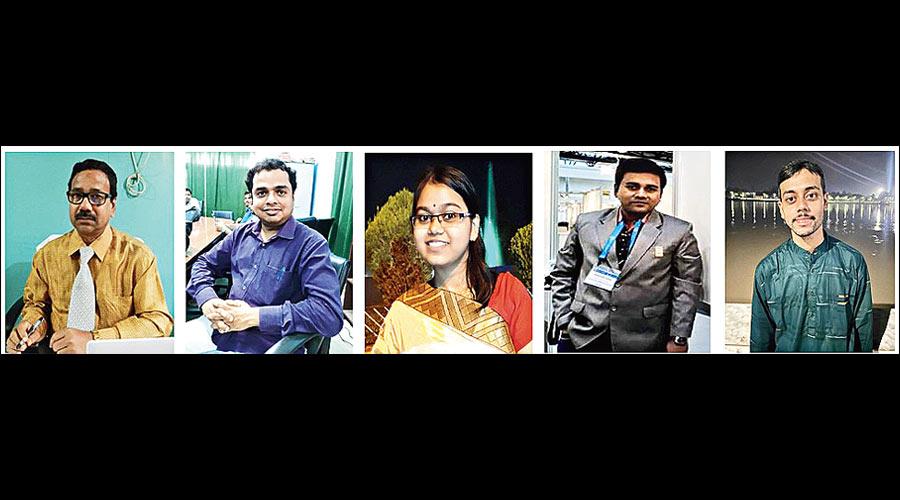 (From left) Shamsuzzaman Ahmed (principal), Abhishek Basu, Debjani Mandal, Indranil Saha and Ritesh Sonar
Telegraph Picture
---
Calcutta
|
Published 04.11.21, 02:15 AM
|
---
Research scholars, including four teachers from a college at Jiaganj in Murshidabad, have come up with a process to purify groundwater in various arsenic-rich blocks and villages of the district by identifying two bacteria species from the soil of Bhagobangola and applying them to treat the contaminated water.
The researchers — Abhishek Basu and Debjani Mandal teach molecular biology while Indranil Saha and Shamsuzzaman Ahmed are teachers in the chemistry department of Sripat Singh College at Jiaganj — have isolated and characterised the bacteria as Bacillus safensis and Lysinibacillus sp, which, they claim, can eat arsenic and lessen its toxicity. Another member of the research team, Ritesh Sonar, has completed post-graduation in genetics from Calcutta University.
Their research — Isolation and identification of arsenic resistant bacteria: a tool for bioremedication of arsenic toxicity — got an endorsement following its publication in the September issue of the International Journal of Environmental Science and Technology (IEST) of the Springer Nature publishing group.
Purified drinking water is a far cry for residents of Hariharpara, Lagola, Domkal, Jalangi and other blocks of the district. Similar is the plight of villagers of Asanpara, Chunakhali, Kumirdaha and Bhandara.
Arsenic toxicity and poverty go hand in hand in these pockets where contaminated groundwater has been the predominant source of drinking water for years.
"The water that comes out from the village tube wells is rich in arsenic content. We're left with two choices — either drink it or fetch water from far away," said Rofikul Islam of Bhagobangola block.
Though 30-year-old Islam has managed to stay free of any arsenic-induced illness, other young villagers have not shared his luck.
"Consumption of arsenic-contaminated water leads to severe health hazards in children as young as 16 years. Farming with arsenic-contaminated water leads to biomagnification of arsenic in food crops, especially rice. The symptoms among the villagers range from skin lesions and physiological disorders to cancer and death in extreme cases," said Mandal, a research team member.
At present, the researchers are exploiting the bacteria's potential to remove arsenic from groundwater.
The project started in 2019 when Basu, Mandal and Saha received two grants from the state government to carry out the research, which spanned over two years.
The scholars claimed that the two bacteria isolated by them from the soil of Bhagobangola showed unprecedented resistance to arsenic and copper.It is also claimed that such ability to survive at extremely high concentrations of these heavy metals has not yet been reported anywhere. These bacteria are also hyper tolerant to other heavy metals such as cobalt and chromium, according to the researchers.
"Mixed with a composite material, these bacteria could remove around 90 per cent of arsenic from drinking water and restore the arsenic concentration well below the permissible standards set by WHO and Bureau of Indian Standards," said Basu, one of the researchers.
This research has helped create awareness about the ill-effects of arsenic toxicity among villagers of the Murshidabad block known for its toxic quality of groundwater. "The villagers can abstain from using arsenic contaminated tube wells, irrigation wells and agricultural soil when the arsenic mapping is done," said Ahmed, a research team member, who is also the principal of Sripat Singh College.
The research has led to the development of an arsenic-removal filter, which is eco-friendly, cost-effective and ideal for rural residents.
"Its biggest outcome would be the development of an arsenic bio-filter, which could provide arsenic free water at community level at minimal cost," he said.