Proud Mashi and eager readers happy to see Abhijit Banerjee on TV
Durga Mondal stayed with the Banerjees when they lived on Mahanirban Road off Rashbehari Avenue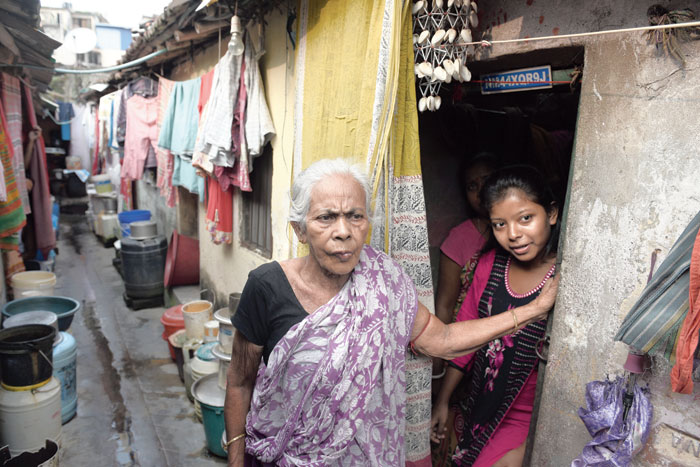 Durga Mondal, Mashi to Abhijit Vinayak Banerjee, with her granddaughter Ankita at their Garcha home on Tuesday
Pradip Sanyal
---
Calcutta
|
Published 16.10.19, 12:42 AM
|
---
The woman who would pick up Abhijit Vinayak Banerjee from school everyday, lived with the family for more than 40 years and is still a regular visitor to the Banerjee household was happy to hear the news of his award and see him on television.
Durga Mondal stayed with the Banerjees when they lived on Mahanirban Road off Rashbehari Avenue.
"I went to stay with the family when both the children were small and my job was to take care of them while Boudi (Banerjee's mother Nirmala Banerjee) went to work," Mondal recalled. "The elder one (Abhijit) would get off from school at noon. South Point was not very far and I would walk to the school to pick him up. The younger one (Aniruddha Bhaskar) went to the school's other building and his classes got over at 9am."
Mashi, as the brothers called her, would also cook for the children and feed them.
Mondal moved back to her Garcha home after the Banerjees sold off their house at 31 Mahanirban Road in 2011 and moved to an eighth-floor apartment at Saptaparni.
But the ties remain and Mondal was among those invited to the first birthday celebrations of the Nobel-winning couple's son at their Ballygunge home. "It was a close family affair. But they wanted me to be there with my family," Mondal said .
"Durga was with me for years. She came to live with me when I had my second son and stayed on. She stayed with us till I came here (Saptaparni)," Abhijit Banerjee's mother, Nirmala Banerjee, said.
Mondal said the family had not forgotten her or her children. "They are in touch with us and when I heard from my son that he has got an award I was very happy… usually I visit Boudi once every month," she said.
Mondal's son Ajoy also grew up in the Banerjee household. "After my daughters got married, my son started living with me in their house," she said. It was Ajoy, who now delivers newspapers, who gave his mother the news of Banerjee's Nobel win.
"My father was very happy to share the news with us. He was not home but he called on my phone and said 'oi barir Dada' is on television because he has won an award. We switched on the TV and my grandmother was happy to see him," said Mondal's granddaughter Ankita, a first-year student of accountancy at Sivanath Sastri College.
Ankita met Banerjee when she went to Saptaparni with her grandmother for his son's birthday. "I was in school and he asked me in which class I was. To think I spoke to a Nobel laureate gives me goosebumps," she said.
Ankita said Nirmala Banerjee had also helped the family financially, especially when her grandmother fell ill.
The Banerjees' Mahanirban Road home also housed the office of a women's organisation. "We worked to help check the dropout rate among girls of the nearby slums. We appointed a teacher and called the girls over for revision after school. It was very effective and all our children passed," she said.
As a boy, Abhijit Banerjee would also play cricket with the children of the slums on the road in front of their house. "It was a kachha road then and he would play cricket. There were times when we also joined him. We have lots of memories of that house," friend Bappa Sen said.
Greetings
Chief minister Mamata Banerjee called Nirmala Banerjee and expressed her wish to pay a visit. "The chief minister had called and said that she will visit in a couple of days. The governor (Jagdeep Dhankhar) also called and said he would come when Abhijit is here," Nirmala Banerjee said.
"I spoke to Abhijit last night. We are not a very demonstrative family. I said I am very happy, they said they are very happy. That's it. It wasn't a long kind of conversation," the 83-year-old mother said.