Protests by BJP union in tea gardens
Party wants companies to pay workers bonus at 20 per cent ahead of Durga Puja this year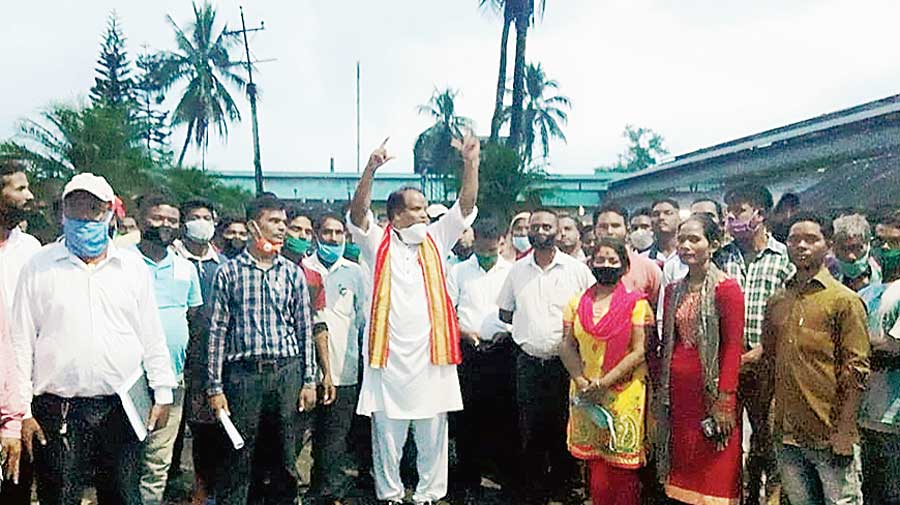 ---
---
The Bharatiya Terai Dooars Workers' Union (BTDWU), which is backed by the BJP, organised demonstrations in over 200 tea gardens in the plains of north Bengal on Thursday and raised a series of demands ranging from conferment of land rights on the residents of the plantations to fixing of minimum wages.
This is the first time in recent months that the BJP has taken up such an activity in the brew belt of north Bengal, where the party performed well in the Lok Sabha elections last year.
"We want tea companies to pay workers bonus at 20 per cent ahead of Durga Puja this year. Also, the Bengal government should see that other issues like minimum wages for the workers and granting of land rights to people living in tea gardens are resolved at the earliest as they have been pending for many years. Our trade union will continue to harp on these issues and will keep on organising different activities in tea gardens," said John Barla, the BJP MP of Alipurduar and the chairman of the BTDWU.
Since morning, protests had been held under the banner of the trade union in the tea gardens. Hundreds of workers took part in the protests and raised slogans for about an hour before joining their duties.
Barla joined the protests at Lakhipara, a tea estate in Jalpaiguri district where he resides.
"Similar demonstrations would be held in the gardens on Friday. There are a number of gardens where the management is not depositing the provident fund even though the amount is being deducted from the workers' wages. Healthcare and quarters are in a shambles in most tea gardens. The tea companies and the state can no longer ignore these issues," said Barla.
Senior tea planters based in the region said the BJP was trying to mount pressure on the Trinamul Congress government by holding the protests. They said as the BJP had managed to secure support of the tea population last year, the party was trying to make its presence felt in the brew belt keeping in mind the Assembly elections next year.
North Bengal has at least 15 Assembly constituencies where votes of tea workers and their families decide the fate of candidates.
Trinamul leaders based in the tea belt, however, said such strategies of the BJP would not work.
"In fact, such demonstrations, which are being planned at a time when tea production is at the peak, would upset the industry and eventually affect workers. We, too, want the workers to be paid bonus at a decent rate and for that, the usual negotiation process of bipartite talks would be followed. The BJP leaders should spell out what the Centre has done for the tea industry," said Mohan Sharma, chairman, Trinamul Congress Cha Bagan Mazdoor Union.