Private sector battles lack of nurses
When government hospitals recruit nurses, private hospitals take the hit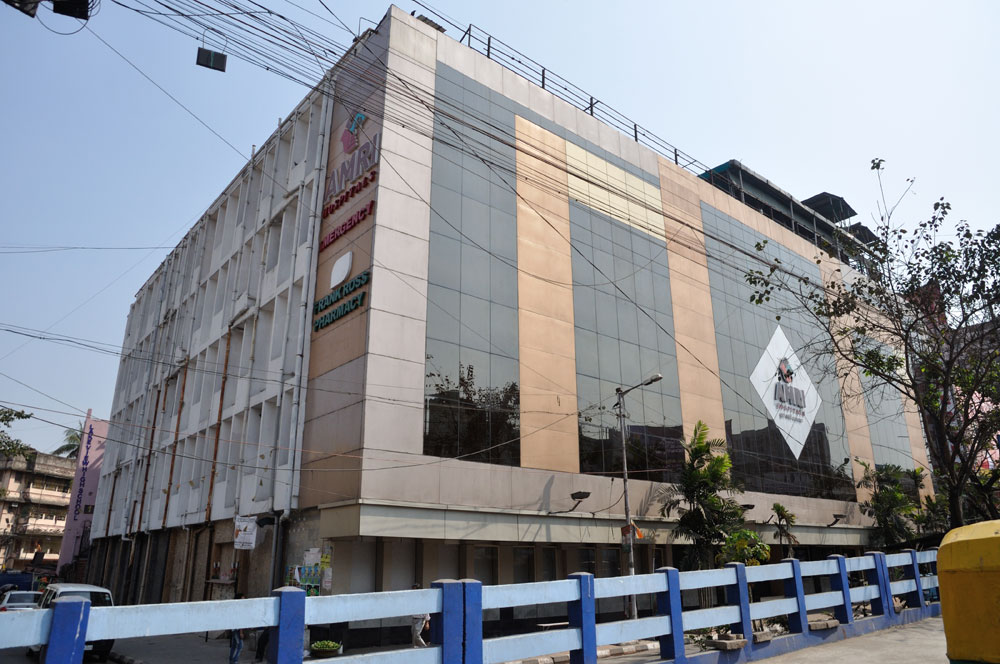 AMRI Hospital, Dhakuria
(Wikipedia)
---
Calcutta
|
Published 01.06.19, 10:15 PM
|
---
Several private hospitals in the city are working with about half the required number of nurses or even less because Bengal doesn't have enough nursing colleges to meet their need.
Every time government hospitals recruit nurses, private hospitals take the hit as government-run facilities are perceived to be less taxing with better job security.
Metro had reported in March how Calcutta's private hospitals were facing crisis of nurses as hundreds of them took up jobs in government hospitals. An upcoming round of recruitment in state government's hospitals in August is enough to worry administrators and officials of private hospitals.
"Our 300-bed hospital need to have 550 nurses, but we have 250 now. We are apprehending an exodus of over 20 per cent in August," said Prashant Sharma, the managing director of Charnock Hospital.
At the AMRI Hospitals, too, the authorities are worried about the frequent exodus. "We have 600 beds in our three units in Calcutta for which there are 1,000 nurses. I would have loved to hire more nurses to tend to the patients, but because of the demand-supply gap, there are not enough nurses," said Rupak Barua, the group CEO of AMRI Hospitals.
"Because of the frequent exodus of nurses, our HR department, too, has to visit other states frequently to fill the void," he said.
Barua added that AMRI Mukundapur would add 150 beds within six months and for that the hospital would need 200 additional nurses.
Unable to bear with crisis, some hospitals have shut down floors, reduced beds and stopped expansion plans.
Sharma, Barua and several other hospital administrators and officials had come together for a Confederation of Indian Industry (CII) organised conclave on nursing at a city hotel on Saturday.
The Indian Nursing Council standards say that there should be one nurse for every three patient in the general ward of a hospital. "For critical patients the ratio should be 1:1, whereas for general ward patients the ratio should be 1:3," said Abanti Gopan, a nursing consultant.
Several administrators of hospitals said shortage of nurses was a pan-India crisis but it was more acute in Bengal.
"The state government is planning to set up 27 nursing training colleges in the state under the public-private partnership mode," said Chandrima Bhattacharya, the health minister who was present at the meet.
An official of a private hospital said that since they were on a recruitment spree for its 42 superspecialty hospitals across the state, the demand for nurses was huge.
The government usually recruits nurses twice a year. As the period between the notification for recruitment and date of joining work is very short, nurses often leave by giving 24-hours notice.
"We do not even get the time to find a replacement. If 20 nurses leave within 24 hours, we get severely handicapped. Private hospitals are quality conscious. Who will give the care to the patients, but the nurses," said one private hospital official.
To deal with the problem, HR teams of private hospitals are visiting various states frequently to fill the void that is created every time.
The states that primarily supply nurses to Bengal hospitals are Kerala, Jharkhand, Odisha, Manipur, Mizoram and Arunachal Pradesh.
An official of a private hospital said the private sector would be interested in participation if the government gives space.
"Nursing colleges are not commercially viable institutions. The private sector would not be interested in something that is loss making. Still they would contribute in hope that the graduates would take up jobs in the state's hospitals and address the problem of nurse shortage," said the official.
He said that the Indian Nursing Council standards make it mandatory to have over 23,000sqft space for a college with 50 students. Getting this much of space is very costly. If the government creates the space, the private sector would create other infrastructure necessary to run the college, said the official.